Summer camp plan has international flair
April 8, 2013

Summer camp plan has international flair
Samuel Schultz '13 was barely off the plane from a year in China when he met two summer campers from Beijing. It was an 'aha' moment that could lead to winning the Kenneth A. Freirich Business Plan Competition.
April 8, 2013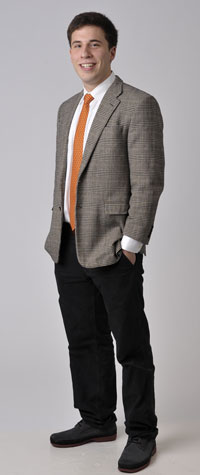 Samuel Schultz '13
Your father directs a summer camp in Maine. You major in Asian studies and international affairs and minor in business. You study abroad in Beijing, not once, but twice. Naturally, you come up with the idea of placing Chinese kids at American summer camps.
Samuel Schultz '13 had just returned from a year in Beijing and was visiting his father's camp this past summer. There he met two campers from Beijing, and thus was born the idea for Summer Destinations Company Limited (SDCL)—Northeast, a camp recommendation and placement service for 8 to 14-year-old English-speaking Chinese nationals. Income would flow from a sign-up fee plus a percentage of tuition from the individual camps.
Schultz, who is seeking $30,000 in start-up funds for SDCL, is one of six finalists vying for $50,000 in cash and business services in Skidmore's Third Annual Kenneth A. Freirich Business Plan Competition, launched by Freirich, a 1990 Skidmore graduate and "serial entrepreneur" who is president of Health Monitor Network. The prizes are intended to act as catalysts for students starting or growing their own businesses. The final round will begin at 2:45 p.m. Friday, April 12, in the Payne Presentation Room of the Tang Museum.
Schultz, who did internships in Beijing and Kunming and works in Skidmore's Office of Off-Campus Study & Exchanges, says his Beijing-based company will cater to a "sophisticated, internationally focused, and forward-thinking clientele motivated to provide their children with a holistic and dynamic summer experience" that "complements their current education" and provides a leg up on "future study-abroad opportunities," including higher education options.
According to cnn.com, "Chinese parents send their children to private U.S. high schools as a strategic decision to strengthen their candidacy for elite U.S. universities. A growing number also want their children to live happier lives rather than have them consumed by preparing for the gaokao—the one-time, high stakes national university entrance exam that is the sole determinant for admission."
Schultz notes that established U.S. companies lack a specific Chinese focus and that current Chinese companies do not cater to U.S. summer camps, or for that matter, possess his personal experience and connections. For more on the SDCL niche, see this brief video.


Schultz, who hopes to establish residency in Beijing and identify office space by October, says China's capital city is the ideal location to launch SDCL because of its established second-generation, growing middle and upper middle-class and reputation as China's educational center, not to mention his familiarity with the area. Advising Schulz is Nancy Wekselbaum '73, president of the Gracious Gourmet.
The other finalists:
Magdalen Andreoni '13, a studio arts major, aims to establish "the only specialty-cookie mobile shop in Chicago," an enterprise she calls The Cookie Jar. Using gluten-free, nut-free, and vegan recipes she has developed from scratch for such flavors as chocolate chip, "oatmeal monster," peanut-butter chocolate chunk, and gingersnap, she's targeting Chicago's Loop, where foot traffic is highest. Advising Andreoni is Mary Vail '80, president and chief designer of Joyelles Jewelers.
Seth Berger '14 aims to grow East Coast Lacrosse, the single-member LLC he established in 2010, into a leader in custom athletic apparel. Advising Berger is Jim Rossi '82, managing partner of the Saratoga Polo Association and chief marketing officer for the United States Polo Association.
Alexander Nassief '16 and Brianna Barros '16, having established Rum Dogs Inc., aim to implement a proprietary method for aging rum in barrels submerged in the Caribbean Sea and produce a premium brand, called Black Cap Rum, for the Dominican market. "The product line will serve as a symbol of Dominican ingenuity whilst adhering to local values of eco-friendliness," they say. Advising them is Catherine Hill, F. William Harder Professor of Business Administration at Skidmore.
Jasmyn Elise Story '15 is an anthropology major launching a new Atlanta-based LLC, Forcast. It aims to change the way casting agents hire extras through a new smartphone app that enables casting agents to quickly and easily browse profiles created by a large pool of non-union actors. The app will be developed by Justin Colvin '14, a computer science major who will share in the partnership. Advising Story is Jody Klein '85, president of ABKCO Records and a Skidmore parent.

Kelsey Yam '13 is a management and business major who is also a star forward on Skidmore's soccer team. Having interned with Soccer Without Borders in Kampala, Uganda, she proposes to establish a satellite program in Fort Portal, a city in western Uganda. Her program is targeted for poverty-stricken refugee girls under 15. Advising Yam is Rich Flaherty, president and CEO, Cove Risk Services.