Students assist in 'sacred spaces' tour
April 29, 2013
Students assist in 'sacred spaces' tour
Skidmore students who over the last year researched Saratoga's "sacred spaces"—historic churches, temples, cemeteries—took their stations as guides in a recent walking tour hosted by the Saratoga Springs Preservation Foundation.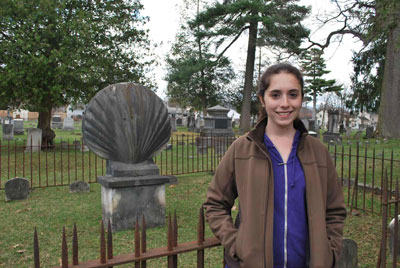 Sara Gross led tours of Greenridge Cemetery
"History on the hoof" is how Jordana Dym describes the new course in which her students learned and practiced public history—from interviewing archivists to researching city registers and maps to analyzing and shaping data for use by citizens and policymakers. "They brought intellectual rigor as well as a lot of creativity to their projects, moving from architectural histories to a narrative that placed their findings into broader historical context," she said.
"As volunteers, the class enjoyed offering Saratoga community members a new perspective on familiar places," she continued. "It was a great way to help students connect their internships with their studies."
From hours of poring over documents in the public library's Saratoga Room, church storage closets, and Skidmore's special collections, and from scores of interviews with historians, clerics, congregants, and caretakers, the students wrote papers, created a Web site, prepared oral presentations, and even worked up a few internship proposals.
Students in the spring installment of the course presented their findings at a public meeting in early March at the Saratoga Springs Public Library. They also collaborated with local journalist and historian Field Horne on a new book and wrote articles on their assigned sites for The Saratogian.
Following are the students who participated in the course last fall, this spring, or both: