SaratogaArtsFest announces line-up for citywide celebration, June 6-9
June 4, 2013
As the region gears up for the grand celebration of the Saratoga Race Course's 150th year, the arts are poised to play a key role in the festivities, starting off with SaratogaArtsFest, June 6-9.
The four-day ArtsFest, a collaboration of community partners including Skidmore College, is designed to appeal to a wide audience—from the seasoned arts aficionado to families with young children. This year, as a tribute to the famed race track's sesquicentennial, many of the ArtsFest activities will draw on Saratoga's rich and storied history.
Among the community-based events with historical themes will be a film and discussion series organized by the Saratoga Film Forum and Yaddo, the local artists' retreat that was recently named a National Historic Landmark. The series will pay tribute to Yaddo's support of a generation of screenwriters and directors, some 70 in all over the years. Over three evenings the program will feature screenings of The Illusionist, Prodigal Sons, and Five Dances, each followed by a conversation with the film's director or producer, all of whom had Yaddo residencies. Other tributes to the past will be presented by such organizations as Opera Saratoga, the Saratoga Chamber Players, and Caffè Lena.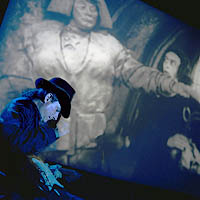 Gary Lucas performs his soundtrack
for the 1920's film
The Golem
.
In addition, SaratogaArtsFest will feature such well-known performers as Tony Award-winning actor, dancer, and singer Ben Vereen and Cuban jazz superstars Tiempo Libre with celebrated pianist Alfredo Rodríguez, sponsored by the Saratoga Performing Arts Center. Both shows will take place in Skidmore's Arthur Zankel Music Center. The ArtsFest will also present guitarist-composer Gary Lucas, New Orleans' own Hot 8 Brass Band, and Susan Marshall and Company dance troupe. The festival's literary programming will include a special treat for young readers—a presentation and book signing by writer and cartoonist Jeff Kinney, author of the no. 1 best-selling Diary of a Wimpy Kid series.
The full ArtsFest schedule is available here.
Special features of SaratogaArtsFest 2013
Beekman Street Art Fair: This all-day event on Sunday, June 9, in the city's Beekman Street Art District will include a juried art show along with displays and demonstrations by local and regional artists. There will be family-friendly performances under the big tent, featuring the Saratoga Children's Theatre; a sale of fine art and craft works; and a variety of food vendors.
Arts Alfresco: Prior to the performance of Tiempo Libre on Thursday evening, June 6, at Skidmore College's Arthur Zankel Music Center, ArtsFest patrons will have the opportunity to meet artists and representatives of area arts organizations while sampling foods creatively paired with wine and other beverages. Among the entertainers will be Reggie's Red Hot Feetwarmers, race track favorites known for their music of the 1920s and 30s.
Kids Do Art will take place Sunday at
Universal Preservation Hall
Activities for families and young people: The ArtsFest will once again offer an abundance of programs for children and families, including "Kids Do Art," a Sunday afternoon of hands-on art activities; a juried art show and reception for student in grades k-12; and a short story contest for high school students. The Albany Symphony Orchestrawill present its Tiny Tots program featuring Cowboy Dave, the roughest, toughest cowboy conductor of all time, leading children ages 2 through 8 on an action-packed, interactive musical trail-ride. In addition, a number of youth groups will perform, including the Saratoga Youth Symphony, Saratoga Springs Youth Orchestra, and the Repertory Jazz Ensemble of the Empire State Youth Orchestras.
Equine themes: In a salute to the Saratoga Race Course and its storied history, the ArtsFest will offer a unique look at the world of horses. Home Made Theater will present Straight from the Horse's Mouth, a cabaret performance of songs and stories in which eight thoroughbred "horses" will give sweet, funny, and endearing accounts of their lives. The Myers Dance Center/Northeast Ballet will present a dance performance exploring the training and similarities between dancers and thoroughbred horses. Northeast Ballet's apprentice dancers will perform original choreography influenced by two months of training with foals at Rainbow Field Farm.
FestivalAdmission Packages
The ARTSPASS, the festival admission package for adults and seniors, provides access to most festival events as well as discounts and perks at area shops and eateries during the festival. The ARTSPASS also includes year-round benefits and discounts at area arts organizations, including galleries, theaters, and museums.
The prices for the admission packages are adults and seniors $40, students (18 and older with student I.D.) $20, military $15, youth (17 and under) free.
Admission Packages are available online at SaratogaArtsFest.org and at the SaratogaArtsFest Center and Gallery, located at 38 Van Dam Street (corner of Van Dam and Woodlawn Avenue).
In addition, the adult ARTSPASS can be purchased at the Skidmore College Bookstore and three city locations—Impressions and Mimosa Gallery, both on Broadway, and at the National Museum of Racing on Union Avenue.