Chemist Walter earns national honor
August 2, 2013
Chemist Walter earns national honor
8/2/2013
Professor Emeritus of Chemistry Paul Walter has been named a fellow of the American Chemical Society.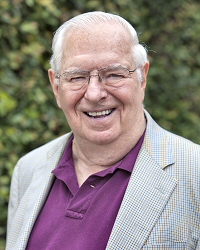 The ACS, founded in 1876 and with a membership of 163,000, publishes scientific journals, holds research conferences, and provides grants for basic research in petroleum and related fields. The prestigious ACS fellows program was created in 2009 to recognize members' "achievements in and contributions to science, the profession, and the Society." The 2013 ACS fellows will be feted at a national meeting in Indianapolis, Ind., in September.
After earning his bachelor's degree from MIT and a Ph.D. from the University of Kansas, Walter worked a stint at Du Pont, where he published a number of papers and was issued several patents in the U.S. and abroad. He joined the Skidmore faculty in 1967.
As chair of the chemistry department from 1975 to 1985, he helped to achieve its accreditation by the ACS and to develop Skidmore's cooperative engineering program with Dartmouth College. Warmly appreciated by his students, especially for his attention to their career plans, Walter has been cited as one of the best and most helpful of advisors. He retired as a full professor in 1996.
Walter served his profession at a national level rarely achieved by a faculty member from a small liberal arts college, including a term as president of the ACS in 1998. For the American Association of University Professors, he served as president of the Skidmore and New York State chapters and also as national president in 1984-86. At Skidmore, he chaired the Faculty Council and served on or led other faculty committees.
Nor has Walter been idle in retirement. He is currently on the board of the Malta Conferences, a biennial meeting that brings together Arabs, Iranians, and Israelis to discuss common scientific problems. "Chemistry is the topic of the conference," Walter said, but "its real goal is peace." His commitment to international understanding also included a 1995 trip to Vietnam, where he visited with government and academic officials at the invitation of the Chemical Society of Vietnam.
In a 1996 essay, Walter warned against a "rejection of scientific rationality." He wrote, "Academic criticism of science is appropriate and healthy. The problem arises when the core belief of science is rejected, for by rejecting the existence of objective truth, one grants permission to disregard that truth and make scientific fact a matter of a majority vote or the opinion of the most persuasive orator."
Among Skidmore faculty and alumni, Walter is best remembered for his devotion to pedagogy-and to his students. "As a professor I had the opportunity to touch many students' lives," he wrote, "and as chair of the department I worked with and hired wonderful colleagues who made the department better and better. Teaching is as meaningful and satisfying a job as you could conceivably have."