WMHT to broadcast Zankel concert by The 5 Browns
January 22, 2014
On May 29, 2013—the 100th anniversary of the Paris premiere of Igor Stravinsky's The Rite of Spring—Skidmore College and SaratogaArtsFest teamed up to present the world premiere of a new arrangement for five pianos.
The once-controversial composition was performed at Skidmore's Arthur Zankel Music Center by The 5 Browns — a group of siblings hailed for their piano virtuosity. All five—Ryan, Melody, Gregory, Deondra, 
and Desirae Brown—studied at the Juilliard School together. They say that they had wanted to perform The Rite of Spring ever since they began performing together 10 years ago.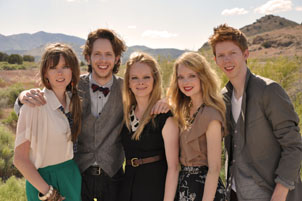 The 5 Browns
Area audiences will have the opportunity to experience this rousing performance once again as it is aired by WMHT Public Television on Friday, Jan. 24, at 10 p.m.
"This was an extraordinary performance," said Chuck Joseph, Skidmore professor of music emeritus and an authority on Stravinsky. "This is a piece of music I've been listening to for 50 years, and this performance by The 5 Browns illuminated the score in ways I have never heard before."
Added Joseph, "Hearing it played on the piano, rather than in its finished orchestral version, is much closer to what Stravinsky would have heard while composing the work. In that sense, the keyboard score is more raw, more authentic. And with five pianos, one can hear clearly the many layers of sound as they flow from one piano to another."
Tune into WMHT on Friday evening to hear for yourself!