Annual Juried Student Art Exhibition opens Feb. 6
January 31, 2014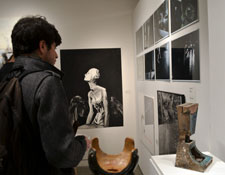 Photo from 2013 opening reception, annualJuried Student Art Exhibition.
The annual Skidmore Juried Student Art Exhibition opens with a reception Thursday, Feb. 6, in the College's Schick Art Gallery. A highlight for the campus and the community, the exhibition celebrates the creativity, imagination, and skill of Skidmore's art students.
Each year, a guest juror selects the exhibition from work submitted by Skidmore students in the areas of drawing, painting, sculpture, ceramics, fiber arts, graphic design, jewelry and metals, photography, and printmaking. From an average of 250 entries, the juror typically chooses 50–75 works for exhibit, and also selects outstanding work for special awards. Awards and gift certificates totaling more than $1,000 are funded annually through donations from friends of the gallery, campus organizations, and community benefactors.
Guest juror this year is Sanford Mirling, a sculptor and visiting assistant professor at Middlebury College in Vermont. Mirling received an MFA from the University at Albany in 2010. He has shown work at the Albany International Airport; Ann Street Gallery in Newburgh; Franconia Sculpture Park in Franconia, Minn.; and many other venues. In 2009, Mirling received the International Sculpture Center's Outstanding Student Achievement Award; in 2010 and 2012, he received the Juror's Award at the Mohawk Hudson Regional Exhibition. Mirling is a co-founder of Collar Works Art Space in Troy, N.Y.
An opening reception is scheduled from 5:30 to 7 p.m. Feb. 6 at the gallery. The public is welcome. The exhibition will remain on view until March 14.
All Schick Gallery events are free and open to the public. The gallery is open from 10 a.m. to 6 p.m. Monday through Thursday, from 10 a.m. to 4 p.m. Friday, and from noon to 4 p.m. weekends. For more information, please visit the gallery website.