Novelist Khaled Hosseini packs Zankel
April 8, 2014
Novelist Khaled Hosseini packs Zankel
April 8, 2014
Saratoga Reads, a Skidmore-Saratoga collaboration, brought best-selling novelist Khaled Hosseini to town on Saturday evening, April 5, in celebration of the community reading program's 10th year.
A highlight of the visit was An Evening with Khaled Hosseini in the Arthur Zankel Music Center. The event, open to the public free of charge, offered a discussion moderated by Joe Donahue, of "The Book Show" and "The Roundtable" on WAMC Northeast Public Radio, and included a question-and-answer session and book signing.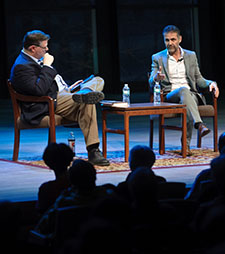 Khaled Hosseini (right) with
Joe Donahue
Hosseini is an author of special significance for Saratoga Reads, which began a decade ago with the selection of his first novel, The Kite Runner, for community-wide reading and discussion. The program has returned to its roots this year by naming Hosseini's third novel, And the Mountains Echoed, as the book of choice for 2013-14. Both of these selected books achieved bestseller status in the U.S. and have been widely read internationally, as has another novel by Hosseini, A Thousand Splendid Suns.
All of Hosseini's novels draw heavily on his native Afghanistan and its struggles with foreign invasions and social, religious, and political turmoil. In the event at Zankel the author addressed a wide range of topics, including his approach to writing fiction, his fascination with storytelling, his life as a medical doctor, his childhood memories of life in Afghanistan, and the prospects for the current elections in that country. He also discussed the Khaled Hosseini Foundation, which he founded to assist Afghan refugees.
"In 2004 we began our journey of reading together with Khaled Hosseini's debut novel, The Kite Runner," said Orthwein. "Now, to mark the milestone of our 10th year, we return to that familiar voice as we read And the Mountains Echoed. But what a bonus this time around, with the opportunity to engage in conversation with Hosseini himself when he visits Saratoga Springs to celebrate with us!"
"An event of this caliber would not be possible without the support of our generous event sponsors," added Orthwein. The sponsors include Skidmore College, Saratoga Springs Public Library, Skidmore Student Speakers Bureau, and Friends of the Saratoga Springs Public Library.
In addition to the Saturday-evening event, Hosseini attended a breakfast gathering Saturday morning with community members at Northshire Bookstore.