McArdle to discuss power of failure in April 10 Carr Lecture
April 8, 2014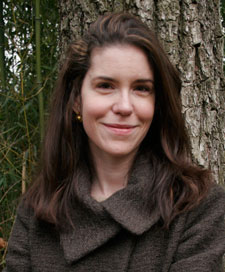 Megan McArdle
Journalist and blogger Megan McArdle will present Skidmore's Carr Distinguished Interdisciplinary Lecture, titled "The Up Side of Down," at 8 p.m. Thursday, April 10, in Gannett Auditorium, Palamountain Hall.
McArdle is a Bloomberg View columnist who writes on economics, business and public policy. In 2001 she founded one of the first economics blogs, "Live From The WTC," while working for a disaster-recovery firm at Ground Zero. McArdle has been a correspondent for The Atlantic, the Economist, and Newsweek/The Daily Beast and appears regularly on MSNBC, Fox News, and NPR. She has also had book reviews and opinion pieces published in The New York Times, The Wall Street Journal, The New York Post, The New York Sun, Reason, The Guardian, and Salon.com. She earned a B.A. in English literature at the University of Pennsylvania and an M.B.A at the University of Chicago, and was a Bernard L. Schwartz fellow at the New America Foundation.
In February, McArdle's first book, The Up Side of Down: Why Failing Well Is the Key to Success, was published by Viking. According to the publisher's web site, the book's premise is that most of us have experience a major setback in our personal or professional lives. To succeed in business and in life, McArdle argues, "You have to learn how to harness the power of failure."
She draws on research in science, psychology, economics, and business, and has talked with turnaround experts, emergency room doctors, venture capitalists, child psychologist, bankruptcy judges and mountaineers. In McArdle's view, "America is unique in its willingness to let people and companies fail, but also in its determination to let them pick up after the fall." Her book tells how to recognize mistakes early enough to channel setbacks into successes.

Sponsored by the Office of the Dean of Special Programs at Skidmore, the Carr Distinguished Interdisciplinary Lecture Series allows students and faculty to interact with influential leaders and professionals on the cutting edge of social issues, nonprofit and public service innovations, and social responsibility, with a specific emphasis on helping Skidmore students think about the transition from college to the working world or to further studies.