A passion for business
April 9, 2014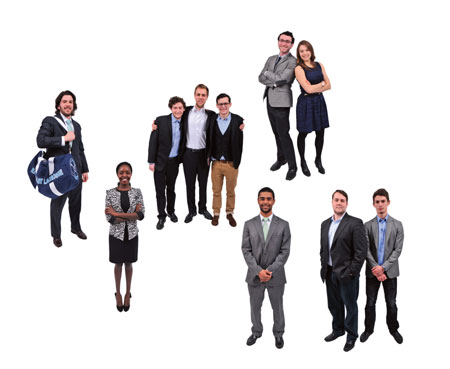 Students vying for $35,000 in prizes in the Fourth Annual Kenneth A. Freirich Business Plan Competition this Friday are, from left and counter-clockwise, Seth Berger '14, East Coast Lacrosse; Stella Langat '16, Double Dee's LLC; Adam Beek '15, Munchi Heaven Agri; Zach Rohde '14 and Alexander Nassief '16, Rum Dog, Inc.; Ezra Levy '15 and Marcella Jewell '15, Open Campus; and Ian Van Nest '14, Walter Barber '14, and Andrew Zimmermann '14, Leaf Pile Media.
Six student-led businesses – some startups, some existing -- will compete in the final round of the Fourth Annual Kenneth A. Freirich Business Plan Competition Friday, April 11, at 2 p.m. in the Payne Presentation Room of the Tang Museum.

The students will vie for a first prize of $20,000 and second and third prizes of $10,000 and $5,000.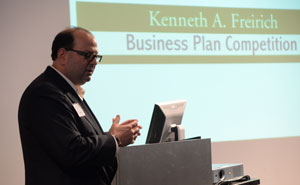 Kenneth Freirich '90 set the stage for the first round
of the competition in February.

They are:
Ezra Levy '15 and Marcella Jewell '15. They've launched a Web-based enterprise, Open Campus, that matches college students with businesses offering real-world projects requiring skills the students showcase in portfolios on the site;
Walter Barber '14, Ian VanNest '14, and Andrew Zimmermann '14. Adopting the name Leaf Pile Media, they have created an "original fictional universe" which they aim to turn into a profitable board game, graphic novel, and app, eventually expanding into online games and animation;


Stella Langat '16. She is registering Double Dee's LLC in Kenya as what she describes as the nation's first undergarment production company, dedicated to making reasonably cost intimate apparel for the modern African woman;


Adam Beek '15. Launching Munchi Heaven Agri, he aims to develop an organic farming enterprise in Jamaica growing celery, lettuce and other products and hoping to make an impact on his local community;


Alexander Nassief '16 and Zach Rohde '14. Taking second place and $10,000 in last year's Freirich Competition, they continue to grow Rum Dog Inc., developing a luxury rum brand based in Dominica and a patent-pending, proprietary aging method in which barrels or rum are submerged in the Caribbean Sea;


Seth Berger '14. Taking third place and $5000 in last year's Freirich Competition, Berger continues to develop East Coast Lacrosse, a maker of lacrosse apparel that last year generated sales of over $73,000.
"Each year, the quality of the plans and the presentations just keeps improving," said Kenneth Freirich '90, founder of the competition. As a Skidmore student, he started his own publishing business as a student and is now president of Health Monitor Network. "It's deeply rewarding to see so many students following their passions and developing these businesses with such talent and creativity. I continue to get inspired by them."

As he did last year, Freirich is funding the $20,000 first prize. Other alumni and friends are contributing the other prizes.

In preparing for the final round of competition, all of the student teams are tapping the expertise of entrepreneurs and business executives who served as judges in the first round of presentations in February and now are serving as mentors. For example, Laurie Giddins '82, senior vice president for The Partnership Fund for NYC, has been advising Stella Langat on marketing strategies and the complexities of launching her undergarment production country in Kenya. Michael Stein '89, founding partner with Pensam Capital LLC has been sharing his experience in the apparel industry with Seth Berger. And Geoff Citron, founder and president of Nomia, Inc., a cloud services provider, has been advising Ezra Levy and Marcella Jewell on the technical aspects of building a powerful Web site.
"He had pages of notes for us to look over at our first meeting," says Jewell. "With his experience in technology, he knows the challenges that face tech startups and can point out ways to avoid potential problems."
Other mentors in this year's competition are:
Andrew Eifler '07, chief of staff, AppNexus, who is advising Rum Dog;


Christine Juneau '82, principal, Christine Juneau, LLC, who is advising Leaf Pile Media;


Jim Rossi '82, managing partner, Saratoga Polo Association, who is advising Munchi Heaven Agri.
Friday's event calls for each team to make a seven-minute presentation followed by five minutes of questions from the judges, said Paula Tancredi, lecturer in management and business and director of the competition. In addition to Freirich, the judges will include:
Nancy Cohen Wekselbaum '73, owner, The Gracious Gourmet;


Jody Klein '85, chief executive officer, ABKCO Music & Records, Inc.;


Nick MacShane '91, senior managing director, Progress Partners;

Susan Magrino Dunning '83, president, Susan Magrino Agency;


Nicolas W. Platt '76, former managing director, FTI Consulting; now mayor, Harding Township, NJ;


Ellen Sherman '68, producer, Dateline NBC.