Skidmore readies 16th annual Academic Festival
April 29, 2014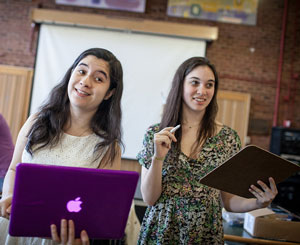 Literary Trivia drew people to the Spa during Academic
Festival 2013. (Phil Scalia photo)
Showcasing the best work of the year from 25 different departments and programs, Skidmore's 16th annual Academic Festival features presentations from more than 170 students, supported by nearly 40 faculty sponsors.
The all-day campus-wide event takes place Wednesday, April 30, with sessions at 9 and 10:30 a.m., noon, 1:30 and 3 p.m., and a closing reception and trivia challenge at 4:30 p.m. in the Class of 1967 Lobby outside of Gannett Auditorium. Presentations are centrally located in Bolton Hall, Palamountain Hall, and the Tisch Learning Center, with the exception of theater and dance, held in their respective locations, JKB Theater and the Dance Center.
A faculty, staff, and student committee, chaired by Periclean Honors Forum director and English Professor Catherine Golden, worked with Academic Council to organize and produce the festival.
Choosing which presentations to attend could be tough, as they include:
•a geoscience senior seminar panel discussing and answering questions on the pros and cons of hydraulic fracturing, aka, fracking, in New York State;
•nonfiction, fiction, and poetry readings from the English Department's best creative writing capstone projects;
•a study on the evolving memory and identity (cultural narrative) of Red Sox Nation, now that the team's 86-year championship drought is over;
•an analysis of Hudson River organic pollutants on a low-cost, microfluidic chip;
•the potential effect of barefoot running on foot health;
•a study on how parents influence women's entrepreneurship;
•the effects of music-induced arousal on creativity;
•aging and conservation of Vermeer's Girl with a Pearl Earring (c. 1665);
•the meaning of the hipster culture at Skidmore; and
•excerpted readings from six first-ever English translations of plays from Martinique, Germany, Peru, Mexico, Spain/Chile, and Turkey.
All sessions are open to the public; details and locations are listed here. Particularly helpful for those looking for individual department and program timeslots and locations is the At-A-Glance room schedule.