Alumni Association honors Glotzbachs and eight others
June 2, 2014
Alumni Association honors Glotzbachs and eight others
June 2, 2014
Gail Dudack '70, President Philip A. Glotzbach,
Reunion Awards Chair Steven Cohen '72 and Marie Glotzbach
After successfully keeping a secret for a year, the Alumni Association interrupted Saturday's Alumni Recognition Ceremony with a surprise presentation: The recognition of Philip and Marie Glotzbach as an Honorary Alumnus and Alumna.
Giving the Glotzbachs two Alumni Association rings, Reunion Awards Chair Steven Cohen '72 cited a long list of advances the College has made during the Glotzbachs' time here and praised them for their "vision, passion and ability to inspire."
Noting that he and Marie were attracted to Skidmore 11 years ago by "what this school was and what it wanted to be," Glotzbach responded, "We are enormously proud of our connection to this community and of the way this community has accepted our ideas and helped us to formulate those ideas."
Referring to a video shown earlier in the ceremony in which students described what Skidmore has done for them, Glotzbach added, "That's the real reason we're passionate about what we do here at Skidmore. When you hear from students and alumni about the difference that Skidmore has made, that's what it's all about."
Skidmore clearly has made a major difference in the lives of the eight alumni recognized by the Alumni Association for professional achievement, distinguished service, and creative thought.
Sallie W. "Penny" Chisholm '69
Distinguished Achievement Award


An MIT professor of biological oceanography and environmental engineering, Chisholm has revolutionized scientists' understanding of the world's ocean ecosystems with her groundbreaking research into the dominant photosynthetic organisms. She received the National Medal of Science from President Barack Obama last year for her work. "You never know where you're going to end up," she said, "so the advice I always give young people is to just follow your passion and let it lead you somewhere interesting," she said.
Winnie H. Wan '74
The Creative Thought Matters Award of Distinction
Wan is executive chair, co-founder and CEO of OncoHealth Corp., a San Jose, CA, firm that is at the forefront of cutting edge research into cervical cancer. "I was a student who never would have been able to attend Skidmore if not for the financial aid," she said. "The experience instilled in me the optimism and sense of possibilities that later contributed to my willingness to take risks and and pursue my career as an entrepreneur."

Judith Pick Eissner '64
50th Reunion Outstanding Service Award
As trustee emerita and former chair of Skidmore's Board of Trustees, Eissner helped to shape the College's growth for almost a quarter century during a critical period in its history (1971-1995). Chair of the search committee that brought former president David Porter to Skidmore, she has held an array of other key leadership roles. "Skidmore was a springboard," she said. "My subsequent career and interests developed from the courses I took here and the professors who challenged me. The friendships that I made here have sustained me through this 54-year journey."

Susan Clark Jorgensen '59
Outstanding Service Award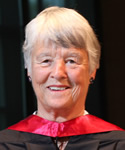 A devoted alumna volunteer, Jorgensen has given back to Skidmore by serving as class president, class agent, reunion hospitality chair, class historian, and member of the Palamountain Benefit Auction Committee. A Saratoga resident, she maintains strong connections to the city and the College. "I look at myself chiefly as a cheerleader and am most appreciative of what's done by all," she said. "Basically, it comes down to happily lending a hand to Skidmore on behalf of our very special Class of 1959."

Val Burkhardt Marier '64, P'92
Outstanding Service Award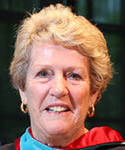 A Celebration Campaign volunteer, Marier has serve in the roles of class secretary, reunion volunteer, class agent, and class historian. She currently serves as class president and chair of her 50th reunion. "To receive this award today is humbling," she said. "It's also poignant, because my mother, Lucille Hogan Burkhardt '36, who worked her way through Skidmore in the Great Depression received the same award. In accepting this, I honor her dedication to this wonderful college."

Judy Roberts Kunisch '69, P'00
Outstanding Service Award
A two-term member of the Alumni Association Board of Directors, Kunisch served as president from 2008 to 2011. That role included membership on key committees for Skidmore's Board of Trustees, including Strategic Planning Trusteeship, Infrastructure, and Student Life. "Lucky, lucky me — an award for doing something that I love," she said.


Meredith Eastman Principe '94
Outstanding Service Award
Vice president of college admissions consulting firm Campus Bound, Principe started her career as associate director of admissions at Skidmore. Chair of admissions on the Alumni Association Board of Directors from 2006 to 2009, she has also served her class in a number of key volunteer roles. "For any of you who haven't tried it yet, I strongly urge you to volunteer for two reasons," she said. "One is that I'm passionate about the school, and the more people who volunteer, the better that is for the College. The other is that you can learn so much by doing so."

Seth McEachron '04
Palamountain Award for Young Alumni Achievement
Co-founder and owner of Battenkill Valley Creamery, McEachron revitalized his fifth generation family dairy business by building a processing and bottling plant on the farm. His business acumen has created soaring demand for the creamery's all natural products and considerable praise, including a 2010 Highest Quality Milk in New York State award. "I want to credit my entire Skidmore experience," he said. "I learned an unbelievable amount and I became the person I am because of Skidmore."