Funded internships make summer really matter
August 1, 2014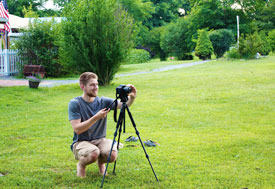 Scientist/filmmaker Chris Coughlan '15
Juanita Tabb '15 loves social justice, Emily Przysinda '15 can't get enough of neuroscience, Sibonginkhosi Gama '15 dreams of starting his own business in Swaziland, Chris Coughlan '15 imagines a future combining science and filmmaking, and Mariah Guevin '15 is dedicated to supporting young people in need.
Happily, they are among the select group of 32 Skidmore students this year (full list below) receiving financial support through the College's summer funded internships program, launched in 2009 and administered by the Career Development Center. Keys to a successful application are the relevance of the internship to career goals and the importance of funding to completing the experience.

Through this and other Skidmore programs, 80 students were chosen from more than 250 applications to receive funding summer internships and experiential learning opportunities in the U.S. and across the globe from Asia to South America. Work settings included financial institutions, businesses small and large, hospitals, schools and universities, museums, nonprofits, and government agencies. Each year the fund is supported by gifts from Skidmore's alumni, parents, friends, the New World Foundation, the Andrew W. Mellon Foundation, Skidmore's Student Government Association, and the SEE-Beyond Awards Program.
"The importance of doing an internship before graduating from college cannot be stressed enough," said Penny Loretto, associate director of career development. "Employers prefer new hires who have completed internship or co-op experiences. And according to a 2013–14 survey by the National Association of Colleges and Employers, employers made full-time job offers to 65 percent of their interns." Loretto says more than 60 percent of Skidmore students participate in at least one internship, and that doesn't include student-faculty research, service learning, or volunteer experiences.
Beyond the numbers, what stands out about this summer's intern crop is their joy in getting to do what they love, their pride in making tangible contributions to a worthy business or cause, and their satisfaction in developing the skills and requirements of professional life—all of which gives them the confidence that they have what it takes to succeed after college. You can almost see them raise their hands in triumph and say, 'I love this and I can do this. Yay!'
Tabb, an English major with a minor in intergroup relations, is interning with the Ohio Civil Rights Commission in her hometown of Dayton. She says, "I love processing discrimination claims, interviewing charging parties and respondents, and working with outstanding investigators who are dedicated to enforcing the law and alleviating wrongs."
"The research is extremely challenging," says neuroscience and music major Przysinda, describing her work at the University of Rochester's Concepts, Actions, and Objects Lab, which she is certain will give her a leg up when she applies to grad schools. "Experiments don't always go as expected and we have to start over, and it sometimes takes serious creativity to get instruments to mesh with the task at hand."
"This is by far the most valuable professional experience of my life," says business and economics major Gama, whois getting hands-on tutelage from the entrepreneurial co-owners of Crown Grill, Circus Cafe, Saratoga Juice Bar, and Saratoga Realty. "The diversity of the job is fun but very challenging. It has required me to split time between different aspects of the operation while staying organized and focused. One minute I'm glued to the computer, the next I'm talking with a head chef or meeting with the owners on a major research project."
Coughlan, a Porter Scholar majoring in neuroscience and minoring in biology, knew he would study science at Skidmore, but has also delved deeply into videomaking. This summer, he is producing a high-quality documentary to show the science behind the organic fruit and vegetable juices of the Clarity Juice startup. "At Clarity, I get to pursue both of my passions—science and video," he says. "Skidmore has allowed me to go with and leverage my strengths."

Guevin, a gender studies major who is considering policy work at a think tank after graduation, has been on the frontlines doing HIV-related counseling with transgender youth and young women of color for programs sponsored by Brooklyn College. She says, "Talking with young people who are HIV-at-risk and HIV-positive is challenging, but knowing the incredible range of resources available to them such as housing, GED programs, and counseling, I know that I can help them, which feels good." A lesbian who grew up in the inner city, Guevin says she feels at home working with her diverse client population.
2014 Summer Funded Interns
Devany Baez '14: SSFIAP–Megan McAdams '08 International Community Service Award—Carismaperu, Huancayo, Peru
Kriti Behari '14: SSFIAP—Pathology Dept., Sanjay Gandhi Post Graduate Institute of Medical Sciences, Lucknow, India
Christopher Coughlan '15: SSFIAP–Elizabeth Marie Glotzbach Film Industry Award—Clarity Juice, Saratoga Springs, NY
Olivia Frank '16: SSFIAP–Megan McAdams '08 International Community Service Award—Cambodian English School of Higher Education
Sibonginkhosi Gama '15: SSFIAP—Saratoga Water Co., Saratoga Springs, NY
Mariah Guevin '15: SSFIAP—Brooklyn University's Downstate Medical Center, Brooklyn, NY
Maya Gurung '15: SSFIAP—US Department of Immigrants and Refugees, Albany, NY
Hillary Hersh '14: SSFIAP—Arts Unbound, Orange, NJ
Sarah Hoenig '15: SSFIAP—Citizens' Environmental Coalition, Albany, NY
Elizabeth Hopkins '15: SSFIAP—Tate House Museum, Portland, ME
Rebecca Lipstein '17: SSFIAP—Valley Hospital, Ridgewood, NJ
Aneta Molenda '14: Parents Council Award—Polish Institute of Arts and Sciences, New York, NY
Chelsea Nuesi '17: SSFIAP—Word Up, New York, NY
Ayelen Pagnanelli '14: SSFIAP–Gilbert Arts Administration Award—BRIC, Brooklyn, NY
Emily Przysinda '15: SSFIAP—Concepts, Actions, and Objects Lab, University of Rochester, Rochester, NY
Juanita Tabb '15: SSFIAP—Ohio Civil Rights Commission, Dayton Regional Office, Dayton, OH
Nino Tsintsadze '14: SSFIAP—Georgian Mission to the UN, New York, NY
2014 New World Fellows (New World Foundation/Roosevelt Campus Network, New York, NY)
Argent Alija '17: Jamaica NeOn
Annys Aristy '16: Department of Youth and Community Development
Nancy Baez '16: Word Up
Lydia Bioh '15: Summer Youth Employment Program
Akil Boney-Gill '17: CYCD, Literacy Program Unit
Fatuma Ceesay '17: Department of Youth and Community Development
Ana Cruz Reyes '16: Summer Youth Employment Program
Diki Dolma '17: NY Peace Institute
William Espinal '17: Department of Probation for Kings County, Brooklyn Juvenile Operations
Miguel Herrera '17: Department of Probation, South Bronx NeOn
Ashley Narvaez '16: Department of Youth and Community Development, SOS Project
Jonathan Ogunleye '17: Department of Youth and Community Development
Thomas Patino '16: Common Justice
Vanessa Quintero '17: Department of Probation, Central Office, Juvenile Operations
Jessica Saney '16: Department of Youth and Community Development, SOS Project
2014 Summer Funded Internship Awards (SSFIAP)*

• Megan McAdams '08 International Community Service Award: 9 applied, 2 selected
• Parent's Council: 47 applied, 1 selected
• SSFIAP '14: 85 applied, 12 selected
• Elizabeth Marie Glotzbach Award: 4 applied, 1 selected
• Gilbert Arts Administration Award: 6 applied, 1 selected
• New World Fellows Foundation: 30 applied, 15 selected

* Many of the students above applied for more than one award, and this list does not include SEE-Beyond, environmental studies, RCIAP (SGA), or the Levine awards.