First-year Filene Scholars to perform Oct. 18
October 16, 2014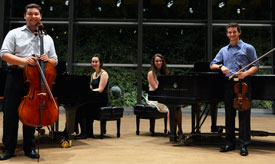 Filene Scholars Christopher Bonardi (left), Beryl
Rosenblum, Hannah Knaul, and Harry Risoleo, all
Class of 2018. (Andrzej Pilarczyk photo)
Music by Elgar, Bruch, Bach, and Ravel will be preed by Skidmore's newest Filene Scholars, who will perform in concert at 6:30 p.m. Saturday, Oct. 18, in the Arthur Zankel Music Center.
Admission to the event is free and open to the public.
Featured artists are Christopher Bonardi of Middletown, N.J., who plays cello; Hannah Knaul of Sudbury, Mass., piano; Harry Risoleo of Washington, D.C., violin; and Beryl Rosenblum of Montclair, N.J., piano. All are members of Skidmore's Class of 2018.
The program includes Edward Elgar's Concerto in E minor for Cello, Op., 85, to be performed by Bonardi; J.S. Bach's Prelude and fugue No. 21 in B-flat major, to be performed by Knaul; Max Bruch's "Scottish Fantasy," to be performed by Risoleo; and Maurice Ravel's "Jeux d'eau," to be performed by Rosenblum.
The students were the winners of the 2014 Filene Music Scholarship Competition, established in 1982 by the Lincoln and Therese Filene Foundation to help gifted young musicians further their musical studies and develop their talents as part of a liberal arts education.
"The Filene Scholarships have had a powerful influence, not just on the Music Department, but on the entire College," said Professor Gordon Thompson, chair of the department. He continued, "Filene Scholars are routinely selected as Periclean Scholars each spring, identifying them as among our most remarkable graduates. They come to campus as musicians and they have had a profound effect on the quality of music making at Skidmore; but they often excel in other majors: biology, physics, government, English, psychology, and many other departments also reap the benefits of this program."
Added Thompson, "The core of the success of the Filene Scholarship lies in its ability to enable students with demonstrated potential to thrive as students and to prepare them to be successful alumni. Helen Filene Ladd would be justifiably proud of these young scholar-artists and be amazed at how her contribution has changed her alma mater.