Beatlemore Skidmania 14: The Beatles arrive in America
November 18, 2014
Please click here to view the the live stream at 8 p.m. Saturday, Nov. 22.
Skidmore Music Professor Gordon Thompson and his students are heading into the home stretch before Beatlemore Skidmania 2014, scheduled for Friday and Saturday, Nov. 21 and 22, in the College's Arthur Zankel Music Center.
For this, the 14th version of the annual event, Skidmore musicians will perform tunes from 1964 to showcase the 50th anniversary of the Beatles going global by arriving in America. The show annually features a mix of a cappella groups, rock bands, and acoustic acts and their remarkably original interpretations of Beatles repertoire.
Said Thompson, "This year we celebrate the breakthrough of this important band into the American market. They had already achieved considerable success in Britain and Western Europe, but they had had very little success in the North American market. More fundamentally, they opened up the American market for British performers who had been largely treated as novelty acts up to this point."
The Skidmore Sonneteers perform at Beatlemore
Skidmania 2013.
The program reflects this theme. Selections from the albums Hard Days Night, With The Beatles, and Beatles for Sale will be performed, as will the singles "I Want to Hold Your Hand," "Can't Buy Me Love," "This Boy," "Long Tall Sally,"and "I Feel Fine."(Please click here to see the program lineup.)
As in the past, the production will serve as a fundraiser again this year. In 2013, approximately $12,000 was raised from show proceeds and sale of such things as posters and T-shirts. Two thirds of that amount went to Skidmore Cares, the College's community outreach program, and the other third was contributed to student financial aid.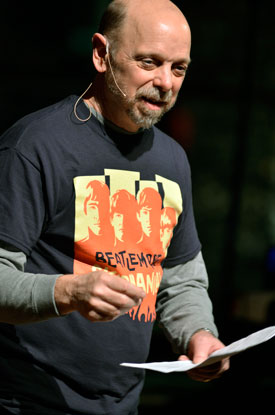 Gordon Thompson at Beatlemore 2013.
Performances are scheduled at 8 p.m. Nov. 21, and at 2 and 8 p.m. Nov. 22. (Ticket information follows.) The Saturday night show is reserved for a Skidmore-only audience. In recent years there has also been a live stream via the College's web site to reach Skidmore alumni around the world. This year, first-year students in London will also have the opportunity to view the show over the web and there will be viewing parties for alumni in New York City and Boston. Boston-area alumni are welcome at Harvard Club – Back Bay, 374 Commonwealth Ave., from 7 to 10 p.m. Nov. 22, while New York City alums are invited from 7 to 10 p.m. Nov. 22 at the Playwright Irish Pub, 27 West 35th St. Admission to both events is $10 per person and $7 for young alumni. T-shirts and posters designed by students will be available for sale at each event. For more information, please contact the College's Alumni Affairs Office at 518-580-5610.
Over the years, Beatlemore Skidmania has morphed from a fairly casual, one-show songfest to a far more professional production staged three times over two days. This year's show will feature more than 70 performers and "a much higher energy level among the bands," noted Thompson.
Instead of this being a class project for his fall "Beatles Seminar" course, Thompson is working this year with a small group of students who are combining talents and their love of the Fab Four to produce the show. The 2014 Beatlemore Student Committee consists of Roslyn Wertheimer '16, Noah Samors '15, and Lisa Fierstein '16. They are responsible for a significant number of show elements: selecting the line-up, choosing a poster winner, marketing, outreach, merchandise sales, stage crew, working with Skidmore Cares, and making sure the show runs smoothly. The three students are officially enrolled in an independent study, earning academic credit for an alternative educational experience.
Said Thompson, "In the past some students have said this is the most important educational experience they have had at Skidmore. It's a hands-on look at putting together a show that allows students a chance to learn all aspects of a production, from the basic mechanics of recruiting performers and securing rights and permission for the music, to putting the performance together: balancing bands, a cappella, acoustic; the order and set-up of bands; and the quick exchange of performers. There's a lot of planning involved to keep the show fresh and balanced.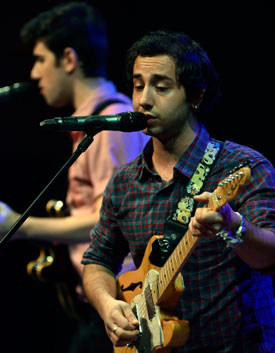 Los Elk performs at Beatlemore Skidmania 2013. (All
photos
by Andrzej Pilaczyk)
Tickets for the Nov. 21 and 22 Beatlemore Skidmania shows are $10 general admission, $7 for seniors, faculty, and staff, and $5 for students and children. Tickets may be purchased online here. Posters are $5 and T-shirts, $15. They may be purchased in the Zankel lobby during the shows.
Almost from the start in 2001, Beatlemore Skidmania has been a fall performance tradition at Skidmore. It has typically attracted an enthusiastic group of students to audition, and audiences always include a solid mix of campus and community members. Thompson says, "I have only a general idea why it's been this successful. In part, it's become a tradition that people just expect. In part, the concert provides a context in which different student (and faculty) performers can share the stage. In part, it's the music, because the Beatles helped to establish the model that much of today's popular music follows. The intergenerational enthusiasm comes significantly from parents (and now grandparents) sharing their love of the music with their children (and grandchildren)." ~ By Lisa Fierstein '16