Five years for the Freirich Business Plan Competition
March 22, 2015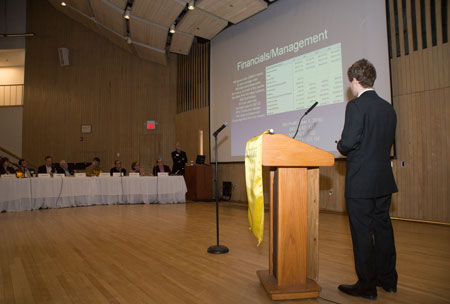 Nineteen teams entered the first round of the Freirich Business Plan Competition.
More than 250 students and 150 businesses have entered the Kenneth A. Freirich Business Plan Competition since Ken Freirich '90 established it in 2010 as a way to encourage Skidmore students to "follow their passions" with a transformational entrepreneurial experience that could change their lives forever. In commemoration of its fifth anniversary, the competition has broadened its scope to include artistic and social entrepreneurship.
Will the winner be Adirondack Flannel and its Saratoga Shirt? MyCity Brewing and its Buffalo-brewed beer? A next-generation composting service? Or the novel that twin sisters are writing about their great-great-grandmother's emigration from Russia to Turkey after the Bolshevik Revolution?
After surviving the first round, eight student teams are now focused on the April 10 finals in the for-profit category, while an additional five are competing in a new social entrepreneurship category created in commemoration of the competition's fifth anniversary.
Nancy Wekselbaum '73 is counseling Jamie
Benjamin '17 and Leif Catania '17 on their
plan for Adirondack Flannel.
For the fifth anniversary event, total cash prizes — with others contributing — will set a record of $60,000, with in-kind legal and accounting services valued at over $10,000. Freirich has put up $25,000 toward the prizes.
A record 19 teams made presentations in the first round, pitching their business plans to a panel of nine successful alumni entrepreneurs and executives.
"We have never seen a larger or stronger field of contestants in this competition," notes Roy Rotheim, professor of economics and director of the competition. "All of these initiatives are quintessentially Skidmore in their creativity, global reach, and social consciousness."
"It was an awesome fifth-year semifinal," says Freirich. "The businesses and organizations were as diverse as ever, and I am always amazed by the incredible amount of talent and creativity among the students."
Sisters Övgu and Oyku Bozgeyik are
being mentored by Andrew Eifler '07.
Once the eight business and artistic finalists were selected, they were paired with eight judges, who are now serving as the students' mentors to help them prepare for the finals.
For example, retailing expert Nancy Wekselbaum '73, president of the Gracious Gourmet, is counseling Jamie Benjamin '17 and Leif Catania '17 of Adirondack Flannel on their plan to bring to market their vision of the "Saratoga Shirt," a fashion hybrid that combines classic style with the comfort of flannel.
And Andrew Eifler '07, senior director for product management at AppNexus, will work with twin sisters Övgu and Öyku Bozgeyik '16 in developing their historical novel, Call Me Myna.
The other business teams:
Stella Langat '16, a finalist last year, has
again entered her plan for Double Dee's.
Nic Platt '76, former corporate executive and current mayor of Harding Township, N.J., will advise Stella Langat '16 on developing Double Dee's into a successful producer of undergarments for women in her native Kenya;
Branding and advertising expert Sara Arnell '82, CEO and founder of the Karmic "social goodness" mobile app and platform, will advise Elizabeth Worgan '16, David Florence '16, Catherine Headrick '17, and Samuel Barback '17 on turning Allstolen Apparel into a successful maker of clothing that combines sportswear and high fashion;
Andrew Goetz '84, president of the Malin+Goetz chain of apothecaries, will advise Jonah Epstein '16 on establishing MyCity Brew as a community-centered beer producer inspired by his native Buffalo, N.Y.;
Ray Bryan '94, a private investor and financial advisor with Janney Montgomery Scott, will advise Alex Nassief '16 on Rum Dogs and its patent-pending technology for aging rum in ocean-submerged containers;
Seth McEachron '04, cofounder and owner of Battenkill Valley Creamery, will advise Adam Beek '15, Joshua Chacko '16, and Natalie Williams '15 on developing their MediBloom as a supplier of medical marijuana to the Canadian and international markets.
Christine Juneau '82, principal, Christine Juneau, LLC will advise John Manning '14 and Brad Cray '15, on their plan to expand their Saratoga-based composting company, Evolv Composting.
In the social entrepreneurship category, the finalists will be mentored by Freirich; Catherine Hill, F. William Harder Professor of Business Administration, and the two student co-directors of the this year's Skidmore-Saratoga Consulting Partnership, Lauren Alexander '15 and Ezra Levy '15. The finalists are:




Seeds for Peace: Ana Lordkipanidze '15, Mustafa Chaudry '14, Nghia Luu '14, and Nino Tsintsadze '14, expanding the shipping non-GMO seeds to people in need around the world;
Klicka: Tshediso Mataka '15, Derek Nunner '15, Henry Fabre '16, Felicia Mazibuko '17, and Kwanele Tsabedze '16, establishing "mobile enrichment centers" in remote villages in South Africa;
Nceka Women Empowerment: Themba Shongwe '18, alleviating women's economic dependency in a Swaziland community by establishing a small community pig farm;
Fund Knowledge: James Rimmer '15, helping young people in developing nations to gain entry to colleges and universities in the U.S.;
SPAF: Kengthsagn Louis '17, providing public high schools in Haiti with science laboratories.