TEDx talks on 'Visions of the Future' now on YouTube
March 22, 2015
Jake Mitchell '14 and Sarah Green '16
Videos of the five presentations made at last fall's TEDxSkidmoreCollege event at the Arthur Zankel Music Center can now be viewed on YouTube.
Sarah Green '16 and Jake Mitchell '14 organized and co-hosted the event, the theme of which was "Visions of the Future." Catherine Hill, F. William Harder Professor of Business Administration, advised on the project. SkidTV videotaped the event and its president, Andrew Fine '15, did the editing.
Green, who also organized the first TEDxSkidmoreCollege event in 2013, is assembling a team to stage another one this fall. To join the team, suggest a theme, or recommend a faculty speaker, please drop her a note at sgreen2@skidmore.edu. Follow TEDxSkidmoreCollege on Facebook, Twitter, or Instagram for more information.
Here are links to the five presentations made last fall:
Reba Howard
Too Much of a Good Thing: Evolving Our Relationship with Alcohol. Historically dubbed "water of life," alcohol may have played a critical role in the development of civilization as we know it, says Reba Howard, assistant professor of chemistry and researcher who investigates the molecular interactions between brain proteins and drugs that alter behavior and experience, particularly alcohol and anesthetics. But as our medical and nutritional dependence on this unique molecule fades, access to potent alcohol sources presents increasing challenges to individual health, family and social structure, and sustainable energy, she says. Our long-term good may depend on reinventing our relationship with this once life-giving commodity.
Gavin Berger '15
The Mechanism of Mindful Process. When he arrived at Skidmore as a first-year student, Gavin Berger '15 was convinced that achievement and creating stories was the sole litmus test for a successful college career. But after going to Russia and having his approach to acting rebuilt from the ground up he discovered that there can be just as much—if not more—success processing the journey to accomplishments as there is with having a list of milestones. In his talk, Berger, a chemistry major with a biochemistry concentration and a theater minor, explores the processes by which we make choices and views the imperative of striving for success through the lens of a college career. Berger plans to pursue a career in emergency medicine and to use his training in acting to better relate to patients.
Gordon Thompson
College and Lifelong Learning. Given that students and their families have invested heavily in a Skidmore education, we should offer continued intellectual enrichment gratis as part of our institutional responsibility, says Gordon Thompson, professor and chair of the Department of Music. Many of the courses Skidmore offers can be reimagined as video experiences. Might the Internet allow us to sustain the developmental relationship between school and student beyond graduation? Thompson is the author of Please Please Me: Sixties British Pop, Inside Out (Oxford) and the author-producer of The Beatles: An Introduction, an experiment in online learning.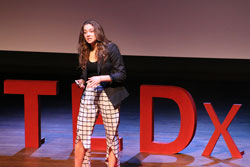 Marcella Jewell '15
Passion, Programming, and Pragmatism. Writing code, selling to customers, or creating a long term vision for a start up all require passion, programming, and pragmatism, notes Marcella Jewell '15, but how much of each? How can you be passionate and pragmatic at the same time? Dedicated to increasing millennial employment and self-actualization, Jewell is the founder of Anthill, which she describes as an "online neighborhood hub that connects America's small businesses with millennials and college students who want to freelance right down the road."
Sheldon Solomon
Afraid of the Dark: Humanity at the Crossroads. Humans manage existential terror by embracing cultural worldviews that afford a sense of meaning and value, and hope of immortality, says Sheldon Solomon, professor of psychology. While efforts to transcend death underlie our most noble achievements, they also foster our most ignominious proclivities, including: disdain for and hostility toward people with different beliefs; indifference to, or contempt for, the natural environment; and, the mindless pursuit of money and stuff—which, if unchecked, may render we humans the first life-form to prune their own branch from The Tree of Life. In his talk, Solomon explores the future of our species in light of these ideas. Solomon's studies of the uniquely human awareness of death on behavior have been supported by the National Science Foundation and Ernest Becker Foundation, and were featured in the award winning documentary film Flight from Death: The Quest for Immortality.
TED is a nonprofit organization devoted to Ideas Worth Spreading. Started as a four-day conference in California 30 years ago, TED has grown to support its mission with multiple initiatives. The two annual TED Conferences invite the world's leading thinkers and doers to speak for 18 minutes or less. Many of these talks are then made available, free, at TED.com. TED speakers have included Bill Gates, Jane Goodall, Elizabeth Gilbert, Sir Richard Branson, Nandan Nilekani, Philippe Starck, Ngozi Okonjo-Iweala, Sal Khan and Daniel Kahneman.
The annual TED Conference takes place each spring in Vancouver, British Columbia, along with the TEDActive simulcast event in nearby Whistler. TED's media initiatives include TED.com, where new TED Talks are posted daily; the Open Translation Project, which provides subtitles and interactive transcripts as well as translations from volunteers worldwide; the educational initiative TED-Ed. TED has established the annual TED Prize, where exceptional individuals with a wish to change the world get help translating their wishes into action; TEDx, which supports individuals or groups in hosting local, self- organized TED-style events around the world, and the TED Fellows program, helping world-changing innovators from around the globe to amplify the impact of their remarkable projects and activities.
TEDx is a program of local, self-organized events designed to spark discussion and give attendees a TED-like sense of connection. (The "x" indicates that it's locally sponsored.)