Community reading event taps Skidmore talent
March 24, 2015
Community reading event taps Skidmore talent
March 24, 2015
by Jessica Kong '16
On the first Friday of each month, the village of Ballston Spa, N.Y., celebrates town life with special events in local art galleries, shops, and restaurants. The theme of "First Friday" in March was family reading, and that presented an opportunity for Skidmore students to share their time and talents.
When First Friday organizers contacted Darren Drabek, coordinator of international students and scholar services, to see if Skidmore could help out, he jumped at the chance. He quickly contacted a group of students, who volunteered to read aloud to parents and kids: Adam Beek '15 (Kingston, Jamaica), Ran Tao '18 (Suzhou, China), and Hongqiao "Ted" Li '18 (Beijing, China), and Jake Robinson '16 (Saratoga Springs).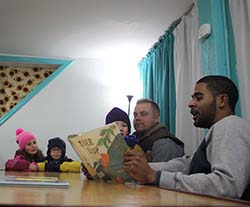 Adam Beek '15 spins out a story.

(photo: Thuy Duong Tran Thi '18)
The group's assignment took them to one of the 10 reading venues for the evening, A Bead Just So, a boutique and bead store on Front Street. A table for readers and listeners was set up in the interior of the shop. Warm turquoise walls were decorated with a vast array of colorful and unique beads. The four Skidmore students took turns reading to the curious children, getting into character and pausing for suspense. When a story was finished, guests clapped enthusiastically. A young boy was overheard saying that he would like to stay and listen more when asked by his mother if he wanted to walk around the town.
Tao, who is undecided about her major but is certain about her passion for storytelling, read a book about the Chinese New Year's festival. Said Tao, "When I was growing up, my parents worked a lot and weren't always around. But my great-grandmother always read books to me. I would beg her to read them over and over again. I never grew tired of them."
Beek, a business major, simultaneously translated and read aloud a story of Anansi written in Jamaican patois. Anansi stories are West African fables that are well known in the Caribbean. Said Beek, "I think it's very important to tell stories. It helps kids be creative and develop their imaginations."
Said Drabek, who selected the books from the Saratoga Springs Public Library, "The children and families hopefully enjoyed either hearing a story they know, or hearing a new one for the first time. The stories that included references to communities far away may have acted as a vehicle to transport their imaginations to places they may know little about. And here they had a guide, a local college student they could look up to and meet for the first time."
Skidmore students from all backgrounds and experiences are welcome to read on First Fridays in Ballston Spa and are encouraged to contact Michelle Hubbs (mhubbs@skidmore.edu), Skidmore's director of community service programs, for more information.