Chamber event links international students and the community
February 3, 2015
Chamber event links international students and the community
February 6, 2015
by Rebecca Kong '16
A group of Skidmore's international students got the inside scoop on their adopted hometown of Saratoga Springs and the area's career opportunities, thanks to a recent gathering hosted by the Saratoga County Camber of Commerce. The event, held at the chamber offices, brought together some 15 Skidmore students with area professionals to swap ideas and learn from one another.
The annual mixer, launched last year, was the idea of Darren Drabek, academic counselor and coordinator of international student services at Skidmore, who was looking for ways to connect his students to the community and increase their awareness of the local business and service economy. Skidmore's Office of Community Relations proposed the idea to the chamber of commerce, and the staff there took off with the idea, rounding up local professionals willing to share their expertise.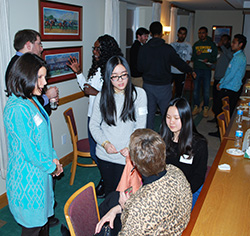 Networking at the chamber mixer
Said Drabek, "Student exposure to local businesses is often limited to the bare necessities or to entertainment. We created this event to encourage a deeper understanding of other facets of the Saratoga Springs professional community. Our office seeks opportunities for visiting students to learn what their American counterparts have observed for years in the working culture."
Participants filed into the chamber's conference room and were immediately greeted by the warm smiles of chamber representatives, Skidmore faculty and staff, and business leaders. Pizza and refreshments were served as the community members settled around a large oval table.
Skidmore students from China, the Bahamas, Cameroon, Ethiopia, Haiti, Kenya, Libya, Lithuania, Madagascar, Nigeria, South Africa, and Swaziland shared their passions and how they each wanted to become involved in the community. These aspiring engineers, computer scientists, business professionals, doctors, and humanitarians all had something they sought to learn from industries in the U.S.
Representatives from a variety of sectors—healthcare, nonprofit, marketing, technology, and law—introduced themselves and spoke about the specific qualities they look for when hiring. Dave Shacket, president of the web development company WebInstincts, values flexibility and a good attitude when working collaboratively to solve problems. Matt Jones, principal of the Jones Firm, seeks good writers and self-starters. Sue Malinowski, executive director of CAPTAIN Youth and Family Services, looks for passion, commitment, and a willingness to work around the clock for a cause. Mad Glory, Allegory Studios, Saratoga Bridges, Fingerpaint Marketing, and Saratoga Hospital were some of the other businesses in attendance.
Later in the program, students and business representatives mingled and swapped ideas, advice, and experiences. Stella Langat '16 recommended the creation of an app that would list Saratoga businesses and their available internships and other career opportunities. Hailing from Kenya, Langat is an economics major and environmental science minor who wants to acquire the skills to one day manage her own company. Right now, she is focusing on the marketing side of things.
Said Langat, "I believe in my confidence, personality, and my ability to network, and I know those are very important when launching a new brand, or marketing a startup. I want to be able to market a small business to become big."
Themba Shongwe '18, a prospective business and economics major, is interested in one day registering his own non-government organization in his native country of Swaziland. In addition to the business classes he is taking at Skidmore, networking events such as this add to his reservoir of administrative wisdom.
Said Shongwe, "It's about learning organizational structure and the financial side. I believe functional NGOs have the potential to have an impact in my country. With impact comes influence, and I would like to positively influence the direction that education is going. That's my goal. That is the highest point of my dreams. And it all starts with learning the skills I need to run an organization."