Xerxes at Arthur Zankel Music Center April 1–2
March 28, 2016
What better way to celebrate spring than with an opera about a tree-hugger?
The first full opera production in Skidmore's Arthur Zankel Music Center will be Handel's Xerxes at 8 p.m. Friday and Saturday, April 1 and 2. Directed by Artist-in-Residence Sylvia Stoner-Hawkins, the production features students in her "Opera Workshop" course, guest countertenor Chad Payton, and Skidmore faculty baritone Dennis Blackwell, with the Skidmore String Orchestra, led by guest conductor Scott Schoonover and prepared by Senior Artist-in-Residence Michael Emery.
Handel's seriocomic opera, which debuted in 1738, was based loosely on the ancient Persian King Xerxes. He opens the production by singing to his beloved plane tree the famous aria "Ombra mai fu" ("Never was a shade"). For her shortened adaptation, Stoner-Hawkins has the king launching a sustainability campaign: "We have turned the plot around to work with modern times," she notes. And notwithstanding the distractions in the convoluted plot—the king falls for his brother's lover, power struggles ensue, emotions escalate—"in our version the sustainability campaign is really successful."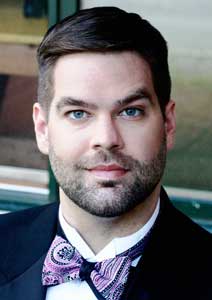 Chad Payton
Originally designed for a castrato, the role of Xerxes today is usually sung by a female contralto or mezzo-soprano, or by a countertenor—a male with a high vocal range. Handling the Skidmore role is guest artist Chad Payton, a countertenor noted for his rich, full tone and vocal fluidity. He made his operatic debuts at both Carnegie Hall and the Kennedy Center in Michael Ching's Corps of Discovery—A Musical Journey, and he performs in oratorios and chamber music recitals as part of Payton and the Pipes. He is an assistant professor of music at Delta State University in Cleveland, Miss., and a voice teacher and artistic administrator for the venerable Seagle Music Colony at Schroon Lake, N.Y. Stoner-Hawkins enlisted him because "he is both an artist and a teacher. He knows the part, and he knows the baroque style. Students can learn a lot working with such a professional."
In the role of Ariodate is Skidmore voice teacher Dennis Blackwell, a baritone applauded for his work across opera, concerts, recitals, and musical theater, including with the New York City Opera and the New York Gilbert and Sullivan Players. At the podium will be Scott Schoonover, founder and artistic director of the critically acclaimed Union Avenue Opera in St. Louis, Mo.
Romilda (Katherine Krebs '19, left) and Amastre
(Anabel Milton '18) in a scene from Xerxes.
(Charlie Samuels photo)
Stoner-Hawkins—whose credits include the Des Moines Metro Opera, Opera Omaha, Union Avenue Opera, Lake George Opera, and Lyric Opera of Kansas City—is in her second year on the Skidmore music faculty. An active and popular performer as a Skidmore student—she was a Filene Music Scholar, graduating in 1994—she is plainly thrilled that her students have this opportunity. "Handel in general is very friendly for the developing voice," she says. "The orchestration is of a lighter timbre, so it's easier for lighter voices to sing over it, in terms of balance."
She adds, "Our students are so brilliant," explaining that Xerxes has "sections of arias as well as recitative—where you sing it but also act it—and in order to act it in Italian you have to be almost fluent in the language." English supertitles will help the audience follow along. Featured in lead roles are soprano Katherine Krebs '19 as Romilda, countertenor Elijah McCormack '16 as Arsamene, soprano Anabel Milton '18 as Amastre, and soprano Evan Shalat '16 as Atalanta. In all, two dozen students are involved in the cast and crew, and others perform in the orchestra.
Admission is $10 for adults, $7 for seniors, and free (but with reservations required) for students and children. All tickets are available at www.skidmore.edu/zankel anytime or at the Zankel box office Tuesday through Friday, 1–5 pm. Contact the box office via email at zankel@skidmore.edu or by phone at 518-580-5321.