The death of a Renaissance man
March 29, 2016
On Saturday, March 26, 2016, David H. Porter, former president of both Carleton and Skidmore colleges, died after an accidental fall, at the age of 80. In an era when cynicism about the value of higher education and the values of its leaders runs rampant, the life of David Porter stands as remarkable counter example, one that illustrates why America's educational system remains the envy of many around the world. Porter's many contributions embody the ethics of service, creativity, and intellectual exploration that have been, for centuries, the desired hallmarks of a liberal arts education.
Born in New York City in 1935 to two musicians—Hugh Porter, president of Union Theological Seminary's Music School, and Ethel K. Flentye, a teacher and pianist—David attended Collegiate School, where he excelled in the classroom and on the playing fields. His baseball prowess earned him an offer to join a minor league team, but he chose music and scholarship over sports.
In 1954 he matriculated at Swarthmore College, where he studied both music and classics (graduating summa cum laude and Phi Beta Kappa in 1958) and at the Philadelphia Conservatory of Music, where he studied with the noted Austrian pianist and composer Eduard Steuermann. He earned a doctorate in classics from Princeton University in 1962 and then moved to Carleton College in Minnesota, where he spent the next quarter-century as a popular teacher and noted scholar while raising a family of four with his wife, Laudie Ernestine Dimmette. He held Carleton's W. H. Laird Professorship of Liberal Arts and also served as a visiting professor at Princeton.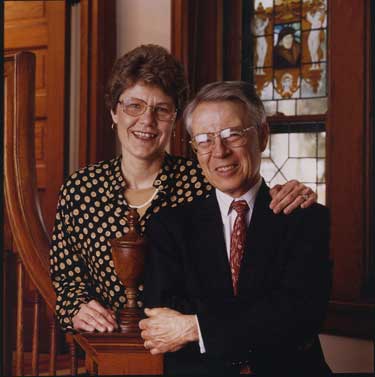 David and Helen Porter at Scribner House
In 1986 he was asked by Carleton to serve as its interim president, and the following year he was recruited as Skidmore's fifth president. He moved to Saratoga Springs and was soon joined by his second wife, Helen Luebke Porter. In his inauguration speech, he noted that he had accepted the responsibility with "keen anticipation and excitement, as well as with a fair measure of awe." Over the next 12 years, he helped transform Skidmore into a nationally recognized institution, strengthening its curriculum, diversifying its faculty and staff, greatly expanding access for students with limited financial means, overseeing the largest fundraising campaign in the college's history to that point, and laying the groundwork for what would become the renowned Frances Young Tang Teaching Museum and Art Gallery, which opened in 2000.
Throughout his years at Skidmore, he remained closely connected to faculty as well as students. He famously met individually with each member of the faculty upon his arrival, and he kept abreast of their research and publications. Among the students, he was known for "jamming" with them in small musical groups at his house and for offering an annual lecture-concert to students in the Liberal Studies I course, who reveled in his presentation of "The Well-Tampered Clavier: Play, Musical and Otherwise." Porter accomplished this ongoing outreach while attending to all of the usual demands made on a college president, from fundraising to working with trustees.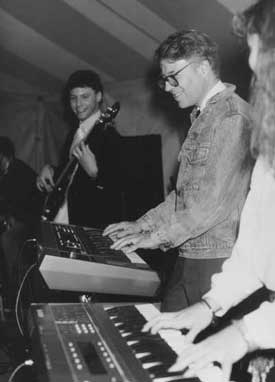 David Porter performing with students at his 1987
inauguration party.

Music remained a great passion for him. In addition to his work with Steuermann, he also studied harpsichord with Gustav Leonhardt, and regularly performed both national and internationally, from Beethoven and Bach to the avant-garde works of Charles Ives and John Cage, whom he championed throughout his life.
His intellectual passions were equally broad and deep. He produced monographs on Greek tragedy and Horace as well as articles and other works on Willa Cather, Virginia Woolf, the Hogarth Press, and Eduard Steuermann. He was a regular contributor to national op-ed pages from The New York Times to The Boston Globe, opining on topics ranging from the cost of college to the relevance of Horace's odes, from student volunteerism to music education.
He retired from the Skidmore presidency in 1998 but remained an active teacher and scholar, assuming teaching posts at Indiana University and Williams College before returning to Skidmore as a member of the Classics Department, where he held the inaugural Tisch Family Distinguished Professorship. Even when he retired from the faculty in 2013, after more than half a century in the classroom, he stayed active on campus, offering his "Well-Tampered Clavier" to new generations of Skidmore students. He last performed it for the first-year students this past September in the College's Arthur Zankel Music Center.
Porter served his community on many public and private boards. He was a member and chair of the board of Value Line and served on the boards of the Adirondack Trust Company, the Saratoga Performing Arts Center, the artists' retreat Yaddo, and the Willa Cather Foundation.
In 1991 he responded to a story in US News & World Report on the stresses and strains faced by college presidents by declaring that those frustrations paled "beside the satisfactions of the job." He explained, "I remain elated by the impact of education on today's students … [whose] college years have involved genuine intellectual discovery and significant personal growth—and have rendered them ready and eager for the challenges that will follow graduation." He concluded, "I wouldn't change it for any other job in the world."
Porter is survived by his wife, Helen; his five children, Hugh Edwin Porter, Laudie Everett Porter, Helen Carol Porter, David Gray Porter, and Cathrin Ann Lawton; and seven grandchildren. For those wishing to make memorial donations, the family suggests Carleton College's Laudie Porter Memorial Fund, or Skidmore College's David and Helen Porter Scholarship Fund, or another charity. Those who wish to send written condolences to the Porter family may do so at this special page.