Business-world role model
December 22, 2016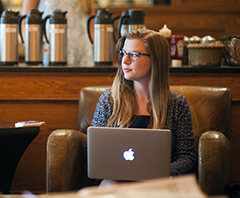 Lyssa Jackson '16
(Photos by Charlie Samuels)
At their first meeting, Lyssa Jackson '16 recalls, Ceci Zak '87 asked her, "What are your dreams? What are your goals?" Jackson found that she "matched my 120-miles-per-hour kind of thinking" and proved a fantastic listener; for her part, Zak was "dazzled" by Jackson's enthusiasm and leadership ability. With Zak's encouragement over the next year, Jackson spearheaded a major event for the student club she co-founded, Skidmore Women in Business.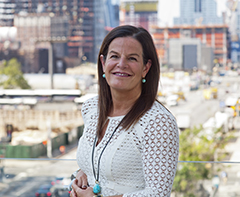 Marketing exec Ceci Zak '87
The mentoring began when Zak, health-care COO for Omnicom's DAS marketing companies, asked Skidmore staff member Joe Porter how she might give back to her alma mater, especially in a way that could use "my passion for development of leadership skills," she says. Porter connected her with Jackson. After an evening of what Jackson calls "very intense conversation, in the best way possible," she and Zak stayed in touch via scheduled emails and phone calls.
Women in Business members had benefited greatly from conferences at institutions such as Harvard Business School and the University of Pennsylvania's Wharton School. "At these events, you could always tell where the Skidmore women were, because they were always asking the most interesting questions," Jackson says. Now it was Jackson's turn, with Zak's mentoring, to develop WIB's first conference of its own. Speakers at the daylong event, Creative Thought Leads: Liberal Arts and Business Smarts, included marketer and working-mom advocate Catherine Merritt '03, wedding and event planner Rebecca Shenkman '03, Center for American Progress exec Emily Tisch Sussman '04, Elle Décor design editor Mieke ten Have '05, and Bravo network social-media director Abigail Cusick '04.
Zak found the theme apt, noting that in her students days Skidmore "grounded me in a wide breadth of industries and services. It helped me find what I was passionate about in different aspects of my career."
Upon graduation, Jackson became an executive team leader for Target Corp., a role in which she takes great pride though she sometimes finds herself striving to show all she can do. At times, "it can be hard, but then I hear Ceci in my head, saying, 'You can do it.'" —Jim Akin '84