Dance developments
May 4, 2017
"I started this course with a mission of determining the physical adaptions that may occur when people with developmental disabilities are exposed to dance training," says Sarah DiPasquale, assistant professor of dance, "but I quickly learned that relationships formed throughout the semester were an equally important aspect."
Her spring-term "Bridges to Skidmore: The Dance Experience" built on a collaboration started in 2010 between social work professor Crystal Moore and the Saratoga Bridges agency for citizens with developmental disabilities. DiPasquale, a physical therapist who teaches dance conditioning and kinetic anatomy as well as ballet and modern dance, paired nine Skidmore students with 18 Saratoga Bridges clients who came to campus twice a week. Along with undergoing focused training in developmental disabilities and pursuing their own dance practice and readings, the Skidmore students worked with their Bridges partners to help them with mobility and collaborate on choreography for a group performance.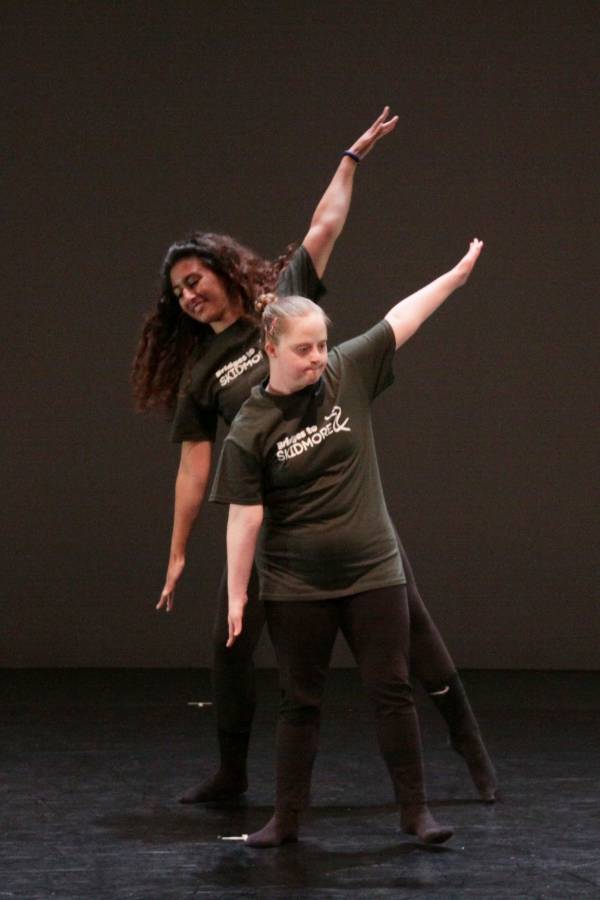 Caroline Kelberman '17, who "always had a passion for both psychology and dance," especially enjoyed co-leading a class session that "took what the Bridges partners had already learned and built on it-for example, we added asymmetrical and symmetrical arms to familiar steps. We also came up with imagery and movement modifications to ensure success for the entire class." Kelberman was impressed by the partners' "interest in learning, drive to succeed, and positive attitude in every class."
The Bridges dancers were also invited to participate in the research side of the course. The hypothesis was that their physical function and mood would both improve after dance experiences. At the beginning and end of the semester, participants were tested for strength, flexibility, and overall mobility; at the beginning and end of each class meeting, they rated their mood on a scale from 1 for "very sad" to 10 for "very happy."

DiPasquale says the initial research data suggest "improvements in lower-extremity strength, a decrease in fall risk, and improved mobility." Full analysis will be done soon. For the mood measures, though, not much analysis is needed, since nearly every data point is "very happy." She says, "It's kind of funny, to see the whole spreadsheet full of 10s!"

To cap the course, the Skidmore and Bridges dancers joined onstage in a group performance. Afterward, certificates were handed to each Bridges participant at a reception that underscored what Kelberman calls "the incredibly strong, rewarding relationships we built together."
DiPasquale cites Lynn Haggerty, a behavioral specialist at Saratoga Bridges, for floating the idea and providing crucial insights to shape the course. And she says it exceeded her expectations to help students learn about dance as a powerful medium for education, personal expression, and physical achievement for diverse populations and gain experience working with people not usually encountered in college. The Bridges dancers also met their goals of participating in a college experience and learning about dance as an avenue for both exercise and communication.

Plans are under way for next fall's course, in which physical-therapy doctoral students from nearby Sage College will assist with research under the guidance of DiPasquale and her former Sage faculty mentor, Jim Brennan.