Environmental movement, literally
October 4, 2017
An Oct. 5–6 campus residency aims to illuminate connections among art, science and activism, stimulate cross-disciplinary thinking, and demonstrate how movement can respond to and shape the environment. Students, faculty and staff in dance, environmental studies and sustainability will work with dancer-choreographer Jody Sperling, creator of the Ice Cycle dance work. These events are free and open to the public.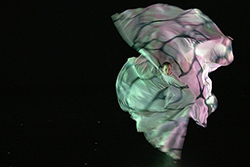 Sperling performing
Ice Cycle
Based in New York City, Sperling in 2014 participated in a science mission to the Arctic's Chukchi Sea aboard a US Coast Guard cutter. During the expedition, she danced on the polar ice, which has been shrinking dramatically in recent decades. The experience inspired her to create Ice Cycle, a dance work expressing the fragility and dynamism of the Arctic landscape.
At Skidmore, Sperling will engage in a panel discussion on art, activism and climate change with Karen Kellogg, a professor in environmental studies and sciences; Levi Rogers, director of sustainability; and Julia Cavicchi '18, an environmental studies major. The talk takes place Thursday, Oct. 5, at 5:45 p.m. in the Dance Theater. Then on Friday, Oct. 6, at 2:30 p.m., Sperling will lead students in devising movements that express their relationship with the natural environment and in trying them out on Case Center's patio and Case Green.