Student art exhibition opens Feb. 6
January 19, 2018
Skidmore will present the 2018 Juried Skidmore Student Exhibition Feb. 6-March 6 at the Schick Art Gallery in the Saisselin Art Building. An opening reception will be held at the gallery from 5 to 6:30 p.m. on Tuesday, Feb. 6.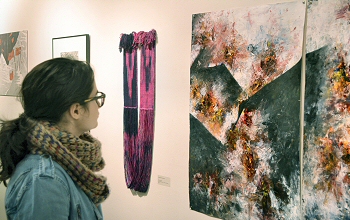 Each year, students submit works in a range of materials including prints, photographs, sculpture, graphic design, painting, drawing, animation, fibers, jewelry and ceramics. From an average of 250 entries, a guest juror typically chooses 60 to 75 works for exhibition and 10 outstanding works for special awards. Awards and gift certificates totaling more than $1,000 are funded through donations by friends of the gallery, campus organizations and community benefactors including the Adirondack Trust Co., Soave Faire Art Supply, and Allerdice Building Supply.

This year's juror is Susan Meyer, sculptor and assistant professor of art at the College of Saint Rose in Albany, N.Y. Meyer is a 1986 Skidmore graduate and holds an M.F.A from the Boston Museum School at Tufts University. She has shown her work at numerous venues, including solo exhibitions at Courthouse Gallery in Lake George, N.Y.; Art Space in New Haven, Connecticut, and Plus Gallery in Denver, Colorado.

Gallery hours are 10 a.m.-6 p.m. Monday through Thursday, 10 a.m.-4 p.m. Saturday and noon to 4 p.m. Sunday. For more information, visit www.skidmore.edu/Schick.