Documentary forum to explore surveillance
June 7, 2018
Skidmore has announced the 2018 John B. Moore Documentary Studies Collaborative (MDOCS) Storytellers' Institute, a five-week summer program held each June. The institute brings together five professional documentary practitioners (visiting fellows) and 10 Skidmore College students and faculty members to celebrate documentary work and practice around a central theme.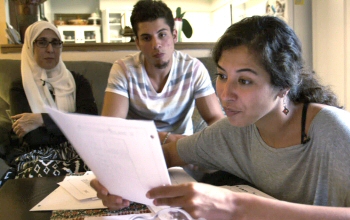 Scene from
The Feeling of Being Watched
One of the highlights of the fourth annual event is a weekend-long documentary forum, titled "Surveil/Surveilled," to be held June 7–10. The event, free and open to the public, will feature presentations of artistic work and symposium-style conversations exploring the intersection of documentary and surveillance. Participants will have opportunities to connect with an international group of storytellers, experience evocative work and participate in conversations that engage and inspire.

As populations are increasingly surveilled by all levels of government, through security and military interventions into public space, we also increasingly surveil ourselves. Personal data is collected and mined by private companies through social media and other forms of internet archiving that many people voluntarily use on a regular basis. The forum will present documentary work that questions what happens to this growing amount of documentary material amassed by surveillance systems and what rules govern its use. As with all archival material past and present, the entity that controls the content controls access, availability and how stories are told and remembered.
Sarah Friedland
"The act of observing, watching, listening and recording is fundamental to documentary practice and to surveillance," said Sarah Friedland, director of the Storytellers' Institute. "The 2018 forum will bring together makers, scholars, students activists and the public to analyze documentary as a form of surveillance; consider the ethics and legalities of observing and the vulnerability of being observed; learn how to protect from surveillance; and engage with the documentary material that surveillance systems yield to explore its storytelling and truth-telling potentials."

All activities are free and open to the public. For registration and a full schedule of events, visit the MDOCS website.
2018 forum highlights
6 p.m. Thursday, June 7, Payne Room, Tang Museum: "The Feeling of Being Watched," filmmaker keynote featuring Assia Boundaoui.

Assia Boundaoui
Assia Boundaoui (director/producer) is an Algerian-American journalist and filmmaker based in Chicago. She has reported for BBC, NPR, Al Jazeera, VICE and CNN and was the recipient of a first-place Mark of Excellence Award from the Society of Professional Journalists for her reporting in Yemen. She directed a short film on hijabi hair salons for HBO's documentary series Lenny, which premiered as an official selection of the 2018 Sundance Film Festival. Boundaoui has a master's degree in journalism from New York University and is fluent in Arabic. The Feeling of Being Watched, her directorial debut, premiered at the 2018 Tribeca Film Festival this spring.

During this event, the director, cinematographer and editor of the new documentary The Feeling of Being Watched will show clips from and discuss the process of making the film.

In the Arab-American neighborhood outside of Chicago where Boundaoui grew up, most of her neighbors think they have been under surveillance for more than a decade. While investigating their experiences, Boundaoui uncovers tens of thousands of pages of FBI documents that prove her hometown was the subject of one of the largest counterterrorism investigations ever conducted in the U.S. before 9/11, code-named "Operation Vulgar Betrayal."

With unprecedented access, The Feeling of Being Watched weaves the personal and the political as it follows the filmmaker's examination of why her community fell under blanket government surveillance. Boundaoui struggles to disrupt the government secrecy shrouding what happened and takes the FBI to federal court to compel the agency to make public the records collected about her community. In the process, she confronts long-hidden truths about the FBI's relationship to her community. The Feeling of Being Watched follows Boundaoui as she pieces together this secret FBI operation while grappling with the effects of a lifetime of surveillance on herself and her family.

3 p.m. Friday, June 8, Payne Room, Tang Museum: Protection and accountability workshops featuring Tamika Lewis and Virginia Eubanks of the organization Our Data Bodies and producer Ines Hofmann Kanna.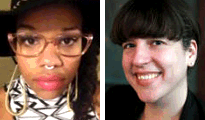 Tamika Lewis, Virginia Eubanks
The public is invited to join a workshop about the ways in which communities can organize against discriminatory surveillance practices and another about how documentarians can be accountable to their sources and protect them from surveillance. Directly following the workshops, workshop leaders will engage in conversation about their shared and divergent practices.

Our Data Bodies members Tamika Lewis, an artist whose primary focus is advancing queer people of color and marginalized communities, and Virginia Eubanks, a writer, teacher and welfare rights organizer from Troy, New York, will lead a workshop about how we can protect ourselves and our communities from the surveillance of our private data.

Our Data Bodies is based in marginalized neighborhoods in Charlotte, North Carolina, Detroit, Michigan, and Los Angeles, California. The group is dedicated to looking at digital data collection and human rights; helping local communities, community organizations and social support networks; growing a national conversation on safety, privacy and data-protection needs of marginalized communities; and showing how different data systems affect reentry, fair housing, public assistance and community development.

Ines Hofmann
Kanna
Ines Hofmann Kanna will lead a workshop about how documentarians can be accountable to their subjects and sources by rigorously protecting their data. Kanna has been producing and directing film and television projects for more than 20 years. She began her career at Boston's PBS station, WGBH, where she worked for 10 years on the hit series Antiques Roadshow. As a freelancer, she continued to produce and direct TV series for cable and public television and filmed in places as close as Iowa and as far as Yemen and Saudi Arabia. She was also a supervising producer for ITVS, guiding more than 30 filmmakers from production to broadcast, and acted as series producer on two ITVS documentary series. For the past few years, she has been focusing on producing feature documentaries with independent filmmakers, most recently Sonia Kennebeck's National Bird, which had its world premiere at the 2016 Berlinale and won the 2017 Ridenhour Documentary Film Prize. Kanna was born and raised in East Germany. She lives in Oakland, California.

6 p.m. Saturday, June 9, Payne Room, Tang Museum: Artist talk featuring Hasan Elahi

Hasan Elahi
Hasan Elahi is an artist whose work examines issues of surveillance, citizenship, migration, transport and the challenges of borders and frontiers. His work has been presented in numerous exhibitions at venues such as SITE Santa Fe, Centre Georges Pompidou, Sundance Film Festival and at the Venice Biennale; he has been covered by the New York Times, Forbes and Wired; and he has appeared on Al Jazeera, Fox News and the Colbert Report.

Elahi has spoken about his work to a broad range of audiences at venues such as Tate Modern, Einstein Forum, American Association of Artificial Intelligence, International Association of Privacy Professionals, TED and the World Economic Forum. His recent awards include a Guggenheim fellowship, an Alpert/MacDowell fellowship, grants from Creative Capital, Art Matters Foundation and the Doris Duke Foundation for Islamic Art, and he is a recipient of a Hugh M. Hefner First Amendment Award. In 2009 he was a resident faculty member at Skowhegan School of Painting and Sculpture and is currently associate professor of art at the University of Maryland, where from 2011 to 2014 was director of Design | Cultures + Creativity in the Honors College. In 2017 he joined the board of directors at Creative Capital.