Creative talent delivered directly to employers
March 26, 2019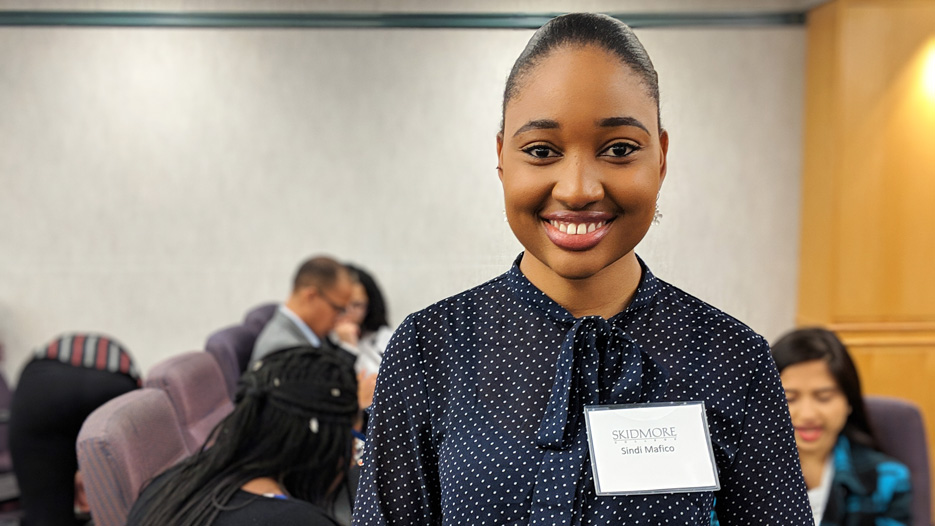 Nearly 100 Skidmore seniors recently traveled to New York City's Times Square dressed in their business best, resumes freshly printed, first jobs nearly in hand.
Awaiting them were 25 companies from a variety of industries — consulting, finance, sales, health, fashion, media and nonprofit — with nearly 50 open positions.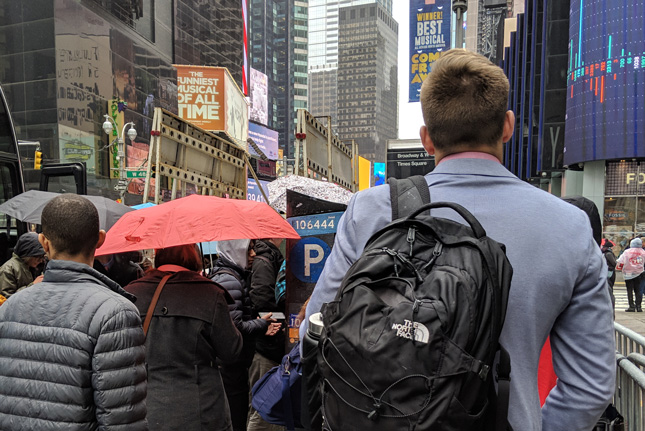 "We told employers, 'We'll bring the creative talent to you,'" said Pam Fisher, associate director of employer outreach and strategic communications in Skidmore's Career Development Center (CDC), which organized Skidmore Recruitment Day.
The Recruitment Day message for the companies, including Indeed, NYU Langone Health, Yelp and Vineyard Vines, was simple — Skidmore can help you fill your open, entry-level positions.
And the message for graduating seniors was sincere — come ready to seize the moment and show the working world what Skidmore has prepared you to do.
"We connected upcoming graduates with great jobs and showed employers the value Skidmore candidates can bring to their companies," said Fisher.
Edvinas Rupkus '19 interviewed for health industry positions. "This was a great event for seniors. The connections were already made, the bridge already built between us and employers we're interested in."  
Twenty-five percent of the Class of 2019 applied for the positions ahead of time, giving recruiters and hiring managers time to review students' qualifications. Of the applicants, employers selected more than 100 for interviews, either at Recruitment Day or over the phone.
Many of the interviewers were Skidmore alumni. Others were parents, friends or fans of Skidmore who have hired Skidmore graduates in the past.
Remy Marin '15 interviewed candidates for an apprentice program at Prosek Partners, a PR firm where Marin is an account supervisor.
"I know the types of graduates Skidmore produces so I knew they'd be qualified candidates. Plus, as an alumna representing my employer, I enjoyed guiding the seniors to jobs in our industry," said Marin.
From left: Maggie Patterson '15, Coney Island Prep, Remy Marin '15 and Matthew Luongo '15, Prosek Partners
Infusing the day with alumni provided for plentiful one-on-one conversations — both for serious job interviews and casual, albeit valuable, advice from one Skid Kid to another.
"The interviewers were approachable and open to talking about all aspects of their careers and companies, such as workplace culture and diversity and inclusion," said Sindi Mafico '19.
The event was the first of its kind for Skidmore but is part of a robust program of networking and career education events organized throughout the year by the CDC.
Read about Career Jam, a fall semester networking event
"I am fortunate to have had this experience," said Julia Gillis '19. "I interviewed with many companies and felt very positive about them because the CDC supported us ahead of time with mock interviews, pointers and more."
While we'll have to wait to see where our 2019 graduates are going, Fisher said she's confident the word on Skidmore is out and was encouraged by the energy she felt and feedback she received.  
"It wasn't a room tense with competition. Rather, the students cheered each other on. There were high-fives before interviews and hugs afterward."
"And the response from our employers was fantastic. Each one said they would return for future initiatives. Our candidates impressed them," said Fisher.