Harvest Dinner tradition continues to feed spirit of community
November 5, 2019
Skidmore's annual Harvest Dinner is about community — from the ground up.
First held in 2008 as a fundraiser for the College's then-budding campus garden, the celebration of healthy, local, sustainable food began as a completely student-run initiative. By 2013, it had outgrown its original venue, Falstaff's, and moved to The Spa in Case Center.
The Harvest Dinner remains a student-led event that receives support from Dining Services and the Sustainability Office.
Ella Long '20, a math and art major, served as this year's Community Garden manager, learning valuable lessons in leadership and community building. The Skidmore Sustainability Office guided her through planning, seeding and the growing season, and she tended the garden into the summer. She also hosted weekly work parties so her peers could lend a hand in the garden, learn more about sustainable agriculture and develop a greater appreciation for the food on their plates.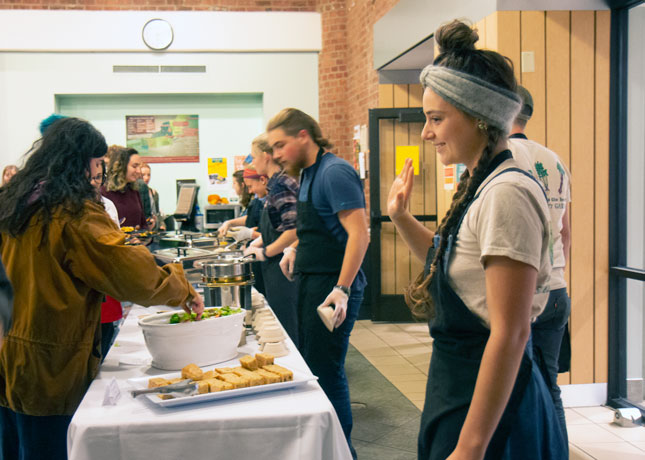 Skidmore Community Garden manager Ella Long '20 greets fellow students during the Harvest Dinner in The Spa in Case Center.
"In terms of interacting with people and building a community here, we've had really good turnout to work parties, and a lot of the volunteers who work the dinner have been coming to the garden every Sunday afternoon," she said.
Dozens of student volunteers lent a hand over Harvest Dinner weekend, picking, prepping and serving the food and keeping the buffet trays full.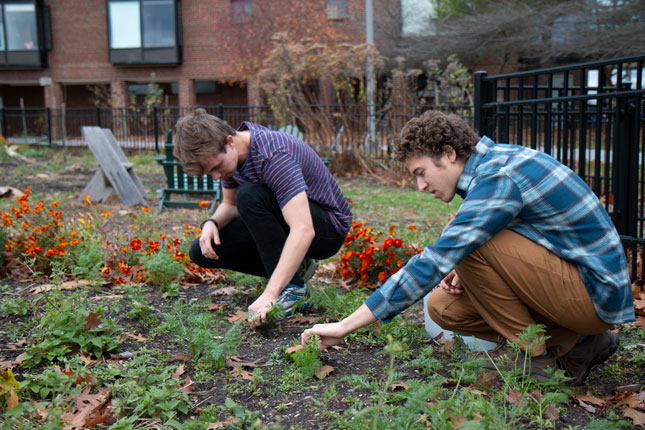 Skidmore students harvest carrots from the Skidmore Community Garden on the Friday afternoon before the Harvest Dinner.
"I volunteered a good amount in the garden at the beginning of the semester, so I thought it would be fun to volunteer at the Harvest Dinner," said environmental studies major Andres Durante '21 as he chopped vegetables the afternoon before the dinner. A course he's taking, Environmental Education with Assistant Professor A.J. Schneller, also stresses experiential learning through volunteer work.
The students and Sustainability team were assisted during all three prep days by Dining Services, which provided managerial oversight, cooking, dishwashing and cleanup help, in addition to support from Executive Chef Jim Rose and Dining Services Assistant Supervisor Jackie Clark in planning the menu and logistics.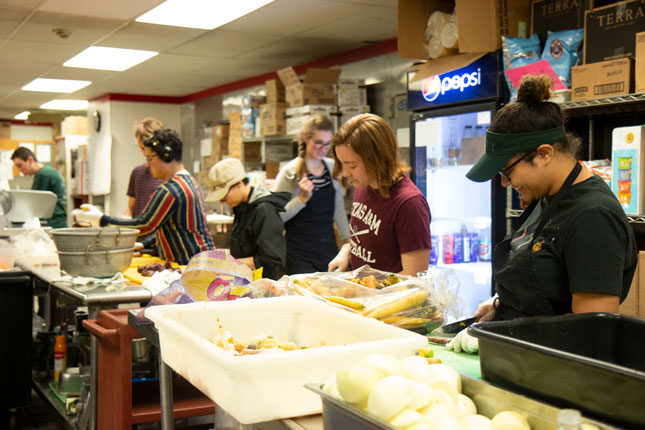 Dining Services staff members help students prep vegetables for the Harvest Dinner.
"It's very exciting and rewarding to see how passionate students are about cooking healthy, local, sustainable foods," said Chef Rose. "Praises should go out to Ella Long and her team for cultivating a bountiful array of delicious organic vegetables that Dining Services has been able to utilize in our operation throughout the year."
James Grayson '22 was there to learn from Dining Services and to support sustainability efforts.
"I'm volunteering because I want to learn to be a better cook and I really care about the environment, so I want to have an impact," he said.
To minimize waste, members of Skidmore's Compost Club collected diners' food scraps and compostable bowls, and the club Feedmore gathered leftovers to donate to local food pantries and organizations.
Members of Skidmore's Compost Club collect diners' food waste and compostable bowls at the Harvest Dinner.
In another victory for community building and food accessibility, the event transitioned this year from a fundraiser for the Skidmore garden to a benefit for the Saratoga County Economic Opportunity Council's Thanksgiving baskets program. This shift was enabled by financial sustainability sown by Dining Services' ongoing purchase of Community Garden produce for the Dining Hall.
Members of Sustainability's peer-to-peer education team greeted diners and collected donations.
One of those diners, Kieko Carvey '22, said she attended "for the sense of community."
"It made me feel really connected to Skidmore's garden," added Carvey, currently a student in the interdisciplinary course Food for Thought taught by Professor of Italian Shirley Smith.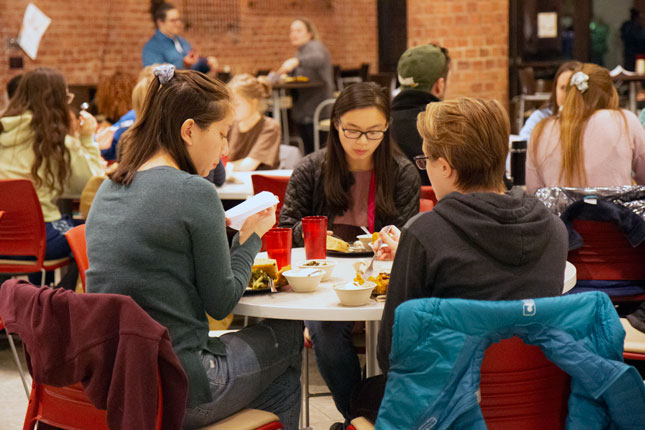 Students enjoy the vegetarian and vegan dishes prepared for the Harvest Dinner with ingredients from the Skidmore Community Garden and New York state farms.
"The Harvest Dinner is a really wonderful culmination of the growing season," said Jennifer Natyzak, sustainability coordinator for student programming. And this year's growing season was the Community Garden's most successful to date.
"We've grown and harvested over 1,300 pounds of produce in the garden this year," said Levi Rogers, director of sustainability programs and assessment at Skidmore.
That bounty supplied all of the greens, radishes and carrots for the Harvest Dinner's salad, the kale for the kale and bean soup, potatoes for the scalloped potatoes, the Black Futsu squash for the roasted vegetable mix and the garlic used throughout. The other ingredients in the entirely vegan and vegetarian dishes were sourced from New York state farms through a sustainable food provider.
Community Garden manager Long was excited to share the food she had grown with the rest of the Skidmore community and her classmates who had also worked so hard to make it possible.
"It's nice to have everyone come back together to celebrate," she said, "in honor of eating right and eating locally."
Student volunteers dish out food during the Harvest Dinner.