Skidmore College honors veterans
November 11, 2019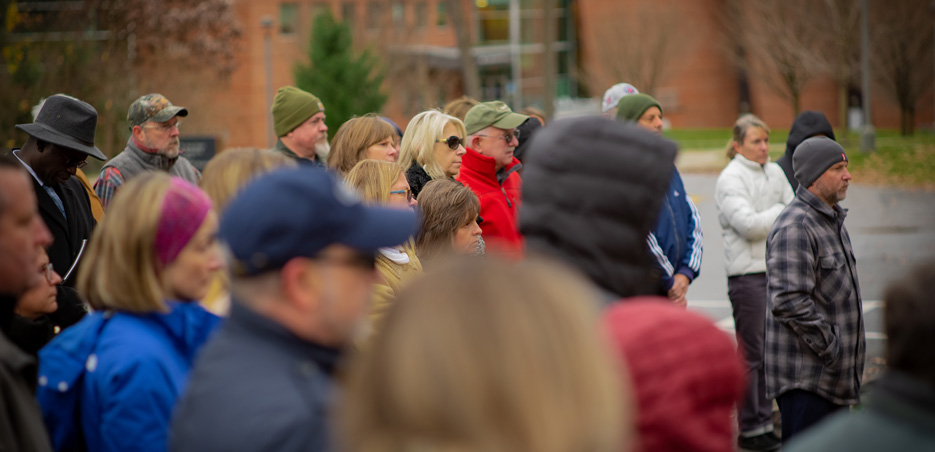 Skidmore College recognized the service of members of the armed forces at a Veterans Day ceremony and luncheon Monday.
Members of the Skidmore community gathered at a blustery outdoor ceremony to lay a wreath and raise the flag in honor of veterans.
"On this day, we remember those who have fought, those who have helped preserve this nation," President Philip A. Glotzbach said. "To those who have served, thank you for your service."
Glotzbach expressed particular appreciation to Skidmore's veterans, who later gathered at a luncheon in their honor at the Surrey-Williamson Inn.
"Service is laudable. Service is valuable, and it even transcends the cause for which that service was required or requested. We need to have the backs of our veterans," Glotzbach said. "For all the veterans on this campus, we appreciate your service. We have your back."
James Kennelly, professor of international business, and President Philip Glotzbach participate in the campus Veterans Day ceremony.
James Kennelly, professor of international business, who served in the U.S. Air Force, spoke at the ceremony about the ability of military service to transcend other societal divisions.
"It's comforting to know that there is a shared service that many of us have taken part in — something in common, something that unites us, a belief that we all share — the ideal of service," Kennelly said. "Thank you for being here to help us remember and recognize (veterans) and to say thank you for this service."
Brandon Beaupre, a Campus Safety officer and a member of the Air National Guard, also expressed appreciation for the gathering.
"It's inspiring to our Skidmore community recognize our veterans," he said. "It's an honor for me to be part of that today."
Members of the Skidmore community participate in a Veterans Day luncheon.