Knead, braid, bake, repeat
May 13, 2019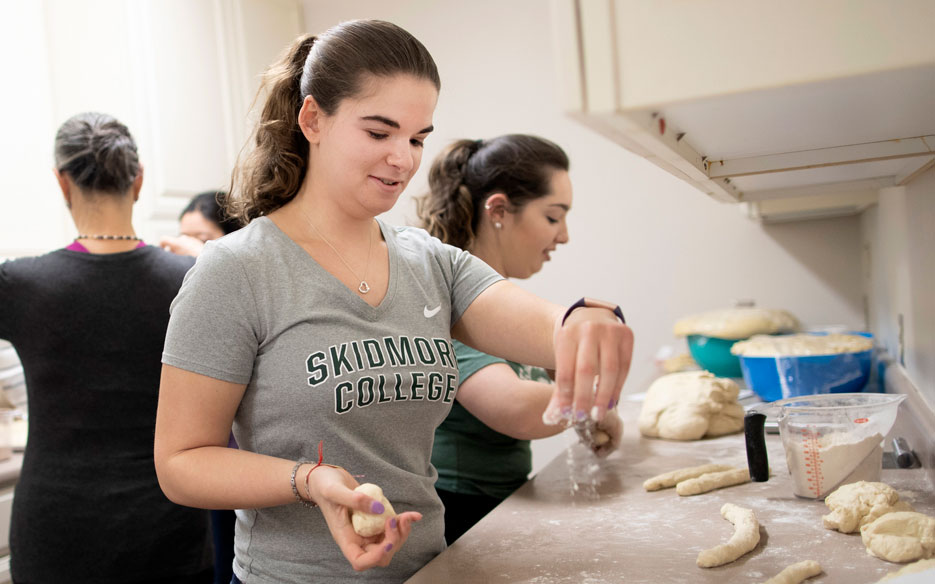 When Hillary Goldstein '20 heard about the national organization Challah for Hunger from friends at other colleges, she knew she wanted to start a Skidmore chapter.
"I love baking, so this was a perfect way to raise awareness about food insecurity and do what I love while sharing it with the community," Goldstein says. 
Food is also the center of several student-run advocacy groups at Skidmore. Feedmore collects surplus food from the dining hall and donates it to a local food pantry; Challah for Hunger and FeelGood sell bread and grilled-cheese sandwiches, respectively, to raise money to fight world hunger.
Goldstein recruited friend Emily Gordon '20 and, after attending a leadership summit for the national group, they co-founded Skidmore's chapter and prepared for their first bake during the 2018 fall semester.
"I grew up going to Hebrew school and Jewish youth groups so I already knew how to bake challah," Goldstein says.
Gordon, however, did not. But when Goldstein couldn't make the first bake due to a schedule conflict, she got a crash course.
I went from never having made a challah to baking 55 in less than 48 hours.

Emily Gordon '20
Since then, the pair have experimented with recipes and ingredients, fiddled with cooking and rising times and perfected their braiding technique. They now offer plain, vegan, chocolate chip and cinnamon sugar challahs — plus some four-strand braided loaves. They bake the challah in the Fallstaff's Pavilion kitchen once a month — making the dough on Wednesday; braiding, baking and bagging the bread (along with a fact sheet on food insecurity) on Thursday and selling it at Case Center on Friday.
This year, they sold more than 400 loaves at $4 to $5 a pop, raising more than $1,500. They donated half of the money to the SNACpack Program in Saratoga Springs, which gives hungry school children backpacks filled with child-friendly easy-to-eat foods each week, and half to MAZON, a national advocacy organization working to end hunger among people of all faiths in the United States and Israel.
Twenty-three volunteers helped to knead dough, bake it, bag it and selling the challahs. Three also volunteered at the SNACpack Program.
The team also writes letters to local grocery stores, asking for donations.
"Doing this, I've learned professionalism and how to speak up and, as a result, we've gotten numerous donations of gift cards and ingredients," Goldstein says. "It's been super rewarding."