A new roommate: Artwork from the Tang
February 10, 2020
Sally Apolinsky '20 arrived at the Tang Teaching Museum and Art Gallery at 3:30 a.m., hours before the doors even opened.
Finally, around 9 a.m., she pointed at Corita Kent's 1968 print "n is for caution" and asked to take it to her campus apartment.
Apolinsky was the first of 50 Skidmore students to line up before dawn in late January for the chance to choose select pieces of art from the Tang collection and display them in their rooms for the semester. The event was part of the new program Roommate: Living with Tang Art.
"This is really an incredible opportunity," said Apolinsky. "The idea of getting to look at a piece by my favorite artist, who does a lot of the same types of things I do, is both inspiring and a wonderful way to interact with art."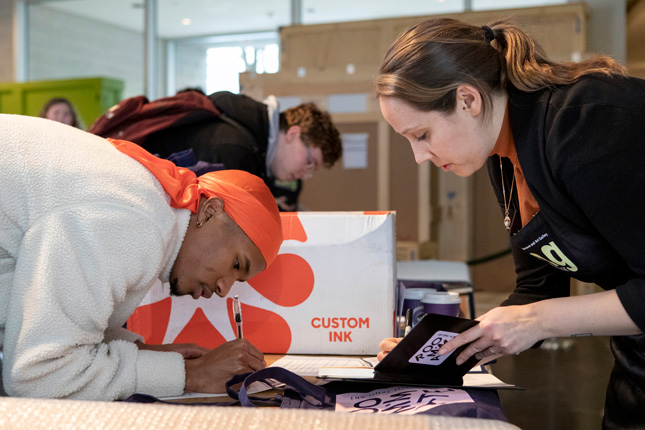 Malchijah Hoskins '22 signs his loan agreement for Romare Bearden's "Three Women (Easter Sunday)" with Tang staff member Annelise Kelly. (Photo: Dan Lubbers)
The new Skidmore tradition was created in collaboration with the Tang Student Advisory Council, a body designed to deepen student engagement at the Tang.
"Normally, going to the museum, the art is on this pedestal and you're looking at it and interacting with it in a controlled setting," said Anna de Carvalho '22. "And now it's more in your setting, which I think is really different."
Even so, taking the work off the wall and being responsible for it comes with mixed feelings.
"You feel powerful, but also terrified," said de Carvalho, who selected Henri Matisse's "Palme blanche sur fond rouge," 1946-1947 (published 1979).
Once students selected their works, Tang staff members packed the art, went over a loan agreement and handed each student a tote with hardware to hang the artwork and a hammer, which, like the artwork, needs to be returned at the end of the semester.
Andres Priest-Lopez '21 picked a work that had a personal connection for him, Giorgio de Chirico's "Interno Metafiscio," 1970.
"I would go to MoMA a lot as a kid and see a lot of de Chirico there. So it's kind of cool to have a little bit of that for a while," said Priest-Lopez, who is looking forward to showing the work to his roommates and friends. "It adds so much meaning to the space, and it's like you are able to have something you really connect with."
Kibibi Davis '22, who is studying environmental science, arrived at 4 a.m. Just as her number (No. 9) was about to be called, she changed her mind and ended up selecting Alexander Calder's "Spring Carnival," 1978.
"I think the size will work well in the dorm room, to be honest, and it's not too overpowering," she said.
Emily Theisen '22 in her room with a 1990 untitled lithograph by Julian Lethbridge.(Photo: Sarah Condon-Meyers)
The 50 students who got artwork on Jan. 26 were joined by friends, giving the event the feel of a party celebrating a new Skidmore tradition.
"I think it's really exciting that there are so many people waiting outside hours before," said Lila Dittersdorf '20, who was sixth in line and selected a lithograph by Pablo Picasso called "Pour Roby." "People are so committed, and I think it's cool the Tang can do this."
Jared Azud '20, who lined up at 4 a.m. and was fourth in line, selected David Dupuis' "Visions of Pantelleria," 1995. He said it was worth the long wait.
"It's a fun thing to do with your friends," he said. "And you'll remember it forever."
Students will be able to borrow work from the Tang collection again in September.