Skidmore remembers Ruth Bader Ginsburg
September 22, 2020
As Ruth Bader Ginsburg is remembered nationally for the enduring legacy that she has left on women's rights and American jurisprudence, members of the Skidmore College and Saratoga Springs communities look back at the time she spent in the local area with affection.
In 2000, Ginsburg, an associate justice of the U.S. Supreme Court, visited Saratoga Springs as a guest of Jamienne S. Studley, a fellow graduate of Harvard Law School who served as president of Skidmore from 1999 until 2003.
Ginsburg, who passed away Friday, and her husband, Martin D. Ginsburg, who died in 2010, joined Studley and her husband, Gary Smith, at the Travers Stakes, the high point of the racing season at the Saratoga Race Course.
Skidmore College Trustee Linda Jackson Chalmers '73 attended a dinner that evening with Ginsburg and Studley at Scribner House, the president's official residence.
"It was a great honor to meet and share a meal with one of the most effective advocates for justice and equality our country has ever known," Jackson Chalmers said. "I'm deeply saddened by her passing, but I am heartened that she inspired countless young people, through whom her legacy will no doubt live on."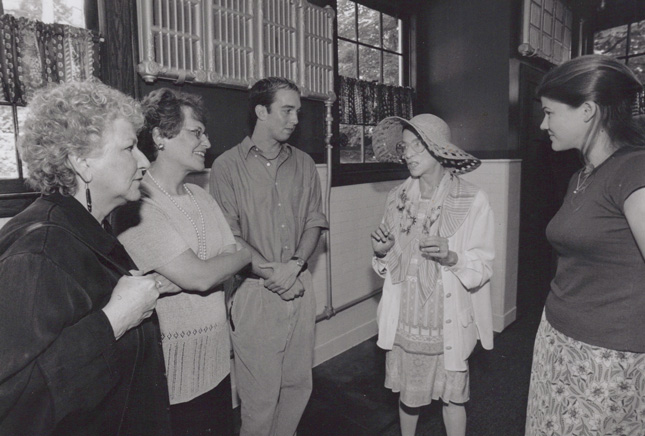 Justice Ginsburg also discussed leadership and other topics with a small group of Skidmore students and faculty. From left, Professor Emerita of American Studies Joanna Zangrando, Former President Jamienne Studley, Eric Patridge '01, Justice Ginsburg and Margaretta Walton '01 are pictured at Scribner House. (Photo courtesy Eric Patridge.)
Professor Emerita of American Studies Joanna Zangrando, who was then teaching the course Women and Law, said she was also honored to meet Ginsburg. "What a presence," Zangrando said.
Also in attendance was Judith Resnik, a professor of Law at Yale Law School, who organized a conference on women and the law that Justice Ginsburg and President Studley had both attended.
It wasn't the justice's first trip to the nation's oldest racetrack: Ginsburg, who grew up in Brooklyn and completed her undergraduate degree at Cornell University, knew upstate New York well. She said she came to Saratoga Springs regularly as a teen and occasionally escaped here while working as a camp counselor in the Adirondacks in her youth.
"On my days off I would hitchhike to Saratoga," Ginsburg said, according to The Saratogian newspaper.
Ginsburg spent 27 years on the nation's highest court before her death on Sept. 18 due to complications of metastatic pancreatic cancer.
Ginsburg last visited Saratoga Springs in 2018, when she and Chief Justice John Roberts spoke at the conclusion of a three-day conference hosted by the U.S. Second Circuit Court of Appeals at the Saratoga Springs City Center. Ginsburg exhibited characteristic wit, congeniality and dedication to the law, according to news coverage of the event.