The Tang explores 100 years of women marching on
October 23, 2020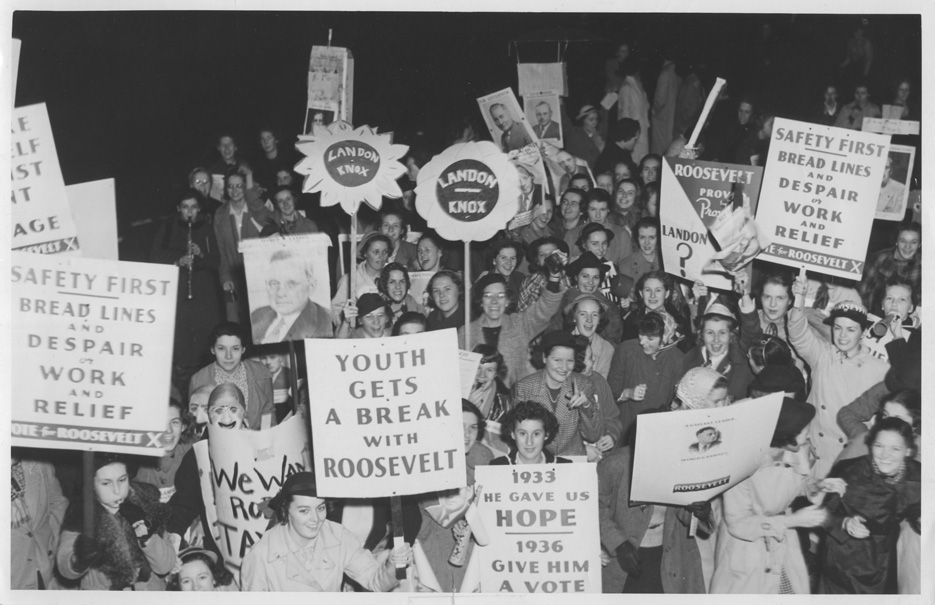 During this election year, two exhibitions at the Frances Young Tang '61 Teaching Museum and Art Gallery take the 100th anniversary of the 19th Amendment as an opportunity to explore how far women have come — and how much more still needs to be done — in achieving equal rights.
"We've Only Just Begun: 100 Years of Skidmore Women in Politics" is an online exhibition that tells the stories of notable Skidmore women who have made their mark.
Kathryn Starbuck, a professor, administrator and trustee from 1921 until her retirement in 1954, is called the College's "Suffragist in Chief." From 1916 to 1918, she was the Saratoga County chair of the New York state Woman Suffrage Party, which helped women to gain the right to vote in state in 1917.

Mabel "Mia" Mouzon McCoy '47, the first U.S.-born woman of color to graduate from Skidmore, founded a chapter of the NAACP at Skidmore, and later established a scholarship for Asian American, Latino, African American and Native American students.
Elizabeth "Betty" Garman Robinson '60 was an activist as a student and helped organize a picket of the Woolworth's in Saratoga Springs in solidarity with the anti-racist sit-ins in the South. She was also a member of the Students for a Democratic Society and in 1964 began working for the Student Nonviolent Coordinating Committee.
"We've Only Just Begun" was organized by political science professors Nathalie Taylor and Kate Graney and students in their spring 2020 course, Never Done: 100 Years of Women and Politics at Skidmore College. The exhibition shows how Skidmore students are actively engaged with the urgent issues of their times, from the suffrage movement through COVID-19, during election seasons and in protest for greater civil rights based on gender, sexuality and race. These stories are told through the extensive archives of the Special Collections of Scribner Library and include pages from College founder Lucy Skidmore Scribner's diary, articles from Skidmore News, student handbooks, exams and photographs.
Assistant Director for Curatorial Affairs and Malloy Curator Rachel Seligman teaches the course Math In the Museum, which meets in the Tang where "Never Done: 100 Year of Women in Politics and Beyond" is on display.
"Never Done: 100 Years of Women in Politics and Beyond" offers a view of women's experience through a diverse gathering of contemporary art. The exhibition, which is both online and on view in the museum for members of the campus community, includes art by 100 female and nonbinary artists as a way to expand our understanding of women in the public and political spheres. The exhibition includes an intergenerational group of makers from across the United States working in photography, painting, printmaking, drawing, photography, collage, textile and sculpture. Each artist also contributed a statement that reflects on their work in relation to women's rights, feminisms, justice and representation, and the legacy of the suffrage movement.
Three of the artists are sharing the perspectives through online conversations with the exhibition organizers, Rachel Seligman, Malloy Curator at the Tang, and Minita Sanghvi, assistant professor in the Management and Business Department.
Stephanie Syjuco is an artist born in the Philippines who lives and works in San Francisco. She uses photography, textiles and material culture to create works that interrogate national belonging, civic engagement and radical responsibility.
Sonya Clark is a textile and social practice artist known for using hair, combs, beads and other everyday materials to explore American history, race, culture and class.
Marie Watt is an American artist and citizen of the Seneca Nation with German-Scot ancestry who creates work that draws from history, biography, Iroquois protofeminism and Indigenous teachings to explore the intersection of history, community and storytelling.
The range of artists, artworks, and ideas have attracted numerous classes from across the disciplines — from art to computer science.
An installation view of "Never Done: 100 Years of Women in Politics and Beyond" at the Tang (Photo: Arthur Evans)
Both exhibitions introduce students to new ways of thinking about vital issues of gender, race, sexuality and intersectional identities, whether in Skidmore's past or through the experience of artists today. These extraordinary experiences have offered students the opportunity to form their own perspectives and practice engaged citizenship during an important election season.