Envisioning a new future
July 7, 2021
Throughout the past year, we have all witnessed — and grappled with — the profound changes that have overlapped with the COVID-19 pandemic, from personal tragedy to disruptions in our society and economy. This same period has also witnessed important public conversations about racial justice and troubling attacks on American democracy in the wake of elections last fall.
As large portions of the U.S. population have been vaccinated against COVID-19 and prepare for life after the pandemic, many of us are left wondering what our society and world will look like in the wake of this transformative period. Can we ever truly go back to the world that existed before, and is a return to the old days even desirable?
As Skidmore College President Marc Conner reminded us following the Jan. 6 attack on the Capitol, civic duty is central to Skidmore's liberal arts mission: "Our work as a great liberal arts college is more important than ever in this difficult moment. The world needs our mission today more than ever."
In their courses, research and personal lives, Skidmore faculty have considered these dramatic changes in real time. As they have dealt with tragedy and assessed national and international events, they have also thought deeply about our future. Several shared with Scope a few brief lessons they have learned during this period and their aspirations for a better future.
---
Assistant Professor of Political Science
We need to address global inequities that have further deepened during this pandemic.
In my teaching and research, I have been looking at where there has been cooperation in the world and where there has been a lack of a global response during this pandemic. In my International Relations of the Global South class, for instance, we talk about how the foundations of global politics are rooted in distinction: That there is one system of politics and international relations for the countries that benefit from the current global order, and a different system for those countries that do not benefit from the status quo — those of the Global South.
The pandemic has exacerbated and compounded existing inequalities in the world. Take vaccine distribution and administration globally, for example. The United States has, by far, the most vaccines at its disposal and even has a reserve of the AstraZeneca vaccine, even when it was not approved to be used here. But there are also places in the world, including most of Africa, where populations may not attain a level of 50% vaccination until 2023 or even 2024. Although global resource inequality is not new, it is worth considering why, when the world stopped, we looked inward instead of toward cooperation.
I hope the pandemic allows us to realize how truly connected we are. It is no coincidence that during the pandemic, we have seen a trend of civil unrest from the United States and Hong Kong to Nigeria and beyond.
The pandemic accelerated a yearning for the improvement of societal conditions around the world; my hope is that people learned to see the injustice, inequity and oppression as a collective struggle. We need to think of the world less as a zero-sum game and imagine a more humane world where we confront global problems and progress together. How can we level the playing field for the rest of the world? In the case of vaccines, one thing that we could do is make vaccine patents available to all countries, so countries can replicate the vaccines in cheaper ways and more people can have access to them. Moving forward, we need to engage more deeply with the broader questions of resource equity that will persist long beyond this pandemic.
---
College Librarian
Libraries help us get to the truth, and the truth will get us better libraries.
I'm not sure whether fake news or misinformation is more prevalent now than in the past, but recent events certainly have made the work we do in Scribner Library feel all the more urgent and important. If the pandemic and the social and political upheaval of the past year have shown us anything, it is that our hold on the truth is too easily taken for granted. What grip we do have on the truth comes through collective and constantly renewed efforts, and the knowledge practices libraries embody are among the central social institutions that scaffold those efforts.
The past year has also made clear that we library folks have urgent work to do to improve our knowledge practices. Libraries have long assumed a neutral stance with regard to information, but, in a context of injustice or inequity, neutrality can perpetuate or even deepen that injustice and inequity. By reflecting on and improving our approaches to curation, categorization and access, Scribner Library and other libraries will be better able to ensure that those we serve have the fullest possible picture of the truth, in all its often-uncomfortable complexity.
---
Associate Professor and Director of the Asian Studies Program
Obstacles can also be seen as opportunities.
This academic year, I co-taught a course called Pandemic Bardo with colleagues from the Tang Teaching Museum and John B. Moore Documentary Studies Collaborative (MDOCS) that considered how the Tibetan Buddhist bardo tradition might offer new perspectives on the experience of the pandemic.
Bardo refers to the intermediate space between two determined moments, most famously the period between death and rebirth described in the so-called Tibetan Book of the Dead. When COVID-19 brought about a global lockdown, we entered a space of uncertainty stripped of the familiar habits and structures that organize our lives and communities. This indeterminate period of isolation provoked feelings of fear and anxiety for many of us, but the bardo tradition suggests that it is also an opportunity for meaningful change.
Many of us have experienced the ways in which the pandemic experience has been clarifying, helping us to reassess what is most important and what we can easily live without. As we imagine the world that will come into shape after the pandemic, I hope that we can all aspire to something more than a "return to normal" by building upon the lessons learned during the pandemic bardo.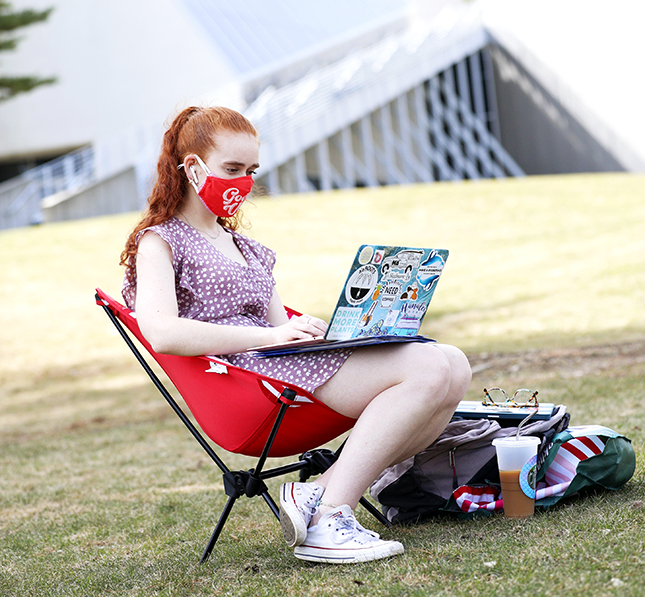 ---
Associate Professor of History
Count the blessings in disguise.
I've thought about the pandemic as a blessing in disguise both for my teaching and for my scholarship. I've been teaching modern China as a form of online, role-play game, where students adopt their fictive families located in a particular Chinese/non-Chinese region. I've learned that online teaching can be effective, personal and fun for students.
On scholarship, while I agree with many that the pandemic has been isolating, I also appreciate how online talks, conferences and meetings have forged closer global connections among scholarly communities located far apart. I've been able to revise and publish an edited volume and several peer-reviewed articles during the pandemic, given online talks at universities in the U.S., China and Britain, and attended many online panels. As a mother of a young child, I can't travel easily, and I would not have imagined being able to be so involved with the scholarly communities previously.
I hope that these lessons, experiences and personal connections will continue after life becomes "normal" again.
---
Professor and Chair, Department of Physics
Progress is not predictable.
In science and in life, we tend to define progress according to a specific agenda, but an event like the pandemic forces us to rethink what really counts as progress. Like many scientists, I had neither the time nor the facilities needed to meet the goals I had set for myself in the year before the pandemic. What does that mean for making progress?
In fact, science does not generally proceed according to expected goals. We often hear about serendipity in science — the importance of chance and "chance favoring the prepared mind." There is the story of Alexander Fleming, for example, who realized that mold had accidentally contaminated and killed a bacterial sample, leading to the discovery of penicillin.
On a larger scale, progress may be driven by sudden, unpredicted events, like widespread demand for coronavirus testing and vaccines.
Perhaps the most challenging part of the lesson is not to be blinded by conventional wisdom that we consider intrinsic to progress — conventional wisdom like discarding results of a contaminated sample or only using research labs for their originally intended purpose.
Hopefully, this past year will allow us to resist such rigidity and offer opportunities to rethink longstanding viewpoints and biases that may be holding us back in our science, society and personal lives.
---
Professor and Chair, Department of Philosophy
Painful experiences can help lead us toward truth.
Philosopher and activist Cornel West has said that "a condition of truth is to allow suffering to speak." Suffering has been speaking loudly this year. Suffering spoke when the more vulnerable among us could not easily manage a shift to stay-at-home orders, when many among us lost their jobs or their lives. Suffering spoke when many of us (like myself) lost loved ones to the coronavirus. Suffering spoke when George Floyd uttered his last, true words, "I can't breathe," and when those words erupted in protest across the country and around the world. Suffering spoke when monuments and symbols of untruth were taken down, and we in the United States continued our reckoning with the harmful myths of our own histories.
These events introduced ruptures in our comfortably familiar narratives, many of which have had a hold on our collective consciousness for generations. That's where truth does some of its most important work. When what matters to power in this country are selective truths, properly told, stitched together into a rage-inducing narrative against those on the other side, the truths of suffering pierce through and speak for those who merely want the love and respect that is due them.
---
Associate Professor of Sociology and Director of the Intergroup Relations Program
Our lives are interconnected.
In 1920, Black sociologist W. E. B. DuBois penned "The Comet." In this short, sci-fi narrative, a low-level, Black employee and a wealthy, white woman — previously unknown to one another — discover they are the lone survivors of a cataclysmic disaster. Writing during the nadir of U.S. race relations, DuBois' tale confronted a tacit yet looming question: Could realizing one's survival was intertwined with and, indeed, dependent upon a Black person's be enough to compel white people to abandon the deep-seated racism that sustains their privileged status, power and wealth?
Like DuBois' destructive comet, the pandemic — but also climate change, a threatened democracy and other, rising existential challenges — should make visible that long-term survival rests on understanding human fates as linked. And yet, disturbing evidence of resistance abounds. Consider how even the simplest act of interdependence — mask-wearing — has been politicized by white politicians and citizens; and how inequitable, structural conditions, widely tolerated for generations, all but ensured that Black and other marginalized communities would bear the worst burdens of the pandemic and now find the slowest relief.
Make no mistake: While systemic racism, unrestricted capitalism and the related hyper-individualism upon which much of the American ethos rests are a clear and persistently present danger to marginalized people, these forces ultimately threaten us all. The pandemic should wake everyone up to that reality and make clear that we must face these interrelated challenges bravely, honestly, and with all the seriousness and moral strength that any mendable existential threat should warrant.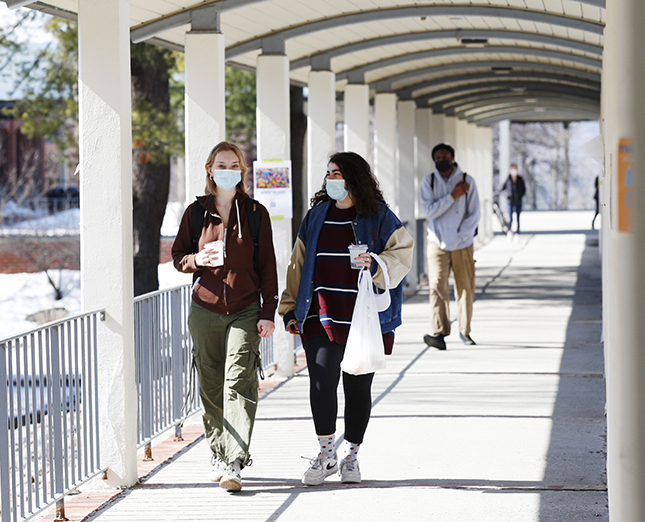 ---
Associate Professor and Director of the International Affairs Program
The U.S. should address the disconnect between what it says and what it does.
For much of the rest of the world, recent developments in American politics, culminating in the violence at the Capitol on Jan. 6, have highlighted dissonance between the historical tendency of the United States to present itself as a champion and sometimes manufacturer of democracy abroad, while at the same time overthrowing other democracies and propping up authoritarian regimes and doing little to address democratic fragility at home.
Debates here about race, income inequality, access to health care and education, and the U.S. response to COVID-19 have made those challenges clearer, while procedural questions surrounding how difficult it is for many to vote, the role of money in elections, the absence of an impartial body to conduct them and the institution of the Electoral College have all made U.S. democracy even less impressive from the outside.
Foreign observers of America and American foreign policy are also less likely to be shocked by what happened on Capitol Hill and more surprised that it doesn't happen more often — that a particularly militarized approach to policy at the global level hasn't redounded sooner on American democracy and the norms of what are seen as legitimate ways of effecting political change. Such dissonance will continue to shape global opinion of the U.S. role in the world.
The present is an opportunity to address these contradictions and re-imagine American leadership and policy abroad through more humility about the challenges of building democracy, and deeper and self-critical introspection about the utility of force to resolve problems, both at home and abroad.
---
Read this and other stories in the spring 2021 issue of Scope magazine.