2018 Commencement
On May 19, Skidmore graduated 672 creative seniors at its 107th Commencement Exercises. The Class of 2018 heard remarks from distinguished honorary degree recipients: Alison Bechdel, acclaimed author, cartoonist, MacArthur fellow and Tony Award winner, and Robert S.D. Higgins, M.D., Johns Hopkins Hospital's surgeon-in-chief and world-renowned authority in the field of heart and lung transplantation and coronary bypass surgery.
Graduates also received a faculty farewell from Assistant Professor of Political Science Chris Mann and words of wisdom from President Philip A. Glotzbach, Alumni Association President Sibyl Waterman Haley '71 and Senior Class President Rachael Thomeer '18.
The Class of 2018 spent the day celebrating, recording memories and reflecting on their time at Skidmore as they prepared to leave campus.
The Speakers
Alison Bechdel
Awarded an honorary doctorate of letters, Alison Bechdel was introduced by Gwen S. D'Arcangelis, assistant professor of gender studies, who hailed Bechdel's "boundless creativity." Bechdel came to critical and commercial success in 2006 with her New York Times best-selling memoir Fun Home, which was adapted for Broadway. Bechdel encouraged the Class of 2018 to pursue a post-graduation path true to themselves. She advised, "Because the job of creating positive change in the world is such hard work, it will go a lot better if you really enjoy what you're doing and if it's something that you yourself are particularly suited to do."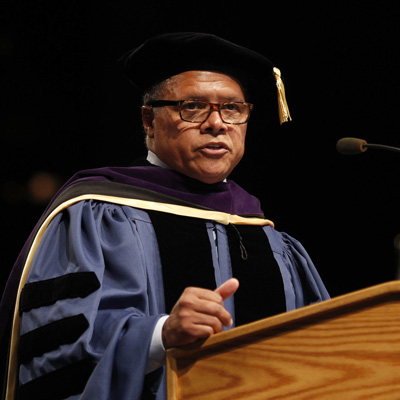 Robert S.D. Higgins, M.D.

Awarded an honorary doctorate of laws, world-renowned surgeon Robert S.D. Higgins, M.D. was introduced by Sarita Lagalwar, assistant professor of neuroscience, who noted Higgins's tireless efforts to address disparities in health care. Higgins, whose interests include health economics and policy and improving outcomes among heart-failure and cardiac-surgery patients, reflected on what we can gain through loss. He encouraged grads to "never let the challenges you face in life defeat your spirit ... be a leader by your actions, by your words, define your dream ... make it happen, no matter what the hurdles or obstacles may be."
Philip A. Glotzbach
Skidmore College President Philip A. Glotzbach welcomed and congratulated the class. He noted that graduates were well-positioned to build on what they achieved during their time at Skidmore and said their "passion for learning" will help them excel both in their professional life and as "citizens of a democracy." In "a world that is marked by so many troubling social attitudes toward knowledge itself," Glotzbach encouraged grads to put their creative ideas into practice and above all to "embrace intellectual integrity, humility and courage."
Christopher B. Mann
Christopher Mann, assistant professor of political science, selected by the graduating class as its faculty speaker, offered the graduates a final "review session" for their four years at Skidmore. Posing questions to the graduates, ranging from how they can "accomplish scientific breakthroughs" and "build prosperous businesses" to how they can "raise our standard of living and save the planet," a common answer revealed itself—in all pursuits, Creative Thought Matters. And, as the grads face "grown-up decisions" where there's no easy choice, creative thought will prevail.
Watch Mann talk about what it's like to be chosen to represent his colleagues as faculty speaker.
Rachael Thomeer '18
Senior Class President Rachael Thomeer reflected on the Skidmore community and ways—both subtle and overt—members have lifted each other up. Using a parable about helping baby sea turtles find their way, she said it may feel like "there are so many, you can't ever save them all … but you can help the one in front of you with a gentle toss into the shallow waves of safety." As they embark on the world, Thomeer said, members of the Class of 2018 may always be, in some way, "turtles in need." But hopefully, as they grow and gain confidence, they "take a chance to be a tosser" and help someone else find the sea because that's "the Skidmore way."
Watch Thomeer talk about the process and people behind her speech.
Sibyl Waterman Haley '71
Sibyl Waterman Haley, president of the Alumni Association, was the last to address the graduates. She implored the newest members of the alumni community to "please remember to help make it possible for future Skidmore students to have the opportunities you have enjoyed" and offered a few final words of advice: "Slow down, look back, come back, get involved, give back."
The Livestream
Commencement was filmed and broadcast live via Skidmore's website to an audience around the world . If you were unable to attend the event, missed the simulcast or just want to re-live the special day, you may watch the entirety of the event here:
Class of 2018 Sets new record
Rachael Thomeer, Renato Dornelas and Kali Villarosa represented their fellow seniors as class president and as co-chairs of the Senior Gift Committee.
Dornelas and Villarosa thanked other members of the committee for their hard work, and Villarosa proudly announced that this year's Senior Gift Campaign set a new participation record: 94.9 percent of seniors contributed a total of $6,458. This outstanding effort broke the impressive 94.4 percent participation record previously set by the Class of 2017, proving that every gift matters.
Speaking to her fellow grads, Villarosa said, "You should know that your philanthropy makes a difference, and it shows your commitment and love for this college."
Dornelas reflected on his path to Skidmore and encouraged his classmates to pursue their dreams "with everything that you have ... not because you desire the fortune, but because that is what you believe in."
Gifts from seniors will support scholarships, diversity, sustainability, health initiatives and athletics.
The Graduates
---
From 2014 to 2018, members of the Class of 2018 have grown and transformed, overcome challenges and forged lifelong friendships. Read more about this dynamic group, where they're headed and the impact they've had on the Skidmore community.
Looking back
Hear a few members of the Class of 2018 reflect on their time at Skidmore.
Ceremony and Celebration
At the ceremony, attendees were welcomed with a call to celebration by Charles Ure, a Skidmore retiree who devoted 40 years of service to the college. Ure reminded everyone that Skidmore "has always placed special value on the bold, the daring and the future" and shared remarks from Skidmore's first president, Charles Henry Keyes.
W. Scott McGraw, extended the trustees' congratulations and urged the graduates to "engage with this world ... be truthful with yourselves and others, and you will shape the future." He left them with a final call to action: "Be courageous out there."
President Glotzbach then offered his heartfelt congratulations, telling graduates, "I hope that each of you is proud of what your cap, gown, stole, or honor cords say about who you are and what you have done during your time at Skidmore."
The college awarded honorary degrees to Alison Bechdel and Robert S. D. Higgins, M.D. Assistant Professor Gwen S. D'Arcangelis introduced Bechdel as a cartoonist, memoirist, author and activist, who has "offered us both joyous entertainment and incisive social commentary in equal measure."
Bechdel spoke of her own graduation, which was marked by both sadness and a sense of freedom, and encouraged graduates to embrace their unique path by "thinking about what you might possibly be doing differently if no one was watching."
Robert S.D. Higgins, M.D., introduced by Assistant Professor of Neuroscience Sarita Lagalwar, urged graduates to "enjoy your life to the fullest, living each day to the max, because nothing is guaranteed to any of us" and asked that they "give something back to society through service to your community—no matter what discipline, no matter how small you believe the contribution to be."
Sibyl Waterman Haley '71, president of Skidmore's Alumni Association, welcomed the graduates on behalf of the alumni community, saying, "We are eager to meet you, to assist you … you join more than 38,000 other graduates … we're here for you today and for the rest of your lives." She also encouraged them to "stay involved with Skidmore … your time and involvement are such valuable contributions."
After the speeches, the conferring of degrees and the camera flashes, the fresh graduates marched out of the amphitheater between rows of applauding professors and into the arms of proud family members.
Photo Gallery
#Skid4Life