Doc on Campus: Crowd-Funding Campaign for Student Documentary Festival
April 22, 2016
Article update (May 9, 2016): We reached our goal! Thank you to all of the generous donors who helped this initiative come to fruition. Stay tuned for news on a new course about how to run a festival coming this fall.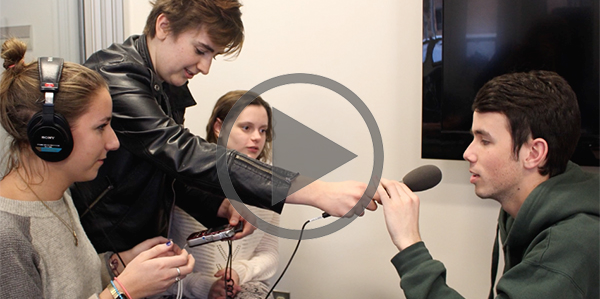 From Skidmore student documentary storytellers ... to a student-run festival.
"I am really excited about sharing my documentary work with other students and the whole Skidmore community. The MDOCS Student-Run Documentary Festival will provide a stage for me—and many other students—to tell our story." —Samantha Grant '18
In its first 18 months, MDOCS has hosted award-winning local, national and international artists telling evidence-based stories that matter in sound, film and exhibition and offered courses in podcasting, video production, screenwriting, and archival storytelling skills.
We also started the Storytellers' Institute, a five-week summer creative-academic experience in which advanced Skidmore students and faculty work alongside documentarians in residence. This June our first Festosium, a three-day look at the line between fact and fiction in documentary storytelling, will showcase documentary work for the broader community.
For summer 2017, our goal is clear: a student-run festival to accompany the 2017 Festosium showcasing undergraduate work in documentary storytelling.
To reach that goal, MDOCS is participating in a Skidmore crowdsourced fundraising campaign to rally alumni, parents and MDOCS supporters to make this goal a reality, complete with a short video drawing on the talents of Skidmore students.
The campaign runs until May 4, 11:59 p.m. EST.
Contributions will help MDOCS raise the $5,000 needed to take students and faculty into the classroom and on the road to experience regional documentary festivals in the wild during the fall semester.
Each gift will enable us to
connect with and learn from professionals about the art and science of producing and running successful film and audio festivals and organizing experience-rich exhibitions;
bring festival founders, organizers and directors to campus;
support fieldtrips to regional festivals; and
collaborate with community and academic partners.
Contributors are invited to connect to MDOCS—students offer formal "thank yous" and opportunities to meet with students, faculty and Storytellers' participants and even to tell their own stories.
They and the MDOCS staff and faculty welcome this campaign as a way to build connections to Skidmoreans past, present and future as MDOCS enhances student understanding of the workings and place of documentary festivals in their academic and subsequent careers.
Click here to see the video and join the campaign.