Storytellers' Institute: Introducing the 2016 Institute Fellows
May 12, 2016
MDOCS is delighted to welcome four institute fellows for 2016, an accomplished group of storytellers innovating in evidence-based documentary practices in film, audio, exhibition, archive and multimedia. Aggie Bazaz, Amanda Dawn Christie, Jake Nussbaum and Courtney Reid-Eaton come to Skidmore to explore the questions of telling a research-based, fact-driven story when it is seemingly impossible to remove ones' past experience, perspective and individual lens.
---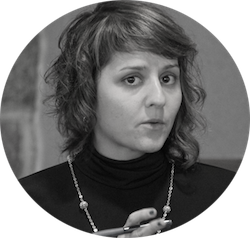 AGGIE BAZAZ is an award-winning Iranian-American documentary filmmaker and educator with interests in diasporic identity, feminism and the interchange of form and content in documentary engagements. As such, her works borrow from a variety of storytelling traditions. Aggie currently serves as assistant professor of film production at Muhlenberg College.
During the Institute, Bazaz will be in pre-production on a film exploring the cultural parallels of the struggles of the Shi'ite Muslim's small army of Hussein during the fateful battle with the Sunni caliph Yazid and the reality many Latin-American migrants face as they cross the U.S.-Mexico border through the treacherous and often fatal Sonoran desert. Bazaz hopes to use the time, creative community and resources of the Storytellers' Institute to conduct research, build connections and develop a script and timeline for a documentary-fiction hybrid that would recount and dramatize this ongoing desert migration.

Bazaz's earlier film,
Inheritance
, screening at the Spring Stree Gallery on June 21
---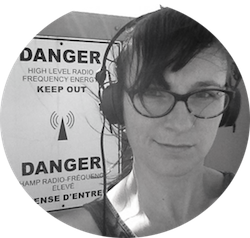 AMANDA DAWN CHRISTIE is an interdisciplinary artist working in film, video, performance, photography and electroacoustic sound design. Concepts and themes explored in her work focus primarily on the relationship between the human body and analogue technology in a digital age. She currently works full time as an artist with the support of a new media creation grant from the Canada Council for the Arts and Arts NB.
Requiem for Radio is a multidisciplinary work using audio, video, interactive programming, theremins, sculpture, text and performance to pay homage to the recently demolished Radio Canada International shortwave transmission site. Christie has been working on this body of interactive works since 2008 and will continue to add to this suite of five distinct works during her time at the institute.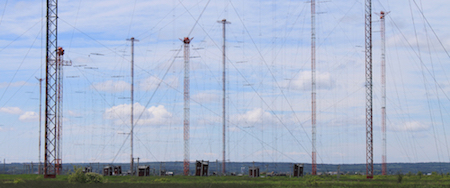 Amanda's new film,
Spectres of Shortwave
" sneak-peek preview at Spring Street
Gallery on June 23.
---
JAKE NUSSBAUM is a Brooklyn-based multidisciplinary artist. His work uses the research-based practices of anthropology and documentary in tandem with the imaginary world of the creative arts. In addition to being a contributor to Intercourse magazine, he is the station manager of Clocktower Radio in New York City.
The Sanford-Johnson Trail project began in the wake of the shooting of Trayvon Martin by George Zimmerman in 2013. In an exploration to grasp a sense of "truth" and greater insight not provided by the media, Jake created a to-scale recreation in Johnson, Vermont, of Trayvon Martin's path the night he was killed based on crime scene evidence. Jake walked the trail every week for a year, amassing a large personal archive of notes, objects, research and photographs that forms the basis for the multimedia book and exhibition he will be working on this summer.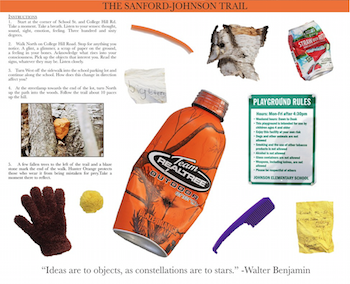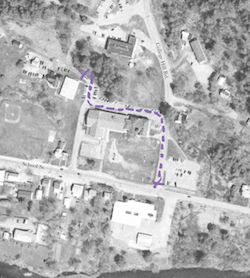 ---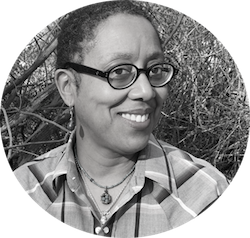 COURTNEY REID-EATON has been the exhibitions director at the Center for Documentary Studies at Duke University since 2001, overseeing the selection, scheduling, curating, design and installation of exhibits in all of the center's galleries and organizing related public programs.
When Reid-Eaton's grandfather died, she became the keeper of the family archive: photographs, letters, poems, a few Super 8 films and a cassette tape onto which her grandfather had begun to cast his last ramblings. Her family's undocumented oral histories include her grandfather's migration from his homeland, St. Kitts to NYC, as a teenaged merchant marine ship stowaway; her maternal great grandfather's disputed end; and her own, richly charactered early '60s Harlem childhood. All of the parts of these stories will be the basis for a multimedia project she will begin at the Institute incorporating film, video, audio, narrative writing/poetry, photography and performance.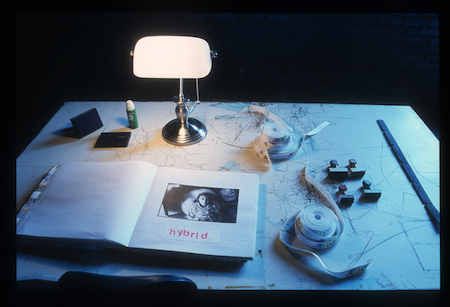 Courtney's work in archival exhibit and collective archival art book.
---
Visit the Storytellers' Institute Fellows page to read the full bios and project descriptions of this year's fellows.