Class of 2023 arrives at Skidmore
August 30, 2019
Skidmore College is welcoming an incoming class of 740 students, selected from its largest ever applicant pool of 11,000 candidates.
Skidmore's Class of 2023 is also among the College's most diverse: It includes Skidmore's highest ever percentage of domestic students of color and first-generation college students. Members of the class come from more than 30 different countries and 30 U.S. states.
More than half the class, including athletes and international students, arrived on campus early for pre-orientation activities. Thirty-two students are spending their first semester in London, where they are studying with Skidmore professors and learning through participation in cultural and educational activities as part of a First-Year Experience (FYE) program.
The rest moved into residence halls and joined their classmates at New Student Convocation on Sunday, Sept. 1. Classes began Wednesday, Sept. 4.
Skidmore's Class of 2023 began moving in on Thursday, Aug. 29. The remainder of the incoming class arrived on campus on Sunday, Sept. 1.
During Sunday afternoon's Convocation ceremony at Williamson Sports Center, the incoming class and their families were formally welcomed to the Skidmore community.
"Skidmore is, now and forever, your college," said Amon Emeka, director of the FYE program and associate professor of sociology.
Mary Lou Bates, vice president and dean of admissions and financial aid, spoke about the Class of 2023's impressive record of volunteerism, leadership and involvement in athletic and entrepreneurial activities.
Some of the incoming students' community service efforts include helping the homeless, raising money for disaster relief, registering voters, working to end gun violence and supporting environmental causes, Bates noted.
As we came to know you throughout the admissions process, we were struck by the extraordinary number of you who have made a considerable commitment to volunteerism and community service during high school, here in the U.S. and all over the world."


MARY LOU BATES, VICE PRESIDENT AND DEAN OF ADMISSIONS AND FINANCIAL AID
More than 20% of the incoming class speaks another language in addition to English, Bates said, listing off 50 different languages spoken by the students. "You come from culturally rich and diverse backgrounds," she said.
The incoming students have held a wide range of jobs all over the world, from an oyster harvester to a caregiver of orphaned monkeys. They're started businesses selling art and offering guided canoe tours. They've founded and led a variety of clubs, from beekeeping to cheese tasting. And they have demonstrated civic engagement by serving as editors of school newspapers and being active in politics on the local, state and national levels.
The incoming class has accomplished amazing things in the arts and athletics, too, Bates said. "You've performed with the Joffrey Ballet and the Bolshoi Ballet, the Beijing Philharmonic Choir and at a Boston Celtics game with your a cappella group. … You've biked 700 miles from Oregon to San Francisco and 300 miles from D.C. to Pittsburgh. One of you is a regionally ranked rock climber."
In welcoming the new class, President Philip A. Glotzbach shared some advice to help them navigate the next phase of their lives and make the most of their time and opportunities at Skidmore.
"One of your challenges over the next four years is not only to prepare yourself for a successful professional life and a personal life of true human flourishing, but also to prepare yourself to make a positive contribution to our world as an informed, responsible citizen — as a citizen intellectual," he said.
Glotzbach encouraged the students to make no small plans, embrace change and leave the community better than they found it — and to begin right away.
You are in charge of your college career, and that career begins today – not next week, not next semester, not next year. It begins today."




President Philip A. Glotzbach
President Glotzbach addresses the incoming class during New Student Convocation on Sept. 1 in Williamson Sports Center.
A unique First-Year Experience
Members of the Class of 2023 begin their liberal arts education with Skidmore's First-Year Experience (FYE) program, which celebrates 15 years this fall.
The centerpiece of the FYE program is the Scribner Seminar: Students select from 50 interdisciplinary courses that range in scope from Cultures of Climate Change to Chaos Finds a Voice: The Politics of Identity in the U.S./Mexico Borderlands. The small-group courses help first-year students explore ideas, challenge assumptions, think critically and build a solid foundation for continued study at Skidmore.
AJ Lee '23, from Hong Kong, said he chose Skidmore because of its faculty, after he sat in on a class in May. As the students lined up for Convocation on Sunday afternoon, he spoke positively about his first experiences with FYE and life on campus.
"It's been great. I've met a lot of interesting people and it's a lot of fun," Lee said.
First-year students Liana Giglio, from New Jersey, and May Halm, from Maine, said they felt supported by the peer mentors who greeted them and were enjoying the orientation games and activities.
"I really loved how welcoming everybody is, especially our mentors and groups," Halm said.
"We're looking forward to the following days and the club fairs and all that's to come," Giglio added.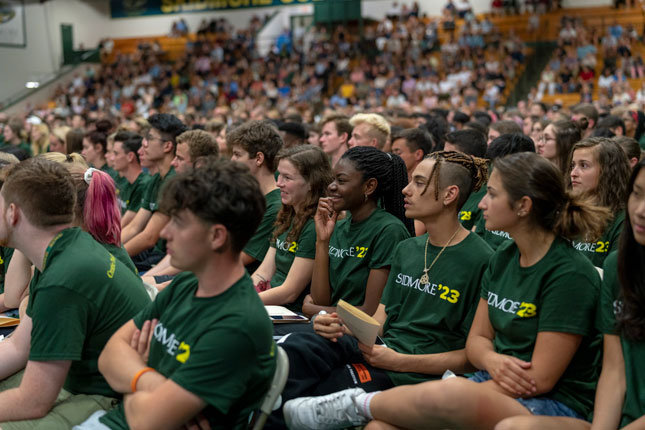 Members of the Class of 2023 listen Sept. 1 during New Student Convocation.
CLASS OF 2023 BY THE NUMBERS
The class includes citizens of more than 30 different countries and residents of 30 states.
Eleven percent are international students, and 6% are dual citizens.
Twenty-eight percent of first-year students are domestic students of color, and 17% are first-generation college students, both records for the College.
The class is 44% men and 56% women.
Nearly half of all first-year students are receiving some form of financial aid, with an average grant amount of more than $43,000.
Forty-seven percent of the incoming class enrolled through early decision.