Scribner Library offers support and inspiration
April 29, 2020
Scribner Library has long been a cornerstone resource in the heart of Skidmore's campus, ensuring students have access to the course materials and research help they need, supporting faculty and their curricula and encouraging the entire Skidmore community to expand their minds and flex their imaginations.
The COVID-19 pandemic has forced the temporary closure of the library's physical location, but its dedicated librarians and staff have been innovating new ways to provide critical services, promote creative and social endeavors and be a comforting, supportive presence in a time of transition.
"The entire library team has really come together," said College Librarian Marta Brunner.
Head of Special Collections Wendy Anthony advises a student via video chat.
Members of the Library Communications Group — Assistant to the Director Lori Acee, Head of Special Collections Wendy Anthony, Fine Arts Librarian Yvette Cortes, Public Access Assistant Fiona Diamond-Scott and Instructional Design Librarian Johanna MacKay — have been working with students and meeting frequently via Zoom to develop content designed to help keep students connected to the research-focused services they need, to the library network and to their peers. They also seek to provide comfort and serve as a source of joy during a challenging time.
Scribner Library had offered numerous online resources and services long before Skidmore moved to remote learning in mid-March, so Brunner says the library's new academic objectives have been to continue catering those resources to meet students' evolving needs and to communicate how those resources can be accessed remotely.
If a student needs access to print materials in the library's circulating collections and reserves, staff scan the content and send it digitally, a process outlined by Evening Circulation Supervisor Natalia Umaña and the Circulation team in one of the new "how-to" videos prepared by the library, posted to its YouTube channel and shared on social media. MacKay made a video titled "Five Tips for Researching at Home."
Links to research databases, digital collections, e-book download guides and more are also shared through Scribner Library's Facebook and Instagram accounts.
The library has ramped up its online chat reference service as well, now offering more evening hours than it did prior to remote learning, thanks to help from students Brandon Wilson Radcliffe '20, Jack McCarthy '20 and Amelia Boyle '22.
To offer students additional research help in the final stretch of the semester, Social Sciences Librarian Barbara Norelli and Instructional Design Librarian MacKay planned an open Zoom session called "Research Coffee Break" during a recent Study Day.
When senior Liza Pennington could no longer create a physical display in the library in conjunction with her honors thesis for American studies, "Queering and Reimagining YA Literature," MacKay worked with her to create it online. And Jane Kjaer in Special Collections is also supporting students with research and images for their class papers.
The library's commitment to supporting the whole student — providing emotional guidance and creative outlets — has also been especially essential at this time, said Anthony of Special Collections.
"I kept open office hours on Zoom every week, which many students took advantage of, 95% of the time wanting to talk about their experiences rather than class work," she said.
In its monthly newsletter, The Writing on the Stall, which has moved online, the library continues to highlight students' poetry and provide informative updates in addition to offering fun, creative activities students can try at home if they need a break from studying or a pick-me-up.
In the same spirit, the library invited all members of the Skidmore community to try their hand at a "hedgie," a hedgehog created by folding the pages of a paperback book and decorating it with odds and ends. Photos of the creations were posted online, where the Skidmore community voted for their favorites.
The winners of Scribner Library's Hedgie Contest were Patty Kolberg, cataloging coordinator in Scribner Library, for "April Showers Bring May Flowers," left, in the over 13 division, and Matthew O'Neill for "Gandalf, The Hobbit" in the under 13 division.
Student assistants Olivia Dieterich '20, Simone Hadebe '20 and Ajna Kertesz '20 have been doing photo shoots with Scribbler, the library's unofficial mascot who is featured in "escape room-style" library instructions sessions for first-year students.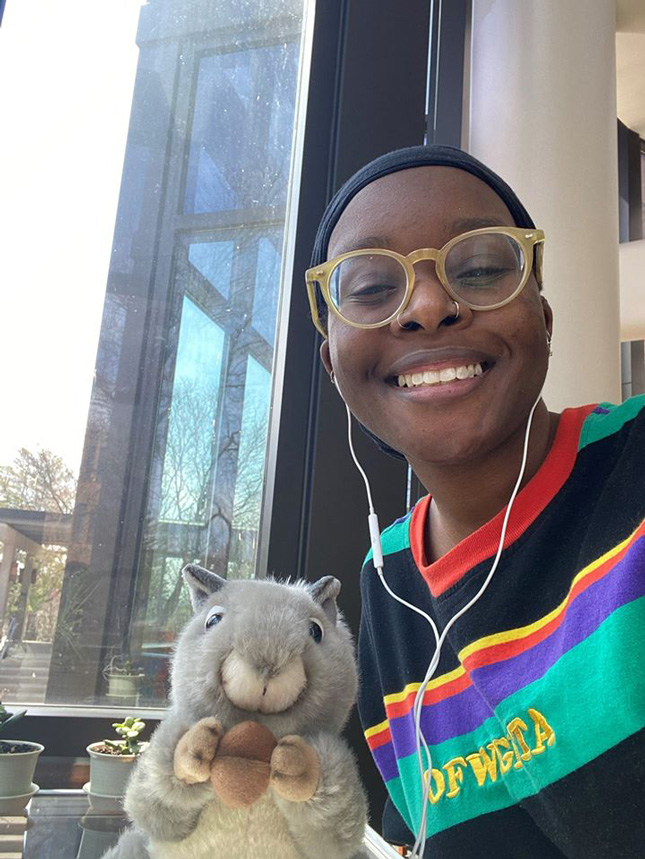 Student assistant Simone Hadebe '20 takes a photo with Scribbler.
Also posted on the library's social media accounts are interesting tidbits from its collections, such as a glimpse at the fine dining of early Skidmore students through a 1927 menu from the scrapbook of Agnes R. Ritchie, which is housed and digitized in Special Collections.
Public Access Assistant Diamond-Scott is working to prepare a virtual photography exhibition of "Phantasy Cakes" created by students using found objects. "Cakes evoke heartening memories of special occasions with those we love," she said. "We are encouraging them to build a cake from any material so they don't need to buy anything from the store."
Diamond-Scott also organized a self-reflection time capsule project for the Circulation team, including student workers, to memorialize the current moment in history. She asked them to take a picture of themselves reflected in an object such as a spoon, glass, window or puddle, with the aim of archiving the images for future reference in Special Collections.
Public Access Assistant Fiona Diamond-Scott organized a self-reflection time capsule project for the Circulation team.
"In perhaps 100 years, we will get to interact with Skidmore from beyond this realm," Diamond-Scott said. "This is a way to capture little moments in time and record ourselves for curious future generations of Skidmore students and staff."
---
This article is part of the Creative Connections series, which explores the many unique ways the Skidmore community continues to connect in creative ways while learning, working and teaching remotely during the COVID-19 pandemic.