Socially distant, but still together
April 20, 2020
Members of the Skidmore community have found new ways to keep in touch — and be together — amid the COVID-19 global pandemic.
Skidmore College has long prided itself on being a tight-knit community in which students enjoy close interaction with faculty and staff in creative and unexpected ways. The spread of the coronavirus hasn't changed that.
Even as Skidmore has moved to remote learning for the spring semester as part of efforts to stem the spread of COVID-19, members of the Skidmore community are finding new ways to maintain close interactions and strong community bonds while giving their time online a uniquely Skidmore spin.
Eunice Ferreira, for instance, described how students in Theater and Culture I brought humor to their newly online course. Students in the course have been customizing their Zoom backdrops in humorous ways, with themes from the tropics to outer space. One wore a Pikachu hat from Pokemon. Actor Danny DeVito even made an appearance.
"One student had asked if they would get extra credit for bringing their puppy, so I extended the invitation for students to bring their pets. One student brought her plant!" Ferreira said. "I think the laughter lifted all our spirits."
In addition to being an online interface where faculty members deliver lectures, Zoom sessions are helping Skidmore faculty and staff keep in touch with their colleagues and enabling students to keep in touch with their peers.
Like colleagues across the College, faculty members in Skidmore's Environmental Studies and Sciences Program have been meeting to discuss their classes and the transition to online learning. They have rebranded one of their regular work meetings their "virtual happy hour."
"We like to be together. We like to laugh together. It's important that we maintain that — now more than ever," said Karen Kellogg, director and associate professor of environmental studies and sciences.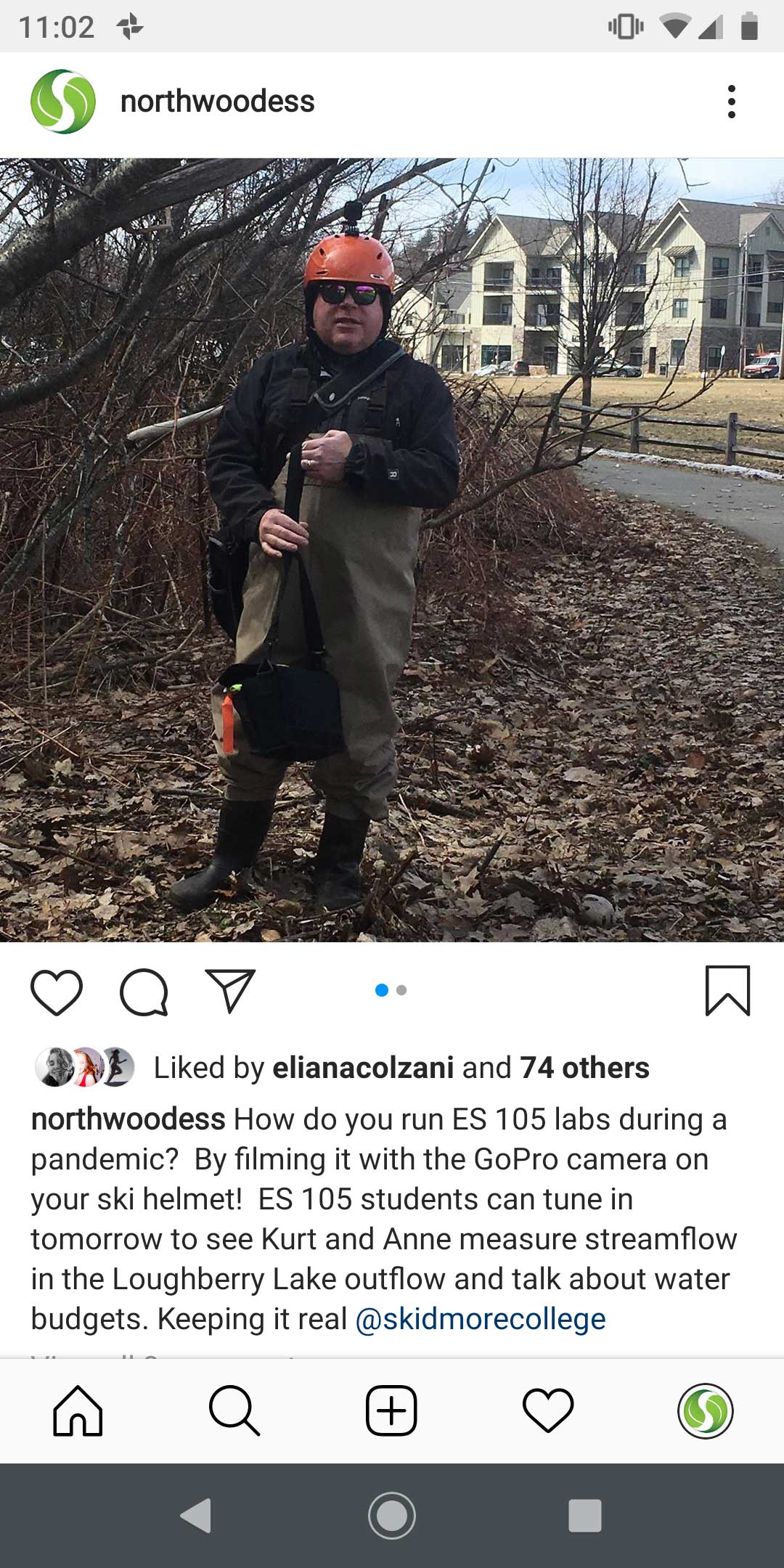 She said the group has shared a few tears but also enjoyed a few laughs, such as when colleague Kurt Smemo, an assistant professor in the program, shared photos of himself teaching Field Studies in Environmental Science on social media wearing a ski helmet mounted with a GoPro camera.
"If there is a positive thing about this situation, it's that we have been able to get to know one another even better," Kellogg explained.
Over the next several weeks, we will explore the many unique ways our Skidmore community continues to connect in creative ways while learning, working and teaching remotely through a content series called Creative Connections.
We may be apart during this time, but we are all in this together.