Unique Characteristics of Skidmore in London
Choice of enrollment at one of eight outstanding schools in London
On-site stipend for all participants
Internship opportunities available through Westminster University
Program Overview
Skidmore's program in London offers the choice of enrollment at one of the following schools:
Just as each student has diverse academ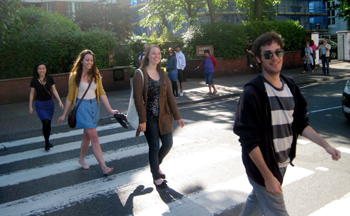 ic and personal needs, each institution offers a distinct curriculum and atmosphere and a distinct level of integration into the British university system. When choosing a final destination, students should carefully consider the different academic offerings and calendars, housing options, and campus cultures.
NOTE: Due to its academic nature, credits in the Skidmore in London program are treated as transfer credits. Course grades will appear on the Skidmore transcript, however they will not be factored into the Skidmore GPA. In addition, all approved 300–level credits earned abroad may be used to meet Skidmore's maturity–level requirements. All other aspects of the program work as they would in a Skidmore program, including the use of financial aid.
Skidmore's academic departments and programs have designated specific study abroad programs that best fit the curricular needs of their majors and minors. Please check the approved programs list for your major or minor department to see if this program has been approved.
Support Services
Off-Campus Study & Exchanges provides extensive advising to students during the program selection and application process. In addition, as they prepare to depart, during their time in London, and upon their return to Skidmore, OCSE is ready to assist our students in any way possible, including hosting orientation and re–entry workshops.
Once students arrive in London, they will benefit from the support of the IES Abroad in addition to the support provided by their London university. Participants will also find that each of the host universities has professional staff available to offer advice and guidance for its international student population.