Brenda Pashley-Rabbitt
Examining what it means to be part of a community
"The best way to find yourself is to lose yourself in the service of others." These words from Ghandi inspire Professor Pashley-Rabbitt's EN 105 writing seminar, "What's In It For Me?" In this class, students examine what it means to be part of a community. What types of communities exist? Are there inherent responsibilities that people have as members of communities? And who truly benefits from volunteerism and community service? Participating in a volunteer experience that resonates with students offers a foundation for much of the writing in this class.
Arianna Cruz '24
"The pandemic prevented me from hanging out with my friends, enjoying my senior year of high school, and living on campus to fully experience my first year of college. It wasn't all bad, though. I was fortunate enough to enroll in an English writing seminar called 'What's In It For Me?' where we explored what it means to be a part of a community. There is a community service component, and I volunteered with a great organization called Camp Good Mourning!, which offers bereavement services for children between the ages of 7 and 17 who have lost a parent or sibling.
I never expected community service to have such a profound impact on my life. It has been the most rewarding experience. I know that everything I've done to help CGM! has had a positive effect on grieving children. Not only that, but in giving my time I have reaped so many benefits, including pride and satisfaction, enhanced communication skills, valuable networking acquaintances, and a greater perspective on what it really means to be a responsible member of the community. It goes to show that kindness and good deeds have a way of coming back to you."
In the photo above, Arianna delivers a Swag Bag to a grieving child.
Sara Klompus '25
"As a part of Professor Pashley-Rabbitt's EN 105 class, I had the opportunity to volunteer with #HicksStrong, an organization that aims to fight the stigma against mental health and provide resources and support to both veterans and active members of the military. As a society, it is important that we work toward creating a kind and supportive environment where people feel safe seeking help. #HicksStrong gives out Hug Mugs, mugs that are painted by members of the local community and filled with mental health resources. I love how each mug is unique with a different design, quote, or color scheme, and I had an amazing time painting mugs and being creative. But more importantly, I am grateful to have played a small role in the work that this amazing organization does.
Throughout my experience, the idea of community is something that I have learned so much about. I knew what the word "community" meant, but while volunteering for #HicksStrong, I was able to truly see the impact of community. Community provides support and comfort. It provides a place and a space where you are never alone, and there is always someone you can talk to. I am excited to take this knowledge and understanding into my future. The class is called 'What's In It For Me?' and I would say the answer to that question is a deeper understanding of community and the knowledge I've gained through my experiences."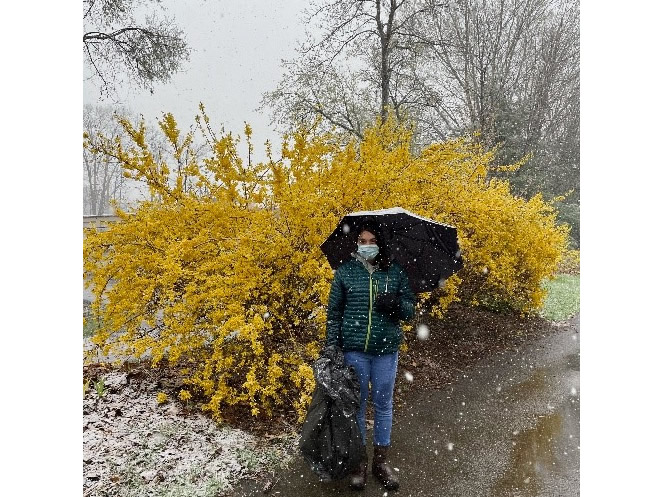 Kaitlin Katirachi '24
"I volunteered at Saratoga PLAN, a local organization focused on conservation in the Saratoga region, stewarding trails and picking up litter. My favorite memory was going to clean up Railroad Run. When I first got there, it was raining, but within 30 minutes it started to snow! It was especially weird given that it was late April and flowers had already started to bloom. It became difficult to pick things up with my wet gloves and freezing hands, but I didn't want to turn back, and by the end I had cleared a little over half the trail. The best part was when a resident of the street parallel to the trail came over to talk to me. I was shocked to find out that the woodlands adjacent to the trail were threatened twice, and every few years there is some development plan to remove some of the greenery from the area.
When I'm cleaning the trails, I feel both at ease and like I'm doing something worthwhile in the grand scheme of things. It's become an activity I associate with the best version of myself. Taking 'What's In It For Me?' has helped me learn what motivates people to be a part of a community, what motivates people to do community service, and why those things are important. My motivation is a desire to be a part of something greater than myself."
Ali Boivab '25
"The Saratoga County Animal Shelter serves the community by caring for stray and abandoned animals, running animal control programs, and educating the public about animal welfare. Volunteering at the shelter felt like a divine duty. In spending time with animals, I have grown an inseparable connection to life and nature. I've seen animals persevere in the worst of conditions.
While training to be a dog walking volunteer, I met a beautiful pittie named Harley who has cancer. I didn't know Harley well, but it did not take long for her to trust me. It was my first time walking a dog, and I was scared of her, but she was not scared of me. Without an iota of doubt, she smothered me with love. She is a guest on earth only for a few more months, yet you could've never guessed from the joy with which she lives her life.
I volunteer at the animal shelter because I have learned how ignorant we are as humans. We worry about not having enough time, the argument with our loved ones, or why the tea isn't sweet enough, all while ignoring the beauty of the breath. Animals live for every breath. Volunteering taught me that."