Looking back at 2020
December 14, 2020
Around the world and close to home, the year presented enormous challenges but also offered examples of incredible perseverance and compassion.
Looking back, we see moments that were brand new to Skidmore. Yet, online or in-person, we also recognize the familiar pulse of college life, traditions that connect us across the years, and the unique bonds and learning opportunities that continue to characterize Skidmore.
Making heroic choices
A window into life on campus in 2020
Like the rest of the world, the COVID-19 pandemic was, and continues to be, front and center at Skidmore. During the unprecedented transition to remote learning this spring and throughout the successful on-campus semester this fall, community members demonstrated profound care for others as they made heroic choices every day.
We will remember this time through the faces that smiled behind their creative masks.
Memory lane
Celebrating the Class of 2020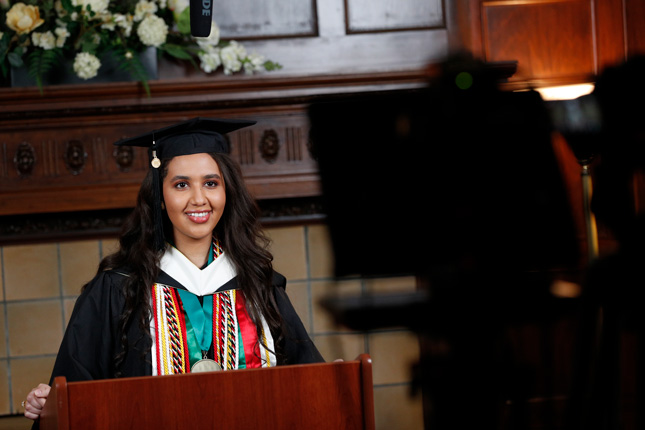 Jinan Al-Busaidi '20, class president, speaks to classmates during the live streamed virtual ceremony
In late May, thousands of Skidmore community members gathered online to celebrate the resilience of the Class of 2020 during a live virtual Commencement ceremony. The moment still stands as a poignant symbol of Skidmore's endurance.
"Despite a widespread pandemic that has crippled the world, we've made it."

Jinan Al-Busaidi '20

2020 class president
Memory lane
Ushering in a historic transition
President Marc C. Conner and Barbara Reyes-Conner
After 17 years at Skidmore, we recognized the achievements of two leaders who made an indelible mark on our history — President Emeritus Philip Glotzbach and Marie Glotzbach. Then, we welcomed two new faces to our community — President Marc. C Conner and Barbara Reyes-Conner. Under President Conner's leadership, Skidmore adapted and succeeded under unexpected circumstances.
Memory lane
Championing change and civic engagement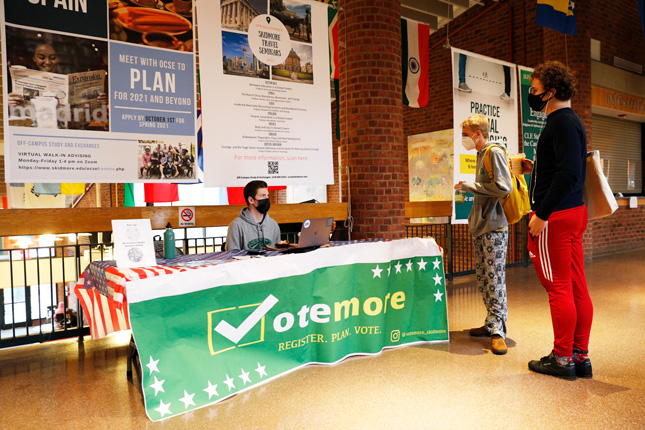 Votemore, a student-run organization, helped educate students on voter rights, distributed voter information and aided in voter registration this year.
2020 brought a global health crisis, economic upheaval, a national reckoning over systemic racism and a polarizing election. For over a century, Skidmore students have proudly used their voices to challenge inequality, advocate for change and inspire movements. This year stood as a testament to that spirit, and Skidmore unveiled the Racial Justice Initiative to build an even more inclusive future for the College.
Memory lane
Zooming through life
Associate Professor Eunice Ferreira invited students in her Theater and Culture class to introduce their pets (animals and plants) via Zoom.
Gathering virtually for orientation, class, clubs and presentations, or even just to play a game or talk to a friend, became commonplace in 2020. In support of social distancing, students, faculty and staff relied on Zoom and other virtual platforms to maintain the connections and sense of community we love.
Memory lane
Pulling off a

t

rue Ski

d

more

f

all semester
Welcoming Class of 2024 students and their families to campus at the start of the fall semester
Undaunted by enormous obstacles, students, staff and faculty worked tirelessly to pull off a mixed virtual and in-person term that contained many of the highlights of fall at Skidmore, from new student move-in and Convocation to enduring traditions.
Memory lane
Opening the CIS North Wing
The entrance to the North Wing of the Center for Integrated Sciences
The first phase of Skidmore's largest single academic initiative ever, the Center for Integrated Sciences, opened its doors this fall. The North Wing features 58 laboratories and classrooms, 21 faculty and staff offices and key resources, such as the Skidmore Microscopy Imaging Center with its impressive collection of state-of-the-art microscopes.
Construction also began this year on the next phase of this project and, upon completion in 2024, CIS will host all of Skidmore's 10 science departments and programs and more than 90 science faculty members.
Infusing courses with creativity
Professor Tillman Nechtman teaches a first-year Scribner Seminar outside by Haupt Pond, one of many adaptations the community made to gather safely this year.
From classes held outside, in tents and in Tang exhibitions to outdoor performances and innovative Zoom experiences, the Skidmore community demonstrated incredible creativity to provide the types of unique, cross-disciplinary learning experiences that characterize Skidmore.
"Although our classrooms may look different, our classes remain vibrant centers of engaged learning."

Marc C. Conner

Skidmore College President
Memory lane
Showing our T-bred spirit
Jon Bile '21 dribbles the ball as teammate Kevin Langyintuo '24 watches. Masks and social distancing are part of all athletics activities, including this practice for the men's soccer team.
Although we were only able to enjoy a few months of competitive play in early 2020, the Skidmore Thoroughbred community rallied to connect and celebrate one another this year.
Three remarkable moments stand out as examples: the 17th Annual Friends of Skidmore Athletics Benefit and Hall of Fame ceremony, a record-breaking All in to Win fundraiser – over $245,000 – and the largest ever induction of student-athletes into the Thoroughbred Society for academic achievements.
Expressing gratitude for the small things 
Amid all the challenges of 2020,  the simpler things in life seemed to shine a little brighter this year.  Emily Cleveland '24 captured the end of the fall semester perfectly — with a sunset.