Skidmore salutes Phil and Marie Glotzbach
June 26, 2020
With original music and words of thanks and encouragement, members of the Skidmore community, local leaders, friends, family and colleagues offered a touching tribute and farewell to President Philip A. and Marie Glotzbach, whose 17 years of leadership have left an enduring legacy at Skidmore.
Tim Harper, associate professor and chair of the Department of Management and Business, opened the live virtual ovation to the Glotzbachs on Wednesday, June 24, with a moment of silence in recognition of the victims of COVID-19 and the continuing struggles of racism against Black people in the United States.
"Phil and Marie built a community made of friends. You've changed lives, and you've left an indelible mark on this great institution," said Nancy Hamilton '77, chair of the Skidmore College Board of Trustees. "We are again grateful and fortunate to have had his great intellect, his grace, his statesmanship, his steady leadership and unflappable calm under pressure during this major crisis. It's also wonderful to know he will be passing on the baton to our next great leader with an incredible future in front of him, President-elect Marc Conner."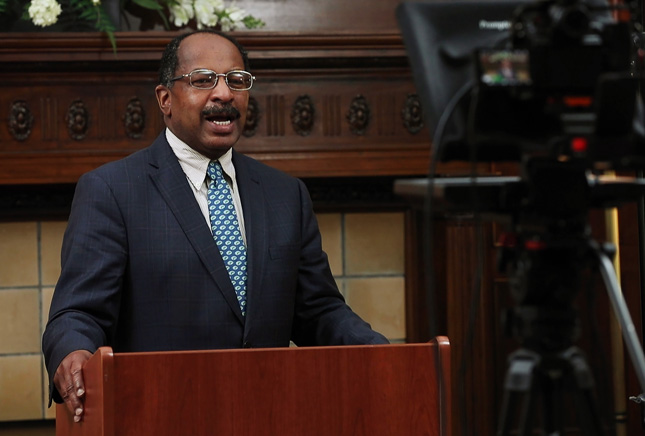 Tim Harper, associate professor and chair of the Department of Management and Business, spoke live during the virtual ovation to the Glotzbachs.
Throughout the virtual celebration, which included live and recorded pieces and was streamed online from the Surrey-Williamson Inn on campus, colleagues and friends reminisced via video tributes about the Glotzbachs' many accomplishments since 2003.
Distinguished-Artist-in Residence Joel Brown prepared an original song for the occasion, called "Hard Act to Follow." One line of the piece proclaimed: "With music and diversity, science and community, this will be your legacy. Creative thinking with a promise to instill, you're a hard act to follow, you leave big shoes to fill."
The tribute also included many light moments, including a loosely scripted scene featuring the Glotzbachs' grandchildren who stood behind a homemade banner that read "Congrats, Phil and Marie."
Vice President and Dean of Admissions and Financial Aid Mary Lou Bates, who has served on the President's Cabinet throughout President Glotzbach's tenure, described the president as a team player, who continued to draw inspiration from his early career as a philosophy professor. She also lauded Marie Glotzbach's many important contributions to Skidmore and the broader Saratoga Springs community, including Saratoga Reads, Saratoga Arts Fest and Skidmore Cares.
"Always the teacher and team builder, Phil has organized the cabinet and motivated the cabinet as a team. He supports all of us in the work that we do and has always been extremely generous in his acknowledgement of that work. His go-to pronoun is always 'we,' not 'I,'" Bates said. "Phil introduces himself as one half of Skidmore's presidential team, and Marie's leadership and creativity has impacted the Skidmore College community and that of Saratoga Springs in so many ways."
"Your presence has really pervaded this community and has been such an incredible inspiration," added Elizabeth Sobol, president and CEO of the Saratoga Performing Arts Center (SPAC). "Thank you for being champions of creativity, the arts and humanities."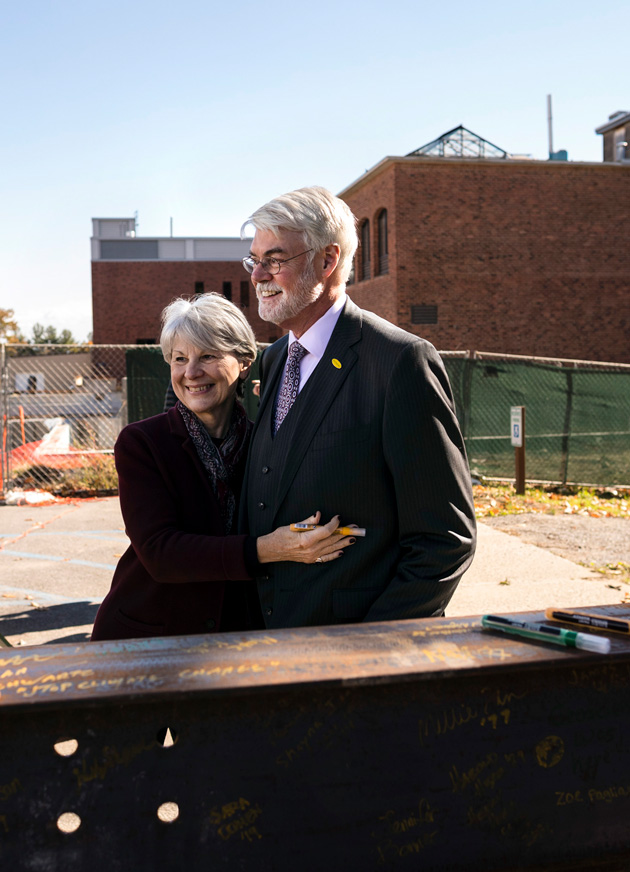 Phil and Marie Glotzbach at the Center for Integrated Sciences groundbreaking ceremony in October 2018.

Alumni recalled transformative experiences with the president that shaped their experiences at Skidmore and subsequent lives and careers.
Abude Al-Asaad '17 recalled President Glotzbach's bold stance against government restrictions that negatively affected some international students.
"I wanted to thank you for being a leader, and for standing up for the most vulnerable members of our community when they needed you," he said.
Nigel Smith '19 remembered a candid conversation as a first-year student between students and College leadership.
"I believe that it elicited a lot of change on campus and served as a catalyst for students being willing to talk about certain issues on campus in order to execute change," he said.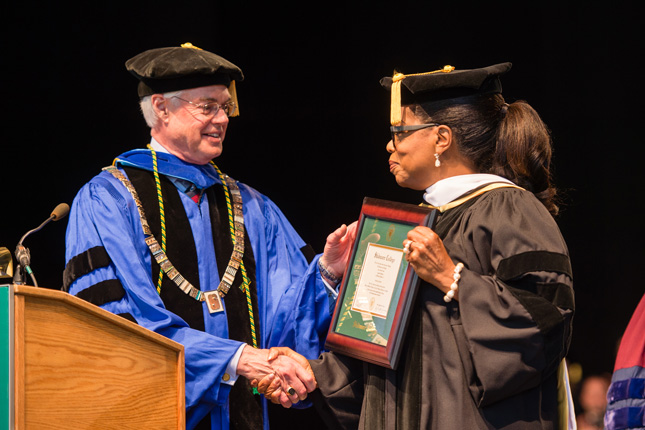 President Glotzbach bestowed an honorary degree to Oprah Winfrey at Commencement in 2017.
President-elect Marc Conner thanked Phil and Marie Glotzbach for warmly welcoming him and his wife, Barbara, to Skidmore. He also described the president's generosity, courtesy, grace and sensitivity in carrying out a presidential transition during an exceptionally challenging time.
"You are a tough act to follow. For 17 years, you have guided Skidmore with such skill and achievement that it is surely one of the most impressive college presidencies in the nation. I'm humbled to be following in your footsteps," said Conner, who assumes office July 1. "On behalf of the future of Skidmore College, I thank you profoundly for all you have given to our school."
The president and Marie Glotzbach addressed the Skidmore community live immediately after watching the video tributes together. Both appeared deeply moved by the outpouring of support for Skidmore's first couple.
"This means so much to us," Marie Glotzbach said. "What we found out, as we welcomed so many of you to Scribner House, was that we were really building a family, observing a family, becoming part of a family. That has been one of the most joyful things about these past 17 years."
She also added a few words of praise for her husband.
"He has always impressed me. He still impresses me. I am so proud of this man," she said.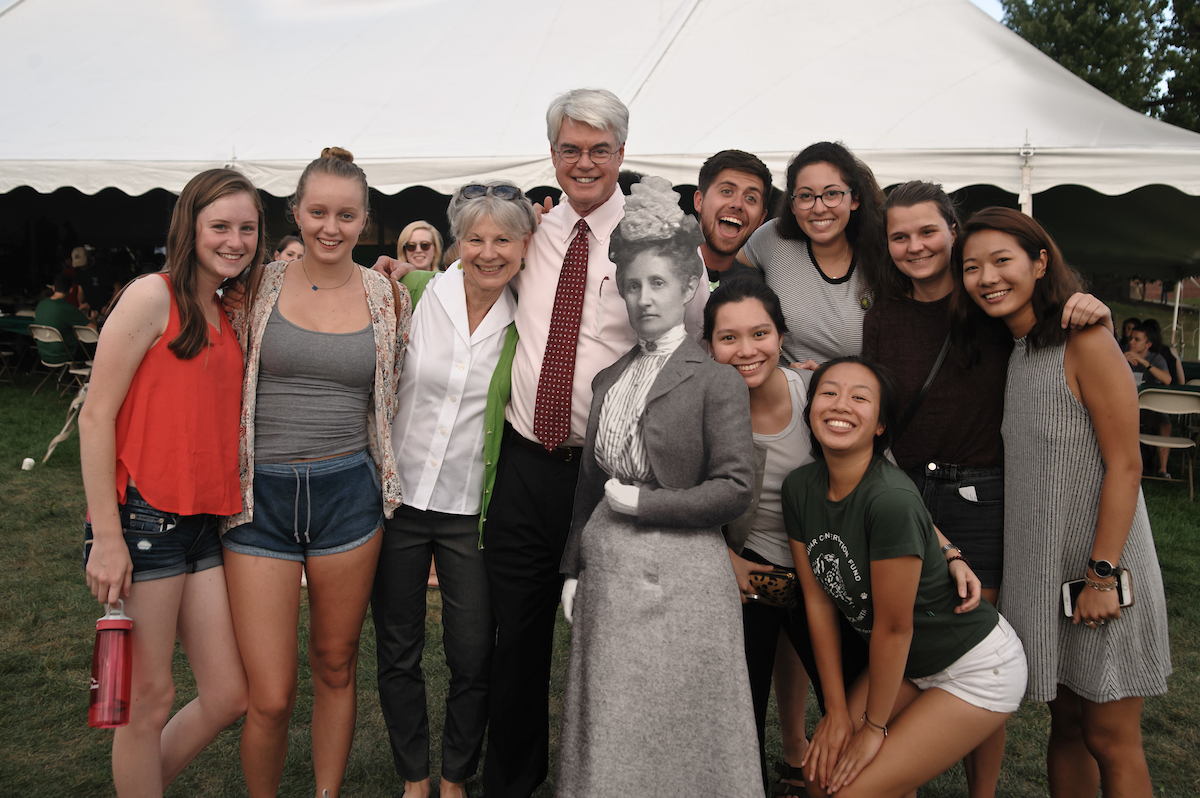 Marie and Phil Glotzbach pose for a photo with students and a cutout of Skidmore's founder, Lucy Scribner, at a Founder's Day picnic in 2016.
The president expressed appreciation to everyone who has supported them throughout their careers at Skidmore.
"We will always be connected to the Skidmore community. We will always remember everyone who helped us in this endeavor, who helped shape the path along with us and who was part of this journey," President Glotzbach said. "We wish Skidmore —and Marc and Barbara — the best luck in the future. We will be watching from the sidelines and cheering as loudly as possible."
The College has witnessed remarkable changes since President Glotzbach assumed office in 2003. Major initiatives have included the transformation of Skidmore's First-Year Experience program (2005), the opening of Northwoods Village (2006), construction of the acclaimed 54,000-square-foot Arthur Zankel Music Center (2010), the building of Sussman Village (2013) and the ongoing construction of the Center for Integrated Sciences, the largest single academic project in College history, whose first phase is slated for completion this summer.
Skidmore has also achieved record applications for admission, quadrupled its financial aid budget and increased diversity, including a strong growth in admissions for domestic students of color, first-generation college students and international students.
The full video of the tribute to the Glotzbachs is available on Vimeo.