Medical school acceptances exceed national average
October 31, 2022
At Skidmore, Haley Cirka '16 worked closely with professors on research projects in vastly different subject areas, ranging from understanding and recognizing words (psychology), to progressive problems with movement (neuroscience), to antioxidant defenses against oxidative stress in the body (chemistry).
These cross-disciplinary experiences helped her discover a strong interest in research. For two years after graduation, she worked in the lab and clinic at Brigham and Women's Hospital's Boyce Laboratory run by Joshua Boyce '81, chief of the Boston-based hospital's division of allergy and clinical immunology. She then landed in a chemistry Ph.D. program at Johns Hopkins University.
Haley Cirka '16, University of Massachusetts Chan Medical School
But less than a year into graduate school, Cirka realized she missed interacting with patients and seeing firsthand the positive influence of her research. Today, thanks in part to the support of her Skidmore Health Professions Advisory Committee (HPAC) advisor, Associate Professor of Chemistry Kelly Sheppard, and Executive Director of the Career Development Center Shannon Rodriguez, Cirka is now in her second year at the University of Massachusetts Chan Medical School.
Rodriguez, who has served on HPAC for more than a decade, affectionately refers to Cirka's medical school journey as a "crooked path." Despite the twists and turns, HPAC was there along the way along with Skidmore's engaged professors, academic programming, and top-notch equipment and facilities, including the new Billie Tisch Center for Integrated Sciences.
"Even years after graduating from Skidmore, I still felt comfortable reaching out to HPAC contacts and felt supported by the committee," Cirka says.
What is HPAC?
The Health Professions Advisory Committee comprises faculty from the departments of biology, chemistry, health and human physiological sciences, neuroscience, psychology, and social work, as well as staff members from the Office of Academic Advising, the Career Development Center, and the Opportunity Program.
Every student who signs up enjoys access to an HPAC advisor. The committee guides and supports students preparing for careers in health professions and provides professional and graduate schools with candid student evaluations. Faculty members offering multiple disciplinary eyes and perspectives are intimately involved in crafting and reviewing these letters, which isn't standard practice at all colleges.
HPAC also offers feedback, a worksheet that assesses students' strengths and weaknesses, mock interviews, and examples of various career paths that have resulted in successful graduate school applications. Career paths include dentistry, medicine, nursing, optometry, public health, physical and occupational therapy, and veterinary medicine.
And there's lots of good news: Skidmore health professions professional and graduate school applications and acceptances are on the rise.
By the numbers
The number of students affiliated with HPAC has continued to grow (from 264 to 300, a 14% increase in the last decade). In addition, many other Skidmore alumni stay connected with the committee and continue to utilize its resources long after graduation.
Applications to medical/veterinary/dental schools have also increased by more than 50% during the past decade.
84% of Skidmore applicants have been accepted to medical/veterinary/dental schools in the last five years.
80% of Skidmore applicants to medical school are successful, 60% on their first attempt. The national average is 41%.
A supportive community
HPAC is overwhelming made up of volunteers, a testament to the strong dedication of Skidmore's faculty and staff.
"Knowing that the positive impact I make as an HPAC advisor will only be exponentially increased by the work of our graduates as clinicians, researchers, and health advocates is incredibly rewarding," says Rodriguez. "I'm grateful to the entire Skidmore network, including alumni, who offer their insight, host job shadows, and provide experiential learning opportunities that help students confirm their career goals and develop the competencies needed for long-term success."
That dedication also helps Skidmore to stand out.
"In comparing my undergraduate experience to that of medical students from other undergraduate institutions, I have noticed that Skidmore has one of the more supportive pre-health advisory committees. Many of my colleagues have shared that their committees and advisors were not supportive of pre-health students, especially those who may have struggled," says Hillary Ramirez '18, a chemistry major and Latin American studies minor at Skidmore. She is now studying at Lewis Katz School of Medicine at Temple University and intends to serve communities with disparate access to healthcare, particularly communities of color, after medical school.
Skidmore students are fortunate to have advisors who will help guide students through academic struggles. I never felt discouraged by HPAC faculty. I think if I had experienced the lack of support that many of my peers did as undergrads, I might not have pursued medicine."
---
Health professions alumni career journeys
Carmen Barrios '21 came to Skidmore from Honduras by way of United World College Southeast Asia in Singapore. She got a solid research grounding in her human health and physiological sciences major, but the opportunity to practice medicine as a member of the student-run Skidmore Emergency Medical Services club (SCEMS) clinched the deal for her.
"That was when I realized medicine was the right path for me," says Barrios, who earned a New York State Emergency Technician license her sophomore year. "For the first time, I was able to treat real patients and deliver medical care. I learned skills to help in life-threatening situations, as well as how to navigate them effectively and proactively."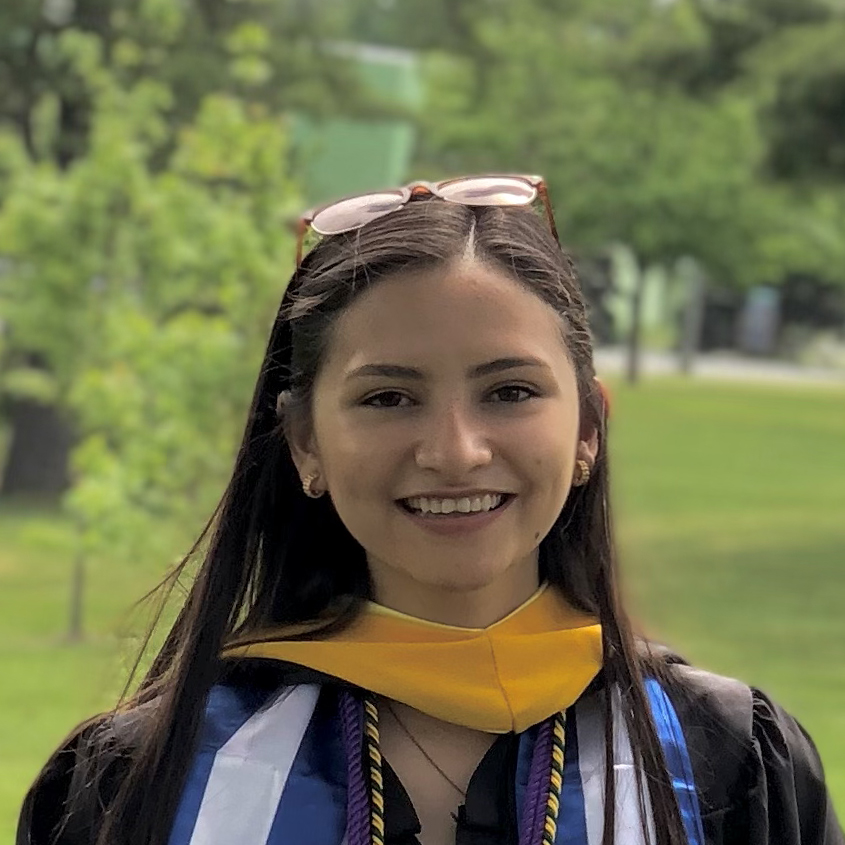 Carmen Barrios '21, Weill Cornell Medicine
Barrios currently works in New York City at Weill Cornell Medicine in the department of cell and developmental biology, where she helps conduct research on how defects in early developmental genes affect the vascular system and the brain. Thanks in part to thorough preparation by HPAC and her advisor, Professor of Health and Human Physiological Sciences T.H. Reynolds, Barrios is applying to medical schools in the United States, Qatar, United Arab Emirates, Israel, and Australia.
"What a great story! The best part is seeing Carmen overcome obstacles – living in the U.S. for the first time, studying in her second language, gaining the confidence to chase her childhood dream, and down the road, taking her skills and her passion back home to help the people of Honduras," says Reynolds.
---
Nick Friedman '17, who is in his fourth year at Stanford University's School of Medicine, was an early member and director of the student-operated Skidmore College Emergency Medical Service (SCEMS). Like Barrios, he considers SCEMS healthcare leadership experience and the opportunity to conduct one-on-one research with faculty members in the College's organic synthesis and biological clocks labs as significant building blocks – both "exceedingly rare for undergraduates at other institutions."
Another relative rarity — for many pre-med students elsewhere, but not at Skidmore — is that Friedman delved into the humanities and created an independent study on the philosophy and ethics of science, which he says motivated him to pursue a medical education at an "institution dedicated to training future healthcare leaders and change-makers."
Nick Friedman '17, Stanford University School of Medicine
In the two years between his Skidmore graduation and his "dream come true" acceptance at Stanford, Friedman co-founded and edited a peer-reviewed journal for campus EMS, gained experience as a business development intern, and taught high school philosophy. At Stanford, he joined the Army National Guard. He hasn't picked an area of specialty yet, but he's clear that his career will combine clinical medicine and research with public service.
"Skidmore's mind and hand philosophy fits perfectly – the liberal arts translated into a helping profession," says Associate Professor of Chemistry Kelly Sheppard. "Schools are increasingly looking for ethical people who can engage on a human level and think holistically. Nick is a good example."
---
As a former Liberty League Defensive player of the year for the Thoroughbreds' women's basketball team, Jordyn Wartts '14 is used to seeing the whole court and identifying and stopping threats. She's now doing the same thing in her academic and professional life.
After graduating from Skidmore as a health and exercise sciences major (now health and human physiological sciences), Wartts earned a master's in public health from the University at SUNY Albany and has subsequently worked as a public health planner and research scientist in New York's Capital Region. She came to recognize how the recurring theme of health disparities in her professional work was also evident in her personal and social life, transforming the topic to one of deep concern and passion.
Jordyn Wartts '14, Brown School at Washington University
Says Wartts, who has returned home to pursue a Ph.D. in public health sciences at Brown School at Washington University in St. Louis: "I was interested in medicine, but knew from experience, as a Black woman raised in low-income areas that there were many social factors that took priority over one's personal health. As a young professional and student, it became of interest to investigate and acknowledge how unmet needs (such as housing, job security, childcare, etc.) may act as an indirect barrier to health behaviors."
In the future, Wartts plans to assist health departments and hospitals with understanding the social needs and priorities of their unhealthiest communities and develop the most impactful methods of communicating the importance of health behaviors/healthy living to these populations. This September, she was back at Skidmore spreading the message as an alumna on a Skidmore panel focused on disparities in healthcare.
---
Nile Nair '15 is a fourth-year Ph.D. candidate in the Population Health Sciences and Nutrition department at Harvard's T.H. Chan School of Public Health, where he studies how the relationship between coral reefs and human communities affects the nutritional transition and the consequent disease and health status of local communities in the Pacific region.
Like lots of other Skidmore pre-med students, Nair took advantage of the College's ample resources, signing up with HPAC, joining Sheppard's Laboratory of Microbial Biochemistry as a first-year student, engaging in numerous faculty-student collaborative research projects, and even co-presenting and co-publishing their work.
Nile Nair '15, Harvard T.H. Chan School of Public Health
Nair says that HPAC allowed him to "realize the diversity in the health professions and expand my career search from one of medicine to medical research, policy, and administration, while the Career Development Center helped connect me with alumni in the medical research field who were instrumental in helping land my first post-graduation job" as a clinical research coordinator at Mount Sinai Hospital, which led to a clinical research associate position at Icahn School of Medicine at Mount Sinai. .
After Harvard, Nair plans to change the landscape of scientific endeavors and research in the Pacific Island region, in particular, helping to train and sustainably build research capacity in his home country of Fiji. He's currently working with the Fijian Ministry of Health and Medical Services to evaluate genetic studies on noncommunicable diseases in the country.
---
When Emily Przysinda '15 was engaged in the college search process, her fascination with the human brain drew her to Skidmore's Neuroscience Program, as did her desire to continue to pursue her passions in music and swimming. When Przysinda told Thoroughbred swimming coach Jill Greenleaf that she wanted to major in neuroscience and music, Greenleaf "didn't bat an eye. Instead, she gave me examples of others on the team who were involved in both the sciences and the arts. It was a defining moment for me, as some other schools had been less enthusiastic about doing both."
Przysinda looks back fondly on her Skidmore years, "days filled to the brim with swim practice, classes, time in the lab, and rehearsals, including one memorable weekend when I swam a lifetime best in the mile, won a concerto competition, and was back in the lab on Sunday."
Today, the self-described physician-scientist is happily enrolled in the University of Rochester's Medical Scientist Training (M.D./Ph.D.) Program. She plans to pursue a medical residency in psychiatry with the ultimate goal of taking a holistic approach to patient care/treatment and neuropsychiatric research.
Emily Przysinda '15, University of Rochester School of Medicine and Dentistry
Przysinda's path back to Rochester (her hometown) was influenced by the opportunities and guidance she received at Skidmore. Her HPAC advisor, Senior Instructor of Biology Patti Steinberger, encouraged her to seriously consider the health professions and provided advice about courses and internships. These experiences included two College-funded, summer internships at the University of Rochester — working, first, in a music cognition lab at the Eastman School of Music, and second, in a lab focused on human cognitive neuroscience methods and their potential clinical applications. She also took a clinical internship course at Skidmore in which she volunteered in an autism spectrum disorder preschool classroom.
During her senior year, Przysinda said she was "conflicted about whether to pursue research or medicine." Through an HPAC program, she discovered that M.D./Ph.D. programs would allow her to do both, but would also require additional preparation. She found a lab coordinator position at Wesleyan University's Music Imaging and Neural Dynamics Laboratory that boosted her research skills while, in close partnership with Shannon Rodriguez of Skidmore's Career Development Center, she gathered application materials, took the MCAT, and completed prerequisites. Flash forward a decade and Przysinda is in her fourth year of medical school.
---
A sampling of professional/graduate schools where Skidmore pre-health students have been accepted and matriculated in recent years:
M.D. Programs
Albany Medical College
Brown University
Drexel University
George Washington
Northwestern University (Feinberg School of Medicine)
Rutgers Robert Wood Johnson Medical School
SUNY Upstate
Stanford University
Temple University
Tufts University
UCLA
UMass Chan School of Medicine
University of Pittsburgh
University of Vermont
M.D./Ph.D. Programs
Stony Brook University
Wayne State University
Yale University
D.O. Programs
New York Institute of Technology
Touro College of Osteopathic Medicine
University of New England
Veterinary Programs
Midwestern University
Ohio State University
University of Pennsylvania
Dental Programs
New York University
Tufts University
University of Pennsylvania