Skidmore Cares supports local residents and community organizations
November 29, 2022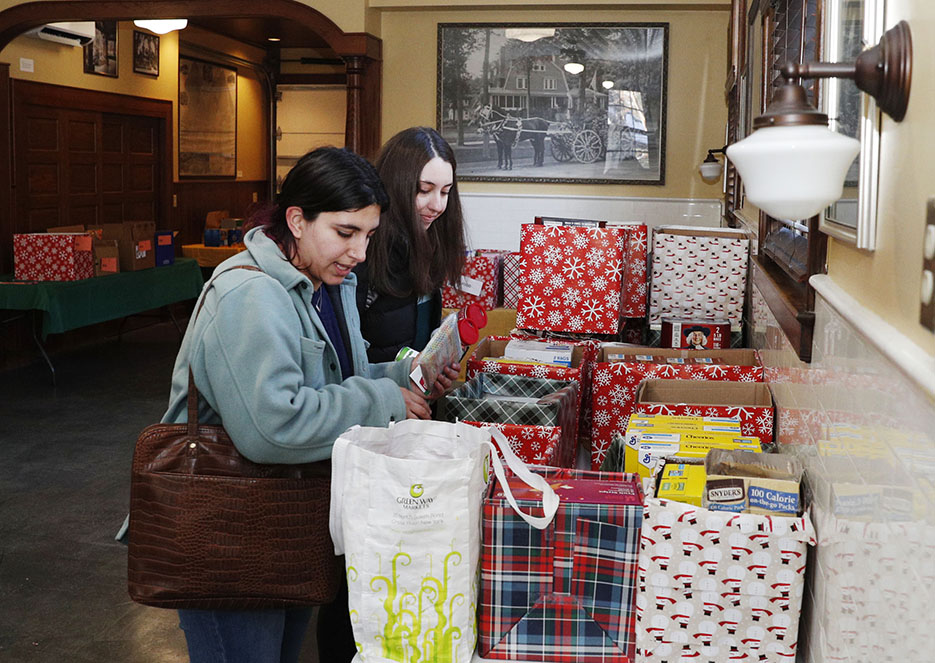 The Skidmore College community mobilized to support local families and community organizations for the 17th consecutive year through the Skidmore Cares community service program.
Skidmore faculty, staff, and students donated more than 3,400 food items and more than 1,300 school supplies and personal care items for Saratoga County community organizations.
In addition, ticket and T-shirt sales from Skidmania concerts, a Skidmore musical tradition, raised around $13,000. James Zankel '92, a College trustee, committed to match total proceeds.
From left, Skidmore community members Kelly Faulkner, Kelly Mead, and Barbara Reyes-Conner carry Skidmore Cares donations.
"Skidmore Cares furthers our connection to the greater Saratoga community and brings us together in the season of giving thanks," said President Marc Conner. "The generosity of the Skidmore community continues to humble and inspire me."
I am very proud of how Skidmore continues to give back to our neighbors in the spirit of kindness each year."
Skidmore community members again collected thousands of items this year for Skidmore Cares.
Numerous faculty, staff, and students, led by devoted longtime volunteers Megan Buchanan and Michelle Hubbs, volunteered to collect, organize, and deliver contributions to 10 local community service organizations: Shelters of Saratoga, Franklin Community Center, Mary's Haven, LifeWorks Community Action, Wellspring, Saratoga Springs City School District PATHS, the Latino Advocacy Program, Salvation Army, Habitat for Humanity of Northern Saratoga, Warren, and Washington Counties, and Saratoga Center for the Family.
Skidmore employee Mustafa Güçlü carries tomato sauce donated for Skidmore Cares.
Founded in 2006, Skidmore Cares has collected about 70,000 food, personal care, and school supplies items and raised an estimated $150,000 for community causes over the years.
Jennifer Natyzak, assistant director of sustainability programs, and President Marc Conner process donations for Skidmore Cares.