Reimagining Skidmania, a Skidmore musical tradition
November 18, 2022
For two decades, Skidmore students and faculty put their own spins — from punk and rap to bluegrass and jazz — on Beatles classics as part of Beatlemore Skidmania. Now, members of the Skidmore community are expanding the playlist to new artists as they reimagine a cherished Skidmore musical tradition.
Starting in 2022, Skidmania is celebrating a larger variety of songs and artists. Songs like "Rocket Man" by Elton John, "Superstition" by Stevie Wonder, "Clean-up Woman" by Betty Wright, and "Rock and Roll" by Led Zeppelin were part of Skidmania '72, a reboot of Beatlemore Skidmania, which took a pause in 2021 following its celebrated 20-year run. As its name suggests, the 2022 event focused on 1972, a tumultuous year of both change and challenges as reflected in the music of the time. The year saw Shirley Chisholm, the first African American congresswoman, announce her candidacy for president; the last U.S. ground troops withdraw from Vietnam; and Congress vote to send the proposed Equal Rights Amendment to the states for ratification.
Kerry Gionis '23, right, and Jaye Eniola '23 perform "Thirteen" by Big Star.
"I think the Skidmania 50 years ago theme is really cool because it expands the genres and artists to a much broader spectrum and is overall more inclusive," said Alex Ciardullo '25, a sophomore from Redding, Connecticut, who is studying music and media and film studies. Ciardullo performed "Superstition" by Stevie Wonder with his band LLC. "We've taken this Stevie classic and added some little touches, including a building bass solo bridge section where each band member is showcased. This is such a well-rounded, epic song that we are honored to cover for Skidmania."
Will Davis-Kay, a senior from Arlington Massachusetts, is a member of the a cappella group Bandersnatchers, who have been part of the musical tradition for a number of years. The 12 singers offered their own interpretation of "Doctor my Eyes" by Jackson Browne at Skidmania '72.
"Any opportunity to celebrate and share this fantastic era of music is a great use of time in our eyes. We hope to put on a spectacular show and help share Skidmore's talented Music Department with the rest of campus!" said Davis-Kay, who is completing a double major in theater and computer science.
People Who Sing perform "You're so Vain" by Carly Simon.
The show's new producer, Associate Professor of Music Jeremy Day-O'Connell, has been involved in every aspect of the production from developing a new vision statement to organizing auditions and judges. He explains why he thought it was important to update the longstanding Skidmore tradition for the next generation.
"As brilliant and influential as the Beatles undoubtedly were, that music only represents one strand in the vast musical tapestry that is popular music," Day-O'Connell said.
"Through this rebooted Skidmania, we want to lift up all Skidmore student musicians and create a space that cultivates a wider sense of belonging in the Music Department and on the Zankel Music Center stage."
In addition to Day-O'Connell, many helping hands, from both within and outside the Music Department, have been involved. Day-O'Connell especially credits the support he has enjoyed from Distinguished Artist-in-Residence Joel Brown, who coordinated the program for a number of years; Zhenelle LeBel and Peter Kobor of the Zankel Music Center; Deb Hall of the Art Department and her Communication Design class, who worked on the poster; Lecturer Brian Barone and his Thinking About Music class; and David Howson and his Foundations of Arts Administration class, who have led marketing efforts.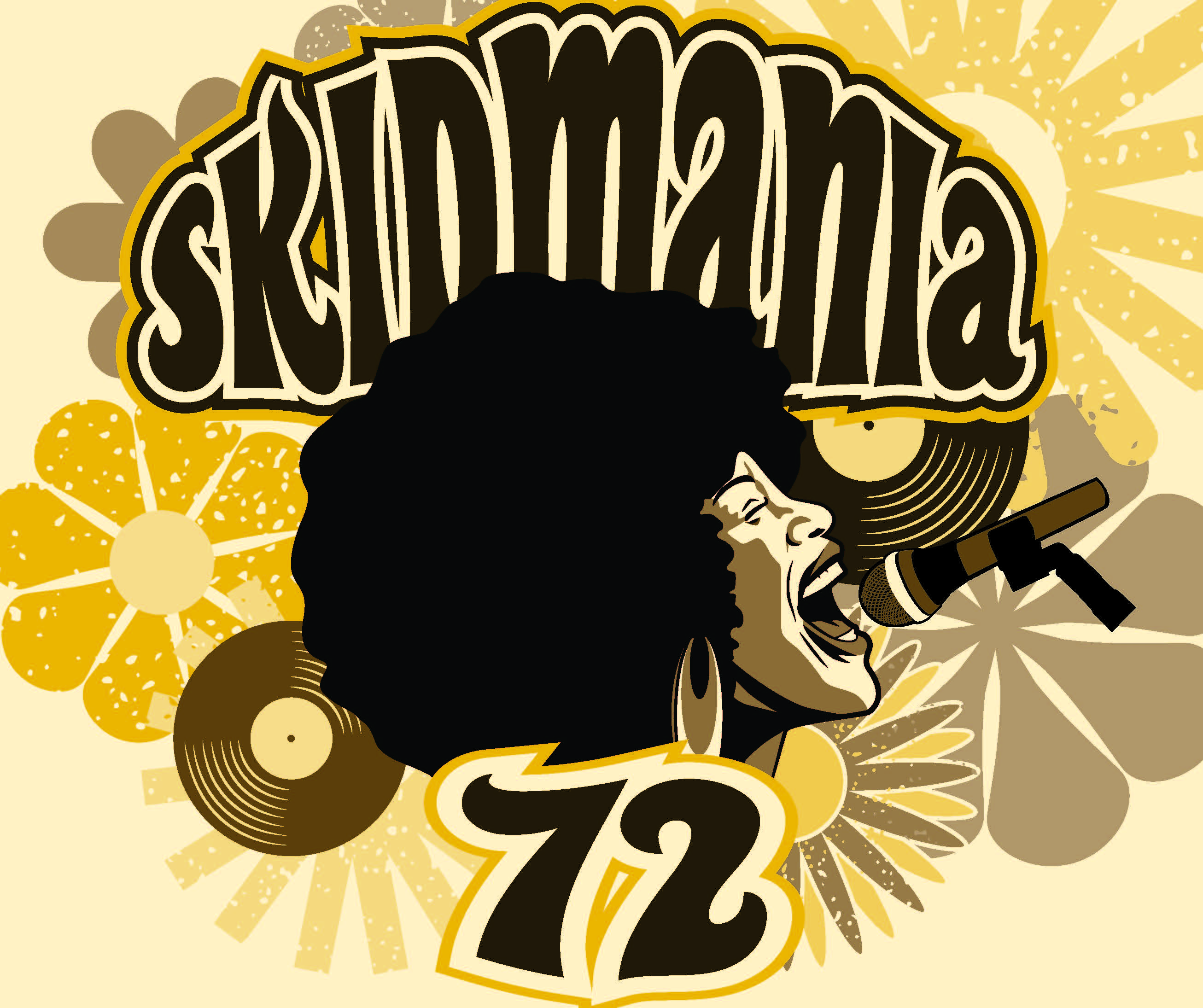 Anjolee Lavery '23 provided original artwork for this year's Skidmania '72 poster.
Even those who aren't typically engaged with the Music Department on campus have the chance to contribute meaningfully to the program. Chiara Garcia-Ugarte '25, a sophomore from New York City majoring in art history, served as an audition judge. She was given access to the videotaped auditions, took notes, and then met with other student judges. Together, they labeled each video as a "yes," "no," or "maybe."
"As a student who is not very musically inclined it was really cool to work with professors of music, who wanted to hear our opinions," said Garcia-Ugarte. "I was able to represent the perspective of an audience member, and it was exciting to have behind-the-scenes information on the final performances."
She met with Day-O'Connell a few times after judging to help make sure the selection of performers was well-rounded. She hopes to be involved in the process again next year.
Groove Lab and African Drumming perform "Soul Makossa" by Manu Dibango.
Although some aspects of the Skidmania have changed, important dimensions of this essential Skidmore tradition remain the same: Like Beatlemore, the show is extremely popular, and both performances of Skidmania '72 sold out.
Skidmania also continues to raise money for Skidmore Cares, a program that provides assistance to organizations in Saratoga County.
"There's so much musical energy and creativity on campus. Skidmania provides an excellent showcase for our student talent, while also raising money for a good cause," Day-O'Connell said. "And what's more, there's so much more incredible music out there: As we embark on this new model, tracking the music of 50 years ago, there's sure to be many more exciting Skidmanias for years to come."