Freshman Photo Requirements
To submit a photo for your campus id card please go to https://www2.skidmore.edu/stu_photo/
Skidmore College Photo Submission Guidelines:
This picture is for identification purposes.
The picture must be in color.
The picture must be less than 500 KB is size.
The picture must be minimum 300 x 300 pixels.
The picture must be a file type of .jpg, .jpeg, .gif. or .png.
Please use PLAIN light color/BLANK BACKGROUND.
No hats, sunglasses, jewelry or garments that obstruct the view of your face.
Eye glasses should be worn if normally used by students.
Eyes should be open and looking at camera.
There should be a small space between your head and the top of the image.
Head should be positioned directly facing the camera, not leaning on anything.
The Skidmore Card Office reserves the right to refuse any picture
that does not adhere to these standards
---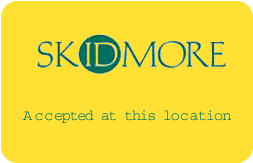 Remember that you can use your Card wherever you see the logo displayed.
Check the lists for our on-campus and off-campus partners.
When it comes to convenience, your Skidmore IDCard is your ticket!