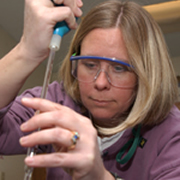 Kimberley A. Frederick
Charles lubin family chair for women in science


Office: CIS 310B
Phone: 518-580-5132
Email: kfreder1@skidmore.edu
At Skidmore since 2009
Curriculum Vitae
EDUCATION
B.A. 1991, Lawrence University
Ph.D. 1996, Purdue University
RESEARCH
The Frederick research group focuses on developing new technologies to perform chemical analyses on the nanoscale. This work contributes to a larger effort known as microfluidics or "lab on a chip" which has applications from medical diagnostics to environmental sensing to process monitoring in manufacturing. Our research involves capillary electrophoresis and plastic microfluidic chips. Current projects in the group involve fundamental studies of fluid flow (known as electroosmotic flow), miniaturizing on-capillary or on-chip analysis steps using stimulus responsive materials and development of microfluidic chips based on overheard transparencies. Students working in the Frederick group are involved in all aspects of materials development, instrument building, data analysis and manuscript preparation. To date, our work has resulted in 13 publications, over a million dollars in research funding and 50 presentations at scientific meetings.
COURSES
CH 125 Chemical Principles (lecture)
CH 232 Analytical Methods in Chemistry (lecture and lab)
Scribner Seminar: Forensic Science and Criminal (In)Justice
SELECTED PUBLICATIONS (*Indicated undergraduate research student)
K.A. Frederick, "CUR and NCUR Join Forces", submitted J. Chem. Ed., July 2011.
T. Wenzel, C. Larive and K.A. Frederick, "Role of Undergraduate Research in an Excellent and Rigorous Undergraduate Chemistry Curriculum" accepted J. Chem. Ed, August 2011
K.A. Frederick, "The Joys and Pitfalls of Collaboration in the Research Process", in How to Get Started in Research ed. M. Schuh and N. Yavneh, Council on Undergraduate Research, Washington, DC, under review.
D.S. Iimoto and K.A. Frederick, "Incorporating Student Designed Research Projects In the Chemistry Curriculum", J. Chem. Ed. Published ASAP June 3, 2011.
K.E. Swords*, P.B. Bartline*, K.R. Roguski*, S.A. Bashaw* and K.A. Frederick, "Assessment of Polyelectrolyte Coating Stability under Dynamic Buffer Conditions in CE" J. Sep. Science, published on-line July 2011.
O.S. Fenton*, L.A. Tonge*, T.H. Moot* and K.A. Frederick, "Quantitative Analysis of Simulated Illicit Street Drug Samples using Raman Spectroscopy and Partial Least Squares Regression", Spectroscopy Letters, 2011, 44, 229-234.
PROFESSIONAL MEMBERSHIPS
Council on Undergraduate Research
American Chemical Society
Project Kaleidoscope-F21 Network
Iota Sigma Pi
Phi Lambda Upsilon