Doc on Campus: The Artist Interview
May 12, 2016
A new spring 2016 course co-listed by the Department of Art History and MDOCS explores the artist interview as a form of original art historical research. Working in teams with Ian Berry, Dayton Director of the Frances Young Tang Teaching Museum and the course's instructor, students closely examined and researched artworks in the museum's exhibition Borrowed Light and conducted professionally videotaped interviews with photographers whose work was represented in it.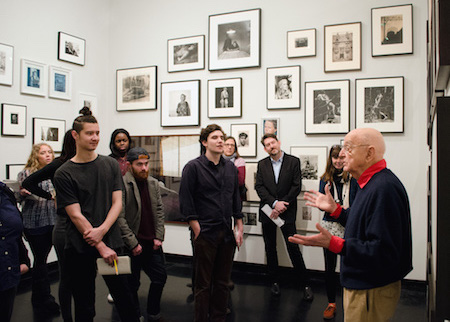 Photographer Duane Michals speaking to faculty, students, and community
members about his pieces featured in
Borrowed Light
.

The interview is an art in itself, especially when engaging with an artist about his or her own work. Berry's spring course, "The Artist Interview," offered students the opportunity to produce professional interviews with visiting artists throughout the semester. In conjunction with the Tang's current photography exhibition, Borrowed Light: Selections from the Jack Shear Collection, pairs conducted weekly interviews with an artist whose work is featured in the show. From high-fashion portraits to decrepit landscapes, the photographic style of those interviewed ranged widely in technique and subject matter. Reflective of the artists' own creative approach, methodology, practice and personal relationship to the medium, the photographs were analyzed by the interviewers in an attempt to expose what one perhaps couldn't see outside of the frame. The students drew out the artists with questions such as "who defines the meaning of an artwork and how one creates meaning."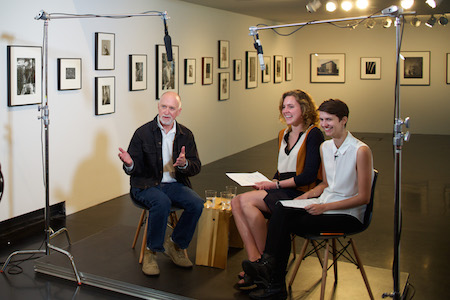 Photographer Kurt Markus during his interview conducted by Elise Mumford, '17 (lft) and Lenore Wilkinson '16 (rt).
"When preparing questions, I tried to anticipate what the artist's answer would be in order to craft a coherent flow to the conversation. I could only prepare so much, however, since the trajectory of our dialogue would almost always flow in an unanticipated direction." —Dorothea Trufleman '16
Each artist enunciated a discrete response to the questions, often sparking conversation that delved into larger explorations of the medium and its contested relationship with the truth. Like understanding any work of art, it takes a particular patience, detail and ardent interest to apprehend the mind that created it. "The Artist Interview" not only honed and instilled these requisites for students, but made history in doing so.
"As an art history major, and one who is interested in museum studies, I was immediately intrigued by the 'Artist Interview' class. The chance to conduct a professional interview with an accomplished artist was an enormous privilege. For most of us, this type of opportunity would not come until much later in our careers.
"At the start of the semester we discussed components of an interview, how to prepare and resesarch, how to handle unexpected moments, and how to gear your questions towards specific answers. Then we jumped right into the interview process. It was equally rewarding to engage in my own interview and to watch those administered by my peers. We encountered a wide range of artists, young and old, famous and understated.
"Each interview became incredibly personal, with well-prepared questions specific to the artist's work, their life and their interests. Some interviews were lively and humorous, while others were more technical or serious. While preparation was crucial, it became clear that we'd never know what to expect from our interviewees. Regardless of what you got, the answer to each question yielded something special. No matter how vague, curt, extensive, or intimate a response was, it provided insight into the mind of the artist."
"A lot can be learned from what a person shares with you, but sometimes you can learn the most from what they choose not to say." —Alicia Russo '17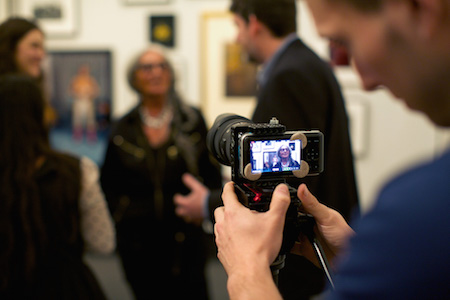 Student filming Sheila Metzner talking to students in the
Borrowed Light
exhibit.

—Dorothea Trufleman '16 and Alicia Russo '17