Doc off Campus: CDC media networking trip to NYC
November 2, 2016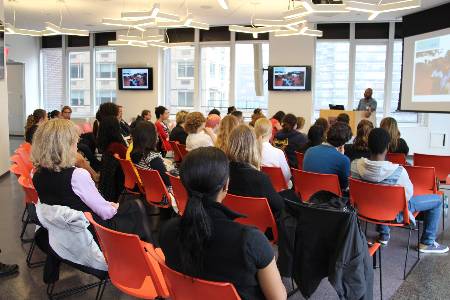 Throughout college, it seems that there is always a pressure to constantly know our next move while trying to leap over puddles to avoid mistakes. And somehow in between identifying who we are and who we want to be, we start to lose who we could become.
On Friday, October 21, a group of 37 Skidmore students took a 5:45 a.m. coach bus from Skidmore College's Case Center to New York City to meet media professionals from the New York Times, ABC, Broadway and Sesame Street. At each site we had very intimate and profound conversations, and we learned how these particular people got their job opportunities, personal tips on how we could get at a chance at our dreams in the media industry and meaningful advice.
At the New York Times we met 20something Stephanie Preiss, who studied philosophy at Middlebury College and is currently in charge of budgeting, arranging partnership deals and product development as director for video strategy and business development for the newspaper. Although she studied philosophy, she feels her liberal arts education definitely prepared her for this opportunity by providing her a framework for difficult problem-solving, approaching issues from a different perspective, prioritizing, discipline, getting through work despite tiredness and public speaking. This was refreshing to hear, especially during midterms, because it made me believe that everything will be worth it in the end in one way or another.
Later in the day, we entered a building where we ran into dancers going to auditions or rehearsing for a show. We entered the penthouse suite to meet five panelists led by Skidmore alum and Broadway music maker Derek Gregor '00, who is currently working on a Broadway musical. Here we learned from producers about their duties of finding the best mediums of telling a story: whether it be a musical, a play, a book, etc., how to manage shows, music schools and how to find funding. We spoke about the importance of writing professional emails (whose language would be fine, even if it was published) and building valuable connections. After our talk, we got a treat; two Broadway actors sang a song from the new musical! The lyrics and story in the song brought me to tears as it speaks of completing a task, finding yourself and trying to prove to the world that this moment is important.
At ABC we met with Dan Silver, an Emmy Award winner who is currently the executive producer of ABC Digital, a job he developed after repeated meetings with ABC. Dan's path was inspirational to me because I truly believe that if you do what you love and invest in your passions, the world will make space for you, and he offered a primary example. We spoke a lot about the industry and how difficult it was to get internships and ultimately do what we want do in media. Silver recalled living at home the year after his graduation from Syracuse University, going to interviews and seeing his mother's face of disappointment every time the result was a "no." He told us that our job right now was to gather as much content as we could, identify our weaknesses as well as our strengths, and collect contacts. This strategy will allow us to gain experience, expand our abilities and learn from others. When asked if he collaborated with other divisions at ABC he instantly answered yes, "I'm a fan at my core," which means that he enjoys working with others because he supports and is passionate about the work he does. As a result, he is able to form stronger connections.
We all walked into Sesame Street with huge smiles. How could you not with their yellow and purple walls? Here, panelist spoke about the responsibilities of their positions as director of the Curriculum Department, production management, digital designer, public relations, health educator and creative director and character designer. The passion for their job exuded from their faces and flowed into their words. One panelist said that he doesn't ever feel like he is working because he enjoys what he does so much. All voiced their commitment to ensuring that the education provided in Sesame Street programs benefited the children viewing them, and consultation with experts and communities to be fair when covering current issues and appropriate to the country in which a specific show will be aired. The team plans out the material up to a year before airing by researching and speaking with psychologists, the people in specific cultures, writers, government officials, etc. Again we heard numerous times to chase after our passions, to not have a plan B, to do the job you love and apply to as many internships as we can to gain that experience. One panelist said, "You don't decide what you do, you discover it."
So on days when we are leaping over puddles and trying to have the next 10 years of our lives set up, know it's OK to not have answers right now. However, Thanksgiving is coming soon, which means answering big questions like, "So, what do you plan to do after college?" Although Dan Silver admits to disliking these questions, he suggests we answer, "Well my interests are … and I hope to explore…" According to these amazing individuals in the media industry, our college years and 20s are years where we should explore our interests, make connections and just have fun. However, when you feel lost and like you do not have enough answers, recite one of these quotes and know that you are exactly where you are supposed to be.
"It's the skills you don't even realize you are learning that you take away." —Stephanie Preiss
"You don't decide what you do, you discover it." —Louis Mitchell
"Please don't give you up on your dream." —Louis Mitchell
"The only people who make it in this business are the ones that try; just try it." —Dan Silver
"Do what you love and love it purposefully" —Dan Silver
Jamerly De La Cruz '18 is an anthropology major, education minor and fashion/identity blogger. For more, see mane-attire.com.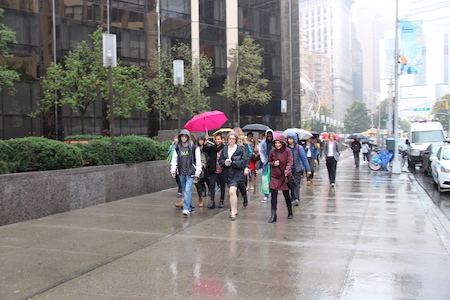 Arrival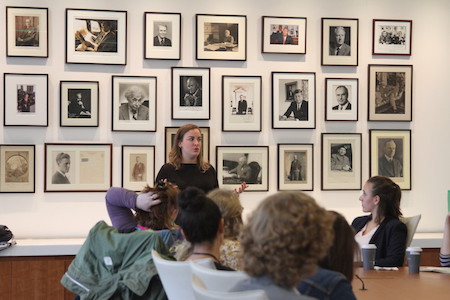 New York Times visit
Sesame Street Orientation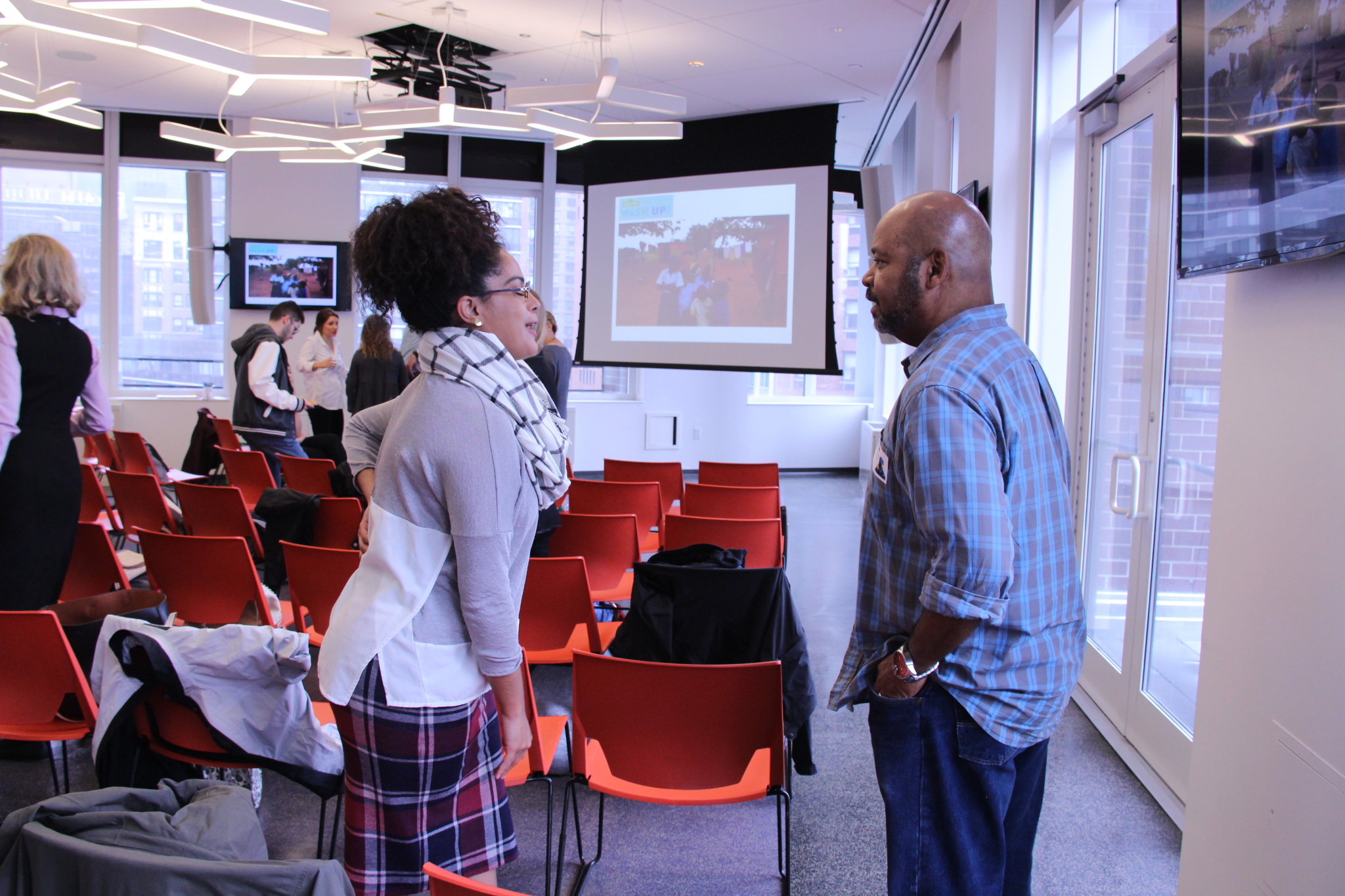 Conversation with Louis Mitchell
New York Area History through Maps - New York Times
Broadway Experts with Derek Gregor, '00 (right)